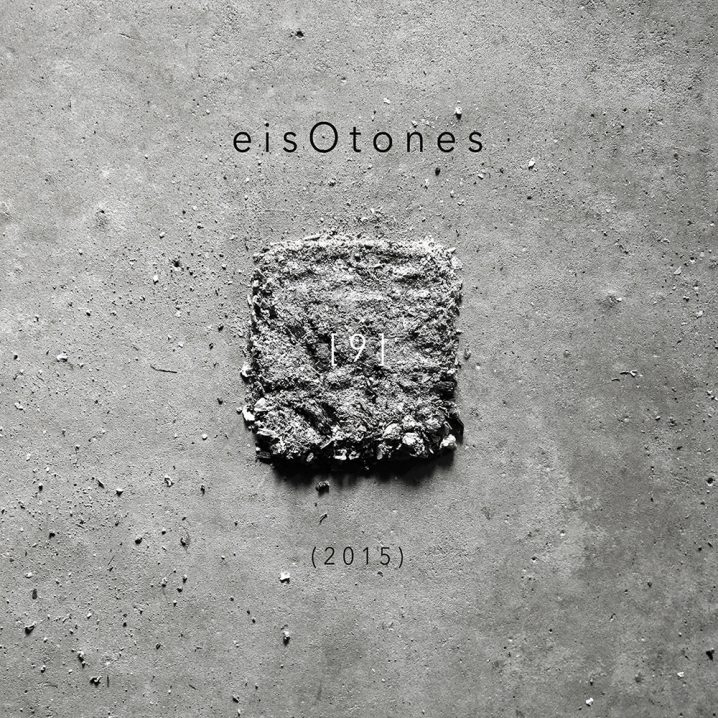 50 tracks from 50 albums from 2015.
A mix session recorded for the eisOtones project/process which is to have some mixes with a duration of 72 minutes with 50 tracks. The complete project will be closed when there will have the 20 mixes for a duration of 24 hours with 1000 songs.
1 mix will be recorded by year, at the same period, in January.
Photography by Mathias Van Eecloo, 2015.
Tracklisting:
00.00 mn – 03.45 mn : Lau Nau / Matana Roberts / Johann Johannsson / The Fear Ratio /
03.04 mn – 06.47 mn : Frank Bretschneider / Adam Bryanbaum Witzie / Federico Durand /
06.04 mn – 13.53 mn : L a n d / Max Richter / Moon Ate The Dark / Tatsuro Kojima /
13.24 mn – 17.54 mn : HMS / Frank Riggio / Yuk. /
16.36 mn – 23.06 mn : Koenraad Ecker / Magnus Granberg / Beak / Manuel Zurria /
22.56 mn – 27.00 mn : Colin Stetson & Sarah Neufeld / Aphex Twin /
26.52 mn – 32.23 mn : Jim Perkins / Liberez / Danny Clay / Dasha Rush /
31.24 mn – 38.25 mn : M. Ostermeier / Alvin Lucier / Richard Francis / Miguel Isaza /
38.09 mn – 45.16 mn : Draama Helmi / Book Of Air / Tanz Mein Herz /
44.28 mn – 53.18 mn : Tim Catlin & Machinefabriek / Olli Aarni / Ghost & Tape / Le Berger /
50.44 mn – 56.38 mn : Machinefabriek / Ian William Craig / Isnaj Dui
56.36 mn – 61.05 mn : Angels Dust /
60.54 mn – 64.04 mn : Twincities / The Boats / Arnold Dreyblatt /
63.14 mn – 69.04 mn : Lee Ranaldo / Marianne Schuppe / Tilth / Michel Banabila & Oene Van Geel /
The Humble Bee + Aaron Martin / Sonmi451 /
69.05 mn – 72.39 mn : Spheruleus & Friends / Ruhe
Full Credits (Artist / Song / Album / Label) (2015)
– Adam Bryanbaum Witzie – The Endless Battle of the Maudlin Ballade Part 2
(Travels In Constants Vol. 24) (Temporary Residence)
– Alvin Lucier / Trio Nexus – Risonanza
(Broken line) (Mode)
– Angels Dust – Funeral
(Slow Tapes) (Hit + Run)
– Aphex Twin – Diskhat1
(Computer Controlled Acoustic Instruments Pt 2) (Warp)
– Arnold Dreyblatt – Dronetones
(Second Selection) (Black Truffle)
– Beak – When We Fall
(Kaeb) (Invada)
– Book Of Air – Shille Gwer Canne
(Fieldtone) (Sub Rosa)
– Colin Stetson & Sarah Neufeld – The Rest of Us
(Never Were The Way She Was) (Constellation)
– Danny Clay – Glow iii
(Ganymede) (Hibernate)
– Dasha Rush – Dance with Edgar Poe
(Sleepstep) ( Raster-Noton)
– Draama Helmi – Draaman taustat
(Erehdys) (Self-released)
– Koenraad Ecker – Addicted To Tin
(Sleepwalkers In A Cold Circus) (Line)
– Federico Durand – II
(Música Para Manuel) (Hibernate)
– Frank Bretschneider – Vertical Time
(Isolation) (Line)
– Frank Riggio – Aqka Torr
(Psychexcess II – Futurism) (Hymen)
– Ghost & Tape – Svimmel
(Shift) (Slaapwel)
– HMS – A1
(þrie) (Small Scale Music)
– Ian William Craig – Empty, Circle, Tremble
(Cradle For The Wanting) (Recital)
– Isnaj Dui – Hoop Diving
(Dioptrics) (FBox Records)
– Jim Perkins – Fragment
(Constance) (Bigo & Twigetti)
– Johann Johannsson – Desert Music
(Sicario / Soundtrack) (Varèse Sarabande)
– L a n d – Metamorphosis
(Anoxia) (Important Records)
– Lau Nau – Maininki
(HEM. Någonstans) (Fonal)
– Le Berger – sfojg=owfE
(Music for Guitar & Patience) (Home Normal)
– Lee Ranaldo – Ambient Loop For Vancouver
(Ambient Loop For Vancouver) (Important Records)
– Liberez – Subotica
(All Tense Now Lax) (Night School)
– M. Ostermeier – Inertia
(Still) (Tench)
– Machinefabriek – Part I
(The Measures Taken) (Zoharum)
– Magnus Granberg – How Deep Is The Ocean, How High Is The Sky
(How Deep Is The Ocean, How High Is The Sky) (Another Timbre)
– Manuel Zurria – Lachrimae Coactae
(Landscape With Tears) (Die Schachtel)
– Marianne Schuppe – Pipes
(Slow Songs) (Wandelweiser)
– Matana Roberts – J.P.
(Coin Coin Chapter Three) (Constellation)
– Max Richter – Cumulonimbus
(Sleep) (Deutsche Grammophon)
– Michel Banabila & Oene Van Geel – Kino Mikro
(Music For Viola And Electronics II) (Tapu Records)
– Miguel Isaza – Continuidad
(Tempiternidad) (Dragon's Eye)
– Moon Ate The Dark – Sleepy Vipers
(Moon Ate the Dark II) (Sonic Pieces)
– Olli Aarni – Olli Aarni – Pohjoistuuli
(Puu Tuulessa) (Cotton Goods)
– Richard Francis – Two Airs
(Combinations # 1) (Entr'acte)
– Ruhe – Shelter
(Patriarchs) (Eilean Rec.)
– Sonmi451 – Limbic Lobe
(The Limbic System) (Time Released Sound)
– Spheruleus & Friends – To Us Thy Memory Can Never Be Lost
(William Barber) (Hibernate)
– Tatsuro Kojima – 0405
(Refraction and Reflection) (Audiobulb)
– Tanz Mein Herz – Untitled (Side B)
(Territory) (Standard In-Fi)
– The Boats – Untitled (Side B)
(Lost Ideas) (Other Ideas)
– The Fear Ratio – Cam
(Refuge of a Twisted Soul) (Skam)
– The Humble Bee + Aaron Martin – Bloom and Fold
(Dialog Tapes) (Dauw & Eilean Rec.)
– Tilth – Frost Pulses On Green Grass
(Country Music) (Round Bale)
– Tim Catlin & Machinefabriek – Aglow
(Whorls) (Low point)
– Twincities – Gentle Memories
(Memoirs : To Dust) (Unknown Tone)
– Yuk. – Fullmooon//4mama
(Anak) (Leaving Records)