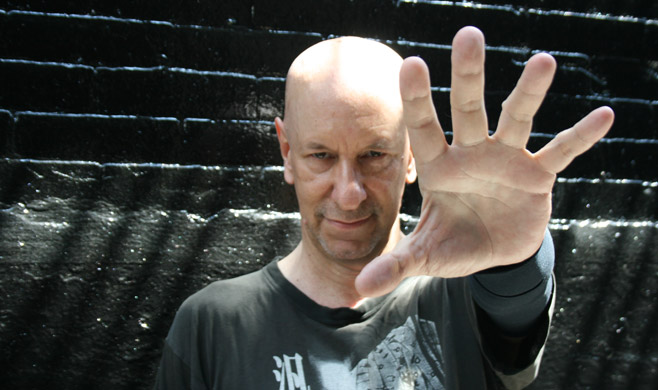 Hey Stewart, where are you these days and what did you do this past weekend?
NYC. Saturday Record Store Day and The Dominatrix Sleeps Tonight reissue is getting out there in the shops. Towards sunset we sat w old friends on a patio overlooking Houston St. and downtown with all the new buildings. Listening to Grungerman. Sunday's have become a work day. We are organizing to complete the new Ike Yard Ep & Album, the Black Rain early years 1989 -'93 LP is coming up and BR just finished the groups first ever remixes for AnD, Orphan Swords and Jesse Ruins (Tokyo). Then Game of Thrones and Silicon Valley were on HBO by 9 PM.
Of course, I'll have to ask about the great gap in time between your releases. To what do you attribute this very long silence?
Well, we formed all these groups between 1978-90 – and by now Ike Yard, Dominatrix and Death Comet Crew aka DCC are now onto their second reissues. Black Rain was formed around 1989 -90 and lasted in 2 phases until 1998 when Shin went back to Japan. Once BEB heard the music we did for the Wm Gibson soundtracks they wanted to release this 'lost ' music that had been previously only available on the Neuromancer Audio Book. TimeWarner 1995. That release in 2012 enabled me to bring BR back out for live performance, and now yes it took until now for new BR Dark Pool!
And so, are these mostly newly produced pieces, or a collection of artifacts you worked on before?
Dark Pool was all recently concreted and drums, percussion and softsynths programmed myself before going into a nice small Studio w co producer Oliver Chapoy to finish production. The continuing stories of Black Rain and the Gibson sdtks.
How does it feel coming back into the music scene?
We got back into doing shows once the reissues started to happen, in 2005 DCC got the call to go to Venice to play the Bienalle and since then DCC, Ike Yard and Black Rain have been playing shows through 2014. BR played through London, Manchester, Brussels, Paris, Berlin, Lucerne & Oslo in 2012. And in 2014 Br supported Dark Pool again w dates @ Bozar Brussels w Ninos du Brasil, Fennesz, Helena Hauff, Berlin BEB night, Hamburg @ Golden Pudel w Nina Trifft, Moscow w Ben Frost, Clock DVA, Stockholm parties, Paris and LA w Ancient Methods, Silent Servant.
How much has visibly changed?
Oh sure. There is a good amount of current music I do like a lot so as long as the music is cool we can work. The countries, cultures systems have changed too. We have really enjoyed working w BEB, Regis, Sam Kerridge and Hayley friends in Brussels, Berlin, Paris & Tokyo.
Who is the protagonist in this imaginary soundtrack, and what is their struggle?
Hmm, if we are thinking of say Dark Pool there is one protagonist we encounter a certain distance from the world building plant where it, the metamorphic being of " Xibalba Road …", was born. What are the thoughts of a manufactured humanoid being' fresh of out the vats ? That's is it's struggle – to get out of sight of those lights and out into country before the helicopters come and hunt it down.
How would you describe your sonic vision?
For Black Rain once we began doing music for near future scenarios it shaped out sound there 1994-95. Before that it was more a post punk thrash industrial four piece group. For Dark Pool we worked w authors KJ Jeter and BladeRunner 2 : Edge Of Human and Paolo Bacigalupi's The Windup Girl for further inspiration in humanoid, artificial humans, replicants, fabricants' interior moods.
What has recently inspired you?
The things that pop up around the planet at a faster and faster rate. Noyuri came back from Japan again last week. Spring finally came in. Also the relistening to the early years Black Rain 46m of music the other nit w headphones. And the new Ike Yard tracks, we worked w women vocalists for the first time in IY and it has worked very well. So the records productions make for happy moments since the reissues of 1988 – 93 cycle seemed to kick in for my music starting w the Perfect Beats Tommy Boy collection for Dominatrix 1998, + Dominatrix DJ H Hell reissue 2003, the Troubleman records DCC reissue This Is Riphop 2004, Ike Yard Acute Records reissue of the first 2 records also.
How, do you think, your everyday environment (the concrete jungle of NYC, for example) affects your inner view of the world, and in turn, your music?
We are living in a quiet part of the city and I can use that to focus on work. The more time I spent here the deeper I could go. Being in NYC certainly enabled us to travel more freely and more often. With a mind towards staying connected w likeminded people and friends.
Do you think that one day you will work on a film score? What would be this ideal scenario?
I have been lucky enough in that some pieces DCC did were licensed for use in Nicholas Roeg's Insignificance. William Barg and I did a cyber voudou project The Voodooists that got song on J Demme's Married To The Mob 45 w Debbie Harry on the other side. In addition to the '80's groups soundtracks for artists Gretchen Bender, Robert Longo bet. 1984 -95, I was invited to do TV soundtracks from 1997 and co produced over 80 Cable TV shows for NY Times TV. Partner Chuck Hammer and I were Emmy nominated in 2002 for our work on Trauma: Life In the ER. That is really the one period I did not work w groups or release records, bet. 1997 until 2001- 2.
What can we expect in the future from Black Rain
Some live dates July 2015 Europe Italy TBC. Black Rain early years 1989 – 93 LP is almost done and coming out on desire records. BR Expanded Edition of Soundtracks 1994 -94 w 2 X the cuts is coming up on BEB. All new BR album being written and to be produced in 2016. 4/26 + 5/17 cyberpunk 18m video screening.