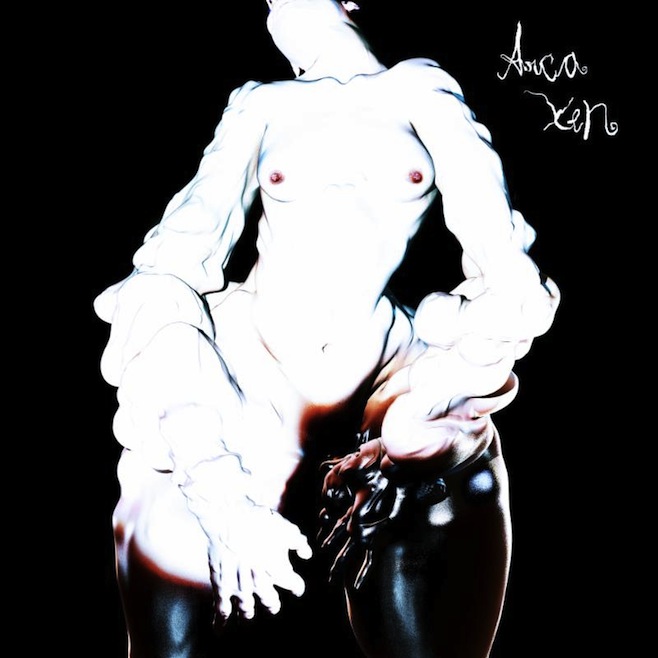 nothing is off limits emotionally…
There's just something strangely delicious about the sound of Arca. Although this London based, 24-year old Venezuela native has already released two albums prior, it was not until his 2014 offering by Mute that got me bopping my head. And now, after I've already picked Xen as one of the Best of 2014 selections (alongside Actress and FlyLo), I'm still unraveling and peeling away the intricate layers of his unusual approach. I suppose this writeup would be incomplete without mentioning Alejandro Ghersi's previous production contributions for Kanye West's Yeezus and FKA Twigs' LP1, but I promise you that it was none of the above that really got my attention.
The kaleidoscopic collection of Arca's arsenal consists of twisted keys, broken melodies and experimental beats. Take a look at the cover art, and you may get a glimpse into the sonic territory of the warped sounds underneath. The instruments appear to be limited to a particular aesthetic of pitch bent notes, syncopated rhythms, and seemingly out of place stretched time signatures, and yet it works on every track. Throw in the contorted visuals of Jesse Kanda, who designed all the accompanying imagery for Xen, including the mildly discomforting [in a very good way – think of Cunningham's "Rubber Johnny"], sexually charged music videos, and you've got a highly imaginative palette of never before heard (and seen) music, that seemingly propels itself into the future's past.
Xen is a genderless being. It's about resisting labels and integrating different sides of ourselves. The complicating of one and the other is very fertile, emotionally and creatively," Ghersi explains, "It's a total openness, and fearlessness to being open – nothing is off limits emotionally. The music is a celebration more than anything else – a celebration of being able to feel.
The album has recently been also released as an '????? Edition' which contains two bonus tracks, previously available as part of a very limited vinyl-only deluxe edition. Besides riding the well deserved critical acclaim, with musical outlets declaring him to be "one of our most uncompromising, intriguing and forward thinking producers," Ghersi managed to find the time to co-produce Björk's Vulnicura album, released by One Little Indian in January of 2015 [along with The Haxan Cloak on a few tracks], so be sure to check that out as well. Once again, I am impressed with Mute's strong comeback with the backing of Arca and many other genre (gender?) bending artists, and am extremely excited by the eclectic programming in 2015. Stay tuned.