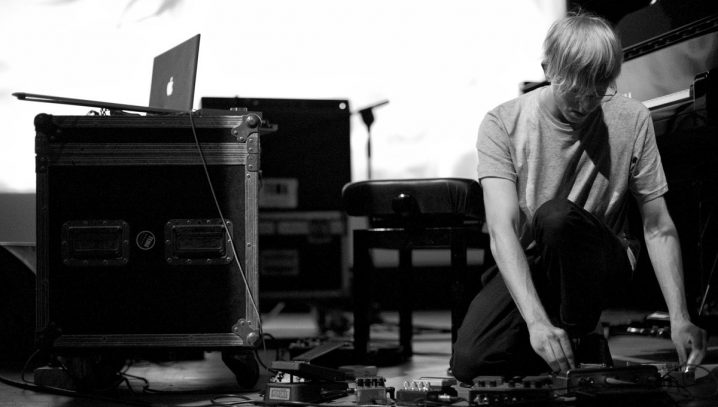 One thing I always want to achieve is that we end up with something timeless, that you can pick up in 20 or 50 years from now and hopefully enjoy equally as much.
Congratulations Erik on the incredible album 'Flame', the follow-up to the equally evocative 'Flare'. You have said previously this marks the second and final chapter of your Americana inspired duo of albums. I would love for you to discuss this project as a whole and indeed your love of Americana and the reason(s) behind this beautifully designed concept?
Thank you! 'Flare' came to be because of the right things coming together for it. Moving to Berlin, meeting Monique, whom asked me to do an album for Sonic Pieces, which I ended up doing under my own name instead of as Svarte Greiner. The whole Americana and blues sound from the records is very vaguely a way of incorporating my idea of this sound into my own world, to say it like that. I know very little about Americana as a musical style. I just love the cinematic quality of it. This is rather based on me seeing movies and series than listening to any Americana or Blues. 'Flame' is me trying to take this sound further, as well as it's a homage to my dad's love for old Western films. Probably anyone who has any knowledge of these styles would think my albums has nothing in common with it. I think this is similar to how previous albums like 'Knive' or 'Pale Ravine' came to be also. They're based on an idea of a sound rather than having direct influences from a certain style.
I thought that two albums inspired by this was enough for now and I leave the chapter half-closed until I see what the future will bring. Also of course it helps that they are packaged in a beautiful Sonic Pieces style 2LP sleeve, which makes for a nice final statement.
In terms of the narrative, how do you visualize 'Flame' in respect to its predecessor? I feel there is a resolution sought on 'Flare' whereas on the follow-up, this resolution is resolved. There is a certain feeling of closure to this record.
That might be. I don't want to delve too much on the narrative aspect, as the best way to listen to anything is to immerse yourself into it and give your own purpose. I work mostly in an instinctive way and feel myself through the way. Probably I had about 50 different tracklistings for 'Flame' before I ended up on how it was now. One thing I can mention though, is that f.ex the track 'Flames' was made entirely to glue together the tracks before and after and to make the flow work better. Also I think 'Drowning, Whistling' has a good closure feel to it, making the ending to the duo albums fitting.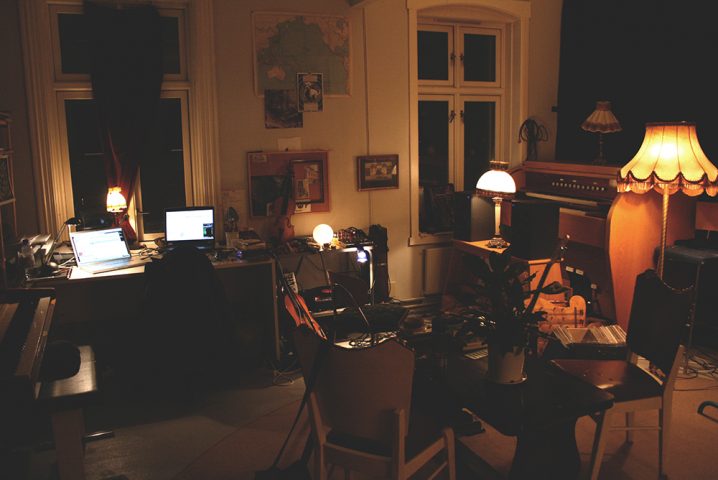 Please discuss the instrumentation used on the record, Erik and what techniques or processes were used differently this time out? The recording took place at Vox Ton, NK and Miasmah studios in Berlin. In terms of sound design, what are these studios like for making music?
This was actually quite different in a way that I had even more access to instrumentation than during making of 'Flare'. While 'Flare' initially came to be after spending a week in Durton Studio without Nils (just using the instruments he had). The sources of 'Flame' comes from 3 different locations over several years. My old studio at NK in Berlin I was sharing had a drum set set-up there, meaning I had to explore this, which led to me trying this more even after I left the studio. Then since getting to know Fransesco Donadello and their newly set up studio VOX-Ton after we recorded our first B/B/S/ album there, I decided to book a day to just improvise with the instruments they have there, which is a lot! I ended up using everything from an old 1920s tube synth (heard on 'Drowning, Whistling'), a type of Japanese Koto (heard on 'Red Box Curves') to plain pianos, percussion and more. I also had Mika Posen and Anne Müller in for that day to improvise over some sketches, which ended up being great.
I took the recordings for this and built parts of 'Flame', though there is a lot of cutting and pasting going on. All the actual mixing is done in my home studio (Miasmah). I'm still at heart a lo-fi home studio musician who doesn't know much about big productions but having such great studios to record things, for sure helps the sound quality.
You are also part of the mesmerizing modern-classical duo of Deaf Center. I would love to gain an insight into the creative process between you and Otto Totland? Can you shed some light please on the new direction you both venture on this new project? A constant for any of your musical ventures is the innate ability to capture atmosphere through sound. Please talk me through this whole area and how you set out to capture mood through your meticulous song-craft?
Me and Otto live in different countries, though even when I lived in Norway we didn't meet and work together in person much. 'Recount' was made based on two shorter meetings. Once back in 2008 after Otto visited me in Oslo and we just played around based on upcoming live shows. 'Oblivion' which was recorded then was just a piece left in the vault that I recently found again last year. This was made with me playing stringed, heavily delayed guitar over loops, while Otto was shredding out sounds over it on the a keyboard run through Reason, which was the program we used back then. This piece I think sounds very much Deaf Center, especially in post 'Pale Ravine' period.
'Follow Still' the second track on 'Recount' is pretty much a whole other story, as this was made more in style with our more recent live style, where we improvise together on guitar (this time, with mostly organ effects) and plain unaffected piano to see where it leads us. Otto actually hates improvising, but I'm forcing him to, as I can't really recreate any pieces live. He's getting better and better at it though. Again we were in my studio (this time in Berlin at NK) and "rehearsing" for a live gig. I set up two mics in the middle of the room so we could listen back to our playing and see if we found a direction for live use. It ended up being a really strong improvisation that we both really liked, but I again put it in the vault as the quality was not that great, being just two room mics. Listening back to this some years later with Monique present, she every time asked me what this is when I put it on. Then when we decided to start the PATTERN series for Sonic Pieces, these two tracks was a perfect way to get out, as they wouldn't really fit on a new proper album. And now we're actually trying to recreate some of this for our live shows.
Capturing Mood is something Deaf Center is all about (though I guess in general all my projects is about this somehow). Also I think Otto is the best possible piano player out there when he's in the right mood. (The piano in 'Follow Still' from 'Recount' being a good example!). And for myself, I just try to find my way through the guitar (or other instruments) through trying and failing. When recording/producing Deaf Center material I tend to try think a bit more melodic and less abstract than as Svarte Greiner, though this can sometimes go both ways. One thing I always want to achieve is that we end up with something timeless, that you can pick up in 20 or 50 years from now and hopefully enjoy equally as much.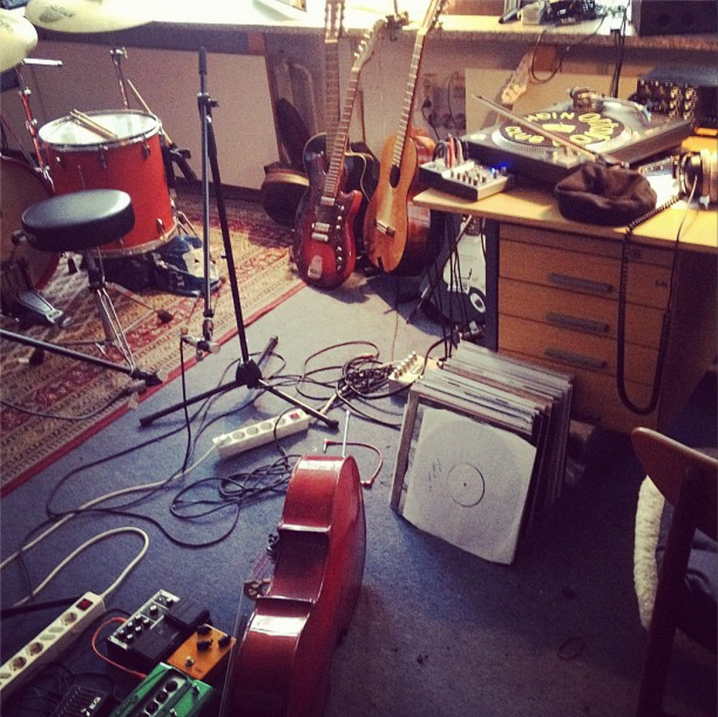 You also run the wonderful Miasmah record label. Can you please talk through some of your most cherished records and personal favourites from the Miasmah home and what forthcoming releases you have in store for us?
I guess like most record label owners (of a certain size at least) it's hard to pick out certain records. Having only about 3 releases a year, it's very important to me that each release is unique and special to me and that this is something I believe the world could need. There's so much music out there, it can drive you crazy if you want to listen to it all. If I really have to point out some favorites, one which is very special to me is Gultskra Artikler's massive 'Kasha iz Topora' which I find to be one of the most unique records I've ever heard and I'm very proud over having released. I was stalking Gultskra's releases since I heard his first recordings released on the net label Autoplate back in the mid-2000s. I hope to once do this on double vinyl also, though right now, Alexey (Gultskra) is focusing 100% on his more available Pixelord alias, so I think it can wait.
More recently I have to point out the Kreng box, as this is a kind of madness project me and Kreng were joking about, as he had all this scores for Abattoir Férme laying around, which he always said was unreleasable. Then little under a year from we first talked about it, we had the finished copies ready and pretty much sold out instantly. It was quite insane, and it makes me glad to think that these crazy things are possible.
For [more on] Miasmah, I can mention that I have a record from one of my favorite musicians out there, Andrea Belfi, [late fall of 2014]. I'm also in a band with Andrea (B/B/S/) and find his percussion experimentations really fantastic. He's one of these people whom can do any kind of music – which when listening back to his back catalogue you really understand.
Otherwise, I can say that next year is extremely exciting and I have a new crazy project already under way. Can't talk more about it just yet though.
Growing up in Norway, can you recount for me your earliest musical memories? What were the first instruments you learned to play? Can you recall what was the first defining record for you?
As very young I guess I listened to more or less pop music and didn't know much else. I was a Michael Jackson fan and remember seeing him live during the 'Dangerous' tour, which was great. I doubt that had much influence on my musical career though. Rather forward to my early teens and I came into contact with the more underground demoscene through too much computer use, and discovered ambient, jungle and drum&bass. Something I think was essential for the shaping of my musical path up to know. An early defining record for me is without doubt Future Sound of London's 'Dead Cities', though there might have been some defining ones before (such as Leftfield 'Leftism' or Prodigy's 'Fat of the Land'). 'Dead Cities' had lasting effect on me. This record has so much different influences and merges rave culture, ambient, idm, soundtracks, classical (Max Richter is actually participating on the record). It really made me experiment more with music and made me understand that I need to bend the rules more to get closer to something personal and unique. This is probably one of the most played records in my collection.
As for instruments, I had piano lessons for some years when I was young, but didn't really like it much. Other than that, the first time I pretty much touched an instrument was when making of 'Knive', where I used guitar and cello amongst others. I had no idea how to play them though, and still don't. But with a looper, effects and an editing software to cut and paste, anything is possible!
©
Interview by Mark Carry of fracturedair.com