I still remember the day I bought my first pair of 'audiophile-grade' headphones. They were a pair of Grado SR125 and I remember a whole month preceding the purchase, agonizing over the $100+ price-tag, convincing myself that this would be the next step in my ultimate sonic journey. I wasn't wrong! I remember holding the ear cups closer while listening to the latest Lusine Icl's Language Barrier album and hearing new things for the first time. I remember running over to all of my friends and thrusting a pair over their heads exclaiming "Listen! Do you hear all those little sounds? It's like you're really there!" I clearly remember the sudden realization that I could have been possibly deaf up until this very moment, and then proceeding on a long and continuous path of re-listening to every single album again. It was a new era and my ears were open. And I'm still bravely marching on my new sonic path.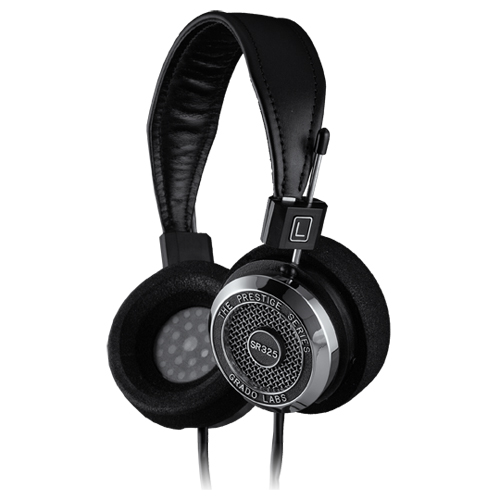 Years later [and a dozen of headphones later], I still have and treasure my very first pair of Grados, reserved for the most delicate of listening sessions. I now know the difference between the open- and closed-back headphones (see my earlier equipment reviews for a detailed explanation, as in this example of Audio-Technica ATH-AD900X), and actively select an appropriate pair for a particular sound, just like I pick the right glass for the next drink. Since then I've upgraded to Grado Prestige Series SR325is, which are a subject of this particular article, and I can't wait to share my many thoughts with you! But first, a bit about the company…
Grado Labs manufactures dynamic open-air supra-aural high-fidelity headphones, phonograph cartridges, headphone and phono amps, headquartered in Brooklyn, New York, USA. It was founded by Joseph Grado in 1953, and is considered to be one of the oldest family owned companies in the audio industry, holding 48 patents, including the invention of the stereo moving coil cartridge (for a turntable). Today, the company is operated by John Grado (Joseph's nephew), leading the development of the Prestige Series of headphones, which, after more than 15 years of production, are still recognized by many audiophile publications around the world, with nearly annual category awards.
The SR325is is the top model in the Prestige Series line. The pair features a vented diaphragm, aluminum air chamber, and ultra-high purity long crystal (UHPLC) copper voice coil and connecting cord. This is a 32ohm pair, which can easily be driven by your portable device (although a nice headphone amp is always recommended). Because this an open-back pair, I personally recommend the SR325is for all of your favorite ambient, modern classical, vocal, piano and experimental pieces. As I write this review, I'm listening to Erased Tapes selections which boast some of my beloved compositions by Ólafur Arnalds, Nils Frahm and Peter Broderick. And you know that I'm in heaven…
The highs are crisp and a very bright, vividly retaining the texture and details of dynamics. The mids are warm and lively, with just the right amount of tonal balance. The bass is punchy and clean, without being too overwhelming. The piano sounds natural, detailed, and real to the touch, while all of a sudden I pick up on a distant breathing of a performer. I close my eyes, and suddenly the bells, the bows and drum sticks are in front of me, conveying more than sound, but ultimately their very existence through an aural archive of this sonic bliss. Soon I forget that I am listening, and slowly drift away into that special distant place. And that's exactly where I want to stay. So why not thank a pair of Grados for that.
Besides the Prestige Series, Grado also manufactures the Statement and Reference Series which feature a hand-crafted mahogany air chamber. There is also the Professional Series with PS1000 being the "finest headphone Grado has ever produced." But until I can afford this [most expensive] pair (currently marked at $1695), I'll stick with the SR325is, which, as of this writing, are listed at $295 USD MSRP.
MSRP – $295 USD
gradolabs.com