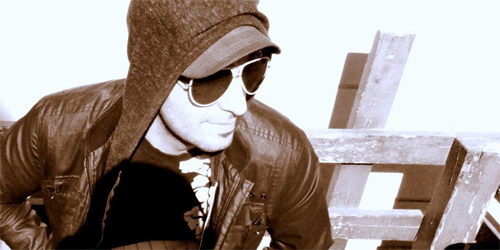 Hey, Chris. So what prompted a move to Las Vegas and how do you find the music scene there?
hmmmm…..Vegas, I was back in NY for about a year and moved here because of a girl.(Who no longer lives here). As far as the scene, its ok, a bit scarce unless you are into dubstep and house then you are in heaven……honestly i found Vegas to be a real creative zone for me. I don't know many people here so it allowed me to really focus on writing and craft.
What does the title of your album, "What If They Can't Trust You?" mean?
Over the last 5 or so years and very much so this year i have been dealing with trust issues from myself and others close to me…I started to really put weight on if we can trust one and other and once that trust is broken its nearly impossible to replace…I've had my share of broken promises , thats for sure…
You've managed to span a lot of different styles on the album. Who or what were your inspirations while working on the tracks?
I really wanted to keep the album alive and breathing. I also felt myself gravitating towards some of the roots of my influences, some obvious and some not and beyond that I really wanted the music to relate to itself and answer its own questions. I feel the idea of process and creation inherently became the main influence, but early Squarepusher, some Tipper and even My Bloody Valentine came into play .
How did you land a remix from Meat Beat Manifesto?
It was a shot in the dark, I asked a friend of mine who I knew had ties to Jack Dangers and is one of the Djs on the radio show Digital Nimbus (Pietrobot) to hook me up with him because I wanted to remix MBM's "Less". Jack got in contact with me after hearing my stuff and agreed to a remix trade! Blew my mind. MBM was one of the first electronic acts I got into and the first electronic acts I saw live…
What does your studio setup look like?
It's been morphing, that's for sure. 3 yrs ago I had more gear than I ever thought I would, multiple synths, samplers, controllers, tube compressors, electribes… I sold a good amount of stuff before Vegas and even more here. It seemed like the less I had the more creative I became and my emphasis on programming really started to pay off. Right now I have a rack with 2 tube compressors, 2 Fx units, one midi controller a pair of monitors, presonus soundcard and a laptop. I'm at the point where I want more again though, especially for live sets.
This may be a silly questions, but how does one go about producing breakcore? Is it a lot of zooming into the arrangement, cut and paste, or are there VST plugins that do all of the jittery triggering by now?
It seems almost like an impossible feat if I sit down and try to make a breakcore track… there is a million ways to do just about anything , I definitely believe in treating making any track like I treat a painting, blocking in the broad brushstrokes and large ideas first and ultimately leaving the littlest , finer details for last. I would draw the eye before the rest of the head or body, it would most likely lead to the arms not fitting on the canvas. I feel that is true with music that has a high attention paid to detail as well, if I just did some drilling drum edits and created from there I may find myself lost sooner than later in the creation. But hell, lets all download some VST torrents and hit play!
Read Headphone Commute review of What If They Can't Trust You?