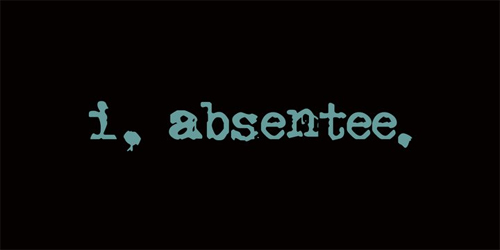 When I accidentally stumbled across a Los Angeles based I, Absentee label I was surprised that I've never even heard of it before. Here was an amazing compilation of all of my favorite artists [see our recent Sound Bytes column and mini review for Truth Serum], and yet it took me multiple clicks through artists' discography to finally arrive upon this gem! I promptly reached out to the label expressing my amazement at this accidental discovery, and to my surprise I have received a detailed response to my query. The contents of the letter deeply resonated with me and I wanted to share the words with you. With the permission of the Sean Lambert, the author of said letter and the man behind the label, I hereby republish his response verbatim.
Hi,
Thanks for the review.  Truth Serum wasn't intended to be mysterious, but I guess that's the result of my anti-industry approach.  I started out running the label out of Ohio (near Jeremy Bible of Experimedia and Jason of Infraction Records, if you know them).  I had no interest in rigid aesthetics or elitist curating, I began by just releasing friends I'd known for years and wanted to give a chance to be heard.  It was never my ambition to be anyone's label of the year.  On the contrary, I wanted to be the label that released all the artists everyone else passed over.
Eventually, I became more international, releasing people somewhat more known in underground electronic; Maps And Diagrams, Ian Hawgood, Ten And Tracer, etc.  However, I became very disillusioned by how I saw the industry working, particularly when we did our first non-CDr.  In dealing with more mainstream press and distributors, there was a lot of lying, ripping us off, blowing us off, etc.  I began to question the direction we were headed, that widespread growth and awareness of the label might not be all it's cracked up to be.
I steadily became candidly outspoken against the whole music scene (namely on our e-mail list).  For the most part, I stopped sending our music to distributors, unless I really like them.  I stopped sending material for review, unless someone goes out of their way to request something from me.  I ceased nearly every monetary aspect of running a label, donating all profits on every release we did in 2011, including our Truth Serum compilation, to causes and charities we supported.
Truth Serum, for me, was the culmination of my rejection of music as a business.  I wanted it to be purely an act of sincerity.  To my surprise, it's sustained a prolonged life for itself, with many people still discovering it a year later.  In recent time, I've dabbled in returning to generating meager profits for the label, mainly for the artists' sake.  I've also relocated from Ohio to LA.  I'm unsure how to continue, after committing a metaphorical self-immolation with the label.  I still haven't quite figured out our future, so in the interim, I've been revisiting some unreleased bits from our vaults as bandcamp exclusives, which has been fun.  Some are free, some are "pay what you want", virtually all of it is $5 or under.  We'll likely return to some more high profile releases eventually.  I've discussed doing some vinyl with some more well-known artists.  For now, we're still recollecting ourselves and very much enjoyed being the underground of the underground.  That's pretty much our history thus far in a nutshell.
Kind Regards,
-Sean @ I, Absentee