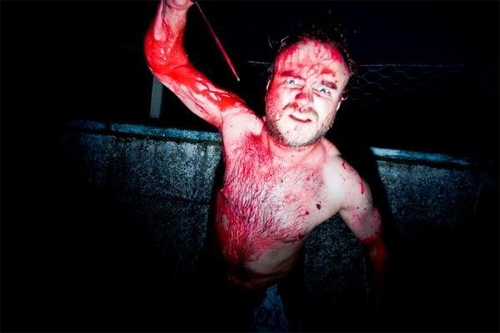 Tell us about the evolution of your sound since your earliest release…
Jesus… I guess I'm never good enough both production wise and in the arrangement. It can always sound better and can always have more tricks n detail so is in a state of constant evolution. Those have been the constants really, that and 95% of the time it being big, hectic and dirty. I'm influenced by what I love at that certain moment in time, music, film etc.
And what about the progress of hardcore and breakcore genres? How do you feel about their influence of and fusion with dubstep?
What I think is more noticeable and relevant to me is their fusions with drum and bass, where in the past we've been frowned upon or scoffed at by some I think. Now though, some hard drum and bass is sounding very core influenced. And drum and bass's production values and influence shine through in some particular core artists work (myself, Deathmachine for example). It's pretty exciting that everyone's accepting other things and open their minds a little on all sides of the pigeon hole multiverse, it's been a long time coming and I've been waiting for it I guess in many ways.
On your latest release, Trainwreck Magnetism, you managed to gather up some of my favourite taste makers from the electronic music scene. How do you come upon remixing tracks from Hecq, µ-Ziq, Drumcorps and the like?
Well, Ben (Hecq) approached me to remix Spheres of Fury quite a while before the album started taking shape. It was for the 1st release on his own label. I'm still in shock that he asked me of all people as I hold him in such high regard. I had a lot of fun remixing Spheres; he said he wanted a heavier remix so in that respect I guess he did ask the right person. Id wanted to get my teeth into Mu-ziq's 'Siege of Antioch' since the very 1st time I heard it after getting 'Bilious Paths' and it just came up in conversation while we were hanging at a gig or something. I'm lucky to have got the chance to remix Mike, he was very important to the shaping of my sound. As for Drumcorps, well it's kind of like the Mike story, I wanted to mash a couple of Aaron's tracks together for a dj mix and then ended up with an idea for a track n it grew from that. It's a banger…
Are there any artists that you would love to work with?
Myself and Tommy Broken Note have talked for a year or so about a collab so I want to get that started next year. I'd love to collab with Limewax and I think a collab between me and Enduser is long overdue. I've got quite a couple of collabs lined up for 2012 though, including a Drumcorps project. I think as I said before, the merging of these genres will really show its face next year… bring it.
Where does the title of your album come from?
Hahaha, a journalist a few years back said that I had a sort of train wreck magnetism 'quality'. Likening me to the feeling you get when driving past a train/car crash and being drawn towards it/not being able to stop looking at it… I've taken it as a compliment! hahaha
Your latest sound indeed sounds pretty "hard"… What prompted you to explore such darker territory and unleash the destroyer upon the listener?
I actually think it's a lot lighter and musical than the 1st album, whereas that was an album written pretty much solely for moshing to and worked as a unit/full album as one this is more separate pieces. It still is pretty damn heavy though, I just can't help but write like that. Even when I try and make something, say, minimalistic and light, it comes out like a rapid fire sledge hammer cannon.
The production quality of Trainwreck Magnetism is pretty tight… Even with all the distorted kicks, my monitors have no trouble peeling off the higher frequencies. Tell us about your production setup. What hardware/software did you use for composing these tracks?
That's good to hear! I used only software for all projects up until very recently. Cubase, Kontakt, Reaktor are the staples. In fact iv only very recently bought a mixing desk, rack compressor and some other toys but hasn't used them at all. I've had a time out in 2011 believe it or not… 2012 will be a very different beast. After a year break I feel really refreshed and focused. It's good.
What are you working on right now, and what's next for The Teknoist?
I'm working on moving studio/house after a year off (kind of). I've been resting but releases that have been waiting have come out this year so it's made me look busy still. 2012 I'm planning on being pretty busy both in the studio and gig wise. In 2011 I turned down 95% of shows and strongly considered having a few years off but things have changed for the better since a dreadful 2010 and early 2011 personally. I've got a lot of work to do to fix some things but I've had time to think and get healthy again after 5 or so years of international touring every weekend.. So I'm motivated again and tbh I don't think I could have stayed away.