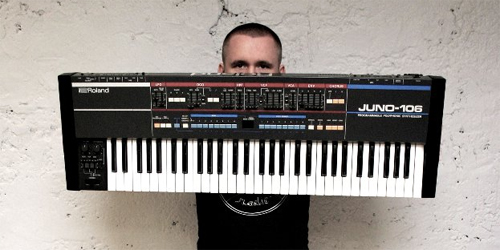 Monothlithium has made some big steps very quickly, playing at Mutek within months of the fist tracks being mastered, and at Decibel a few weeks from now. What do you attribute that to?
The big factor I think, is the fact that it emerged fully formed. I had an EP already planned and was finishing it up before I told anybody that I was even doing it. The last thing I wanted was to be that guy who was like, "I'm working on this thing, check out this demo", and it's not even mastered… I wanted to be ready to go and that really benefitted me. Our world is so burdened with dudes who shouldn't be releasing music quite yet. Everyone's got ableton, everyone's a DJ, everyone's a producer. It's just, like, work at it a while. What ended up happening was in November of last year, I had Michael Red out to play, and I gave him a couple of tunes. So then he had me out for his night in Vancouver for the first Monolithium performance – he put me on at 1.30 to a room of 400 people. I played my tunes and people were going off. After that he secretly started trying to get me into MUTEK. He didn't tell me until I was actually confirmed. That was an amazing email to get and I am forever indebted to that guy. And the fact that Error Broadcast picked it up – they're a great label and are part of this new paradigm where the web is the gateway to everything. They understand that and utilize it really really well. They've been awesome. I didn't expect it to get pressed to vinyl and when they said they wanted to do that I was just giddy like a child, you know?
Where did you start with producing – how did your style come together?
One of the tunes I first put together about three years ago was proper dubstep, like, pretty heavy, and it sounded proper, but by the time I had it mastered I was like "euww", stylistically I wasn't feeling it. I'm a big East Coast Hip Hop head. That would definitely be my main love throughout my life. I've always enjoyed beat producers – I would count Dabrye as a huge influence. My personal trajectory with writing coincided with Flying Lotus breaching the underground along with Hudson Mohawke and Rusty starting to really make noise in Glasgow. It became tangible that it didn't have to be hip-hop OR dance music, everyone overnight realized that hip-hop IS electronic music and is sometimes waaaay better without the rhymes. J Dilla is important in terms of that mentality becoming part of the electronic dialogue as well as the hip-hop conversation as well. Anyone could listen to his instrumentals without the vocals and think 'this is amazing.' I'm enjoying aging as a proper hip-hop fan. I imagine the baby-boomer generation deriding hip-hop as immature fodder for children, but I guarantee I will still listen to Wu-Tang and Company Flow when I'm 40 years old.
And to actually sit down and write your first EP, how difficult was that?
I've always been familiar with software and making music. I've owned Roland gear for over a decade and been making beats for 15 years. But all the stuff that's on the first EP came together at really random times, really quickly. "Selfish Little Crunk" I did in 10 minutes before I went to a wedding, in my tux, in front of my laptop. With "Simon & G-Funk", the day I bought my DX7, I came home and plugged it in and it all happened right away. Everything on that song is from a DX7 and it just happened instantaneously. A lot of the time I write strictly on midi inside of ableton, just clicks on a mouse and then re-record the final take with my hardware synths. I only have a basic understanding of theory, I lean heavily on my ear. My ear's got a decent palate I think, and that's one of the awesome things about underground dance music right now – there are just so many different things happening that if you have your ear open you can pull from so many different places, if you're apt enough to do that, and probably come up with something pretty interesting.
You've been a DJ for years so you've worked a lot with dancefloors. Do you see yourself writing dance music?
Totally. I think my tunes are danceable within a certain context. I know the record is getting played in Europe, it's not getting played that much in North America. Tempo ranges are a funny, geeky conversation that dance music purists have all the time, but it's just really interesting, fascinating shit when you talk about what tempos move which demographics. I was thinking about the dancefloor in terms of vibes, especially with the R&B vocals in "Simon & G-funk". And "Heat Pump" obviously has a bit of a drop where it's like 'this is where you lose your mind'. I've been listening to rave-y dance music my whole life; I can use those signifiers and it's pretty easy to write a build up/drop. A tune like "Simon & G-Funk", you could argue, is not actually that danceable for many people because there's so much space between the beats and it's so wonked out. But that's my ideal dance music. The perfect dance scene for me is that super tight sweaty room where everyone's grooving to low-slung beats, because there's so much more sexuality and sensual body movement between all those beats. You have to have a lot more confidence as a dancer.
How are you finding the transition from DJing to playing live?
MUTEK prefers live performances to DJ sets, so that was a good opportunity to build an elaborate live set and now I've just continued adding to that. I'm still finding the nuances inside of it. It's like a complicated way of DJing my own songs, where I take my tunes and break them into the basic elements so when I'm playing live I can manipulate things as much as I want. But I'm pretty committed to the trajectory of my songs; I've noticed I have a tendency to write in a linear progression. I'm not a very loopy guy. I obviously start with loops, but I don't like to just rock a loop for 16 bars. There's always a transition happening and always something dropping out and coming back in. When I play live I want to commit to that and make sure the songs hold some semblance of the original in terms of progression so that there is this narrative. MUTEK and Basscoast were amazing because they're environments where people are just going for it. There's that trust where they believe in the artist and they go to the show to be won over, which gives me the confidence to go all the way in as a performer.
©
Interview by Kyra Kordoski for Headphone Commute.