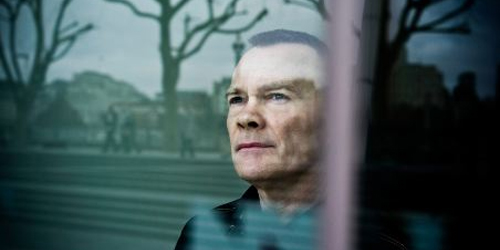 Tell us about the album name, Biophilia. What is the story behind the concept?
Well – firstly I lay prior claim to the title over Bjork. Its been something I have been engaged with for quite some time. I am a South Londoner living in a pretty urban environment but at the same time incredibly drawn to wild places and green spaces in general. I need both in my life and the natural world has always been a solace for me in hard times – I have a little mantra to myself that " nature ( like music ) never fails you ". I also have a fantastic garden in my home which backs onto what used to be the busiest rail line in the world so that interface between what you could call the green and grey worlds is something I confront every day – my studio looks out onto this. So I am trying to explore the sonic representation of that urban/pastoral environmental interface. As it happens I also love both urban and folk musics though I accept that finding much obvious inspiration from folk music in what I do might be a hard call.
Where are some of the field recordings from?
There are trains recorded in my garden in SW12, a variety of sounds from Pagham Harbour in Sussex, some from the Ashdown Forest again in Sussex as well as the obvious pinched sounds from outer space via Vostok 1 !
And what about the instruments used in production? Are these analog emulating soft synths, or were you able to get your hands on the original modular patch bays?
Its a mix – I have a collection of old synths – Junos, DXs, Wasps, early Syndrums, Airsynth plus the usual suspects of analogue emulators from Cubase, Logic, Reason, Novation etc. Also I used the very wonderful new Monotron from Korg as well as my main playing instrument the Akai MPC sampler
You have quiet an interesting history in electronic music. How does your current project, Gagarin, fit into the evolution of your sound, and inevitably your own personality?
Well I started out as a drummer in bands but was always a bit frustrated at the role of a drummer esp in Rock where its pretty subservient and you just keep the beat. As a kid I was always drawn to the sounds of early electronic music – Stockhausen, Walter Carlos, BBC Radiophonic workshop etc – the other worldliness of those sounds reached something deep in me. At school one term we were given a 4 track tape machine, a book of Stockhausen writings and the key to the instrument cupboard and told to come back with something in 6 weeks !
As soon as they were invented I started buying syndrums – the Synare 3 being a particularly exciting one to me and I incorporated that sound in quite different musics eg with Ludus or even Nico. At the same time the drum machine started to liberate drummers from the drudgery of time keeping as well as to lead to the evolution of dance music. The day I first heard I feel love by Donna Summer and also early Kraftwerk were real road to damascus moments – I had heard the future and boy did I love it.
So more and more electronics became central to my work and I tried to incorporate those elements whilst working with other people. The sampler was another big moment for me – the ability to take "real world " sound and manipulate it led to lots of explorations including a notorious record I did in 1987 called Listen Buddy where we sampled and played with the speeches of ex Prime Minister Margaret Thatcher – that nearly got me arrested actually!
At the same time I started to get frustrated in some of the projects I was involved in – and decided to develop a solo project. Gagarin was born after a short tour of Russia in the mid 90s as a vehicle where I dont have to compromise with others – I can say what I want, how I want and work at my own pace. I still love collaborations and frankly want to keep both strands going as long as my ears and mind hold up.