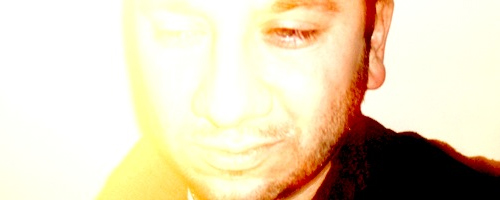 Prismatic and last year's Twig and Twine both offer the listener warm, meditative soundscapes that seem to attempt to tap into the simplicity and wonder of nature. Your music seems to typify a night spent lying on the beach gazing up at the stars, or a quiet afternoon hike in the woods. Where exactly do you draw your influences from when composing your music?
I think you have a sense for what I'm trying to evoke. We do have a couple parks close by and even a small wetlands area in our neighborhood which I enjoy visiting – though not as often as I would like to. More than anything, I would just like my music to be an escape for the listener as much as it is for me—that feeling of having a little sound world to mentally explore. I also constantly listen to a lot of different types music, so the way those influences combine, filtered through my own musical "voice" also subliminally affects what I do somehow.
You live in the Motor City, and what I find interesting is that your music stands in stark contrast to many contemporary Detroit techno and electronic musicians. Some of the artists on Ghostly (like Kiln, Twine, The Sight Below) are working in a somewhat similar vein, and obviously there's always been an element of ambiance that's part and parcel of Detroit techno (the work of Neil Ollivierra's Detroit Escalator Company being some of my all time fave), yet you have stripped away most of the traditionally 'electronic' sounds from your own music for a much more natural and organic feel. So I guess what I'm wondering is how does the history and city of Detroit fit into your musical aesthetic?
I would like to balance and also blur the lines between the two ideally (electronic vs. organic influences). The past couple years, I've really been delving into Theo Parrish's catalog. I really like the way he combines found sounds, samples and traditional instruments with a more organic feel. Moodymann as well. I don't live downtown, but the city itself can definitely be an influence if you've spent some time there—there is beauty, decay, soul and history that people not from the area might not understand. I guess the aural equivalent might be the juxtaposition of random/noisy textures and more structured melodic content in some of my music. I like all of the more  contemporary artists you mentioned a lot as well – particularly Kiln. The way they combine texture, melody and rhythm in their work is really amazing. I feel like they are really underrated to be honest. I correspond with Kirk from Kiln via email occasionally, I was quite blown away to find that he had been listening to my stuff—very humbling.
Besides recording music as The Green Kingdom you also do work as a graphic designer and sound artist. How do these varied artistic disciplines feed off each other?
I find that a lot of visual artists often also have some type of musical outlet as well. I think there are a lot of parallels—they both involve combining various elements into one cohesive whole: layering, positive vs. negative space, colors vs. tones or instruments, etc. I think I'm more of a minimalist when it comes to graphic design though. It always takes a little more effort for me to strip things back to the essential elements in the audio realm.
There seems to be an innate spirituality in your music. The closing track on Prismatic is called "A Prayer" and many of your tracks seem to be solemn and subtle invocations towards something more or something 'beyond' (for lack of a better term). Am I reading too much into it or is this something you are consciously trying to evoke?
No, you are spot on with that as well. I am a practicing Catholic which is maybe not as common in the experimental music world? I don't know… I think there is a somewhat spiritual or reflective vibe present in my stuff, but I don't really think about anything too much while making it. The beauty of instrumental or abstract music is that it is open for interpretation, the listener can create their own meaning and associations.
Over your last three albums, I have noticed a slight increase in the use of a subtle 4/4 beat, such as in the gorgeous "Maplecopter" on Twig and Twine, and on Prismatic's early standout track "Radiance Reflected". Do you see your music evolving towards more beat-oriented songs in future work?
Yes and no—I'll usually have at least a couple tracks with beats per album to provide a slight change of pace and break things up a little. I like having that subtle pulse to give a piece that feeling of movement sometimes.
I read on your website that you recently played a "rare" live show at the Contemporary Art Institute of Detroit. Do you have any plans of making live performances a more common venture?
Yeah, that was fun. Ismism, a very talented band from Montreal asked if I would like to do a set. I don't see it becoming a regular occurrence given the more introverted nature of my music, but I would like to do more live sets eventually. I'm much more "studio musician".
– – – – – – – – – – – – – – – – – – – – – – – – – – – – – – – – – – – – – – – – – – – – – – – – – –
Interview by Matt Leslie (Inaudible) for Headphone Commute.
See also review of Prismatic