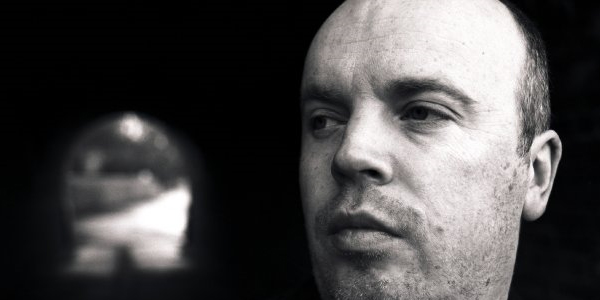 After 20 years in the music industry, working mostly behind the scenes, Richard Anthony Jay recently decided to step forward into the spotlight with his wonderful debut album of warm and stirring neo-classical music, This Is What I Live For. Here, Richard reflects on his ups and downs in the business and what inspired him to finally strike out on his own. He tells us about his love of melody and why he's a "lazy minimalist".
Richard, what took you so long?
Well, that's a long story but I'll give you the short version! I started writing music at the age of 14 and left school at 16 to train as a sound engineer at a local recording studio. After moving to London a few years later, I effectively became freelance, working as an arranger/programmer, for unsigned bands, to earn some money and then concentrating on my own music in my spare time. And there was a lot of spare time in those days. I guess that I wanted to be a film composer then, like every other guy who writes instrumental music in his bedroom, and I never at any point thought that I could be an "artist" releasing records under my own name. I guess there were two reasons why: firstly, I was – and indeed still am – very shy so I've never sought attention, but secondly, in those days, early 1990s, there was no obvious market for my music, at least not that I could see. The big chill-out movement hadn't happened and contemporary composers like Philip Glass and Michael Nyman were not big names. So, after a chance meeting with a talented young singer who was looking for a writing partner, I guess it's no surprise that I ended up on a 10-year detour in "pop" music and put my own passion for classical fusion, to one side.
What made you finally take the leap from behind the scenes into the spotlight?
I got hugely burnt out after 10 years in pop, and it took me a few years to figure out why. It was a pretty bad time actually. I was happy in my personal life but my passion for music had completely gone. I didn't listen to music anymore and didn't even own a stereo. The only music I heard was on the car radio as an alternative to listening to the engine. And the cause of all this, I believe, is that over the years I'd become more and more focused on writing music to earn money, or at least be commercially successful, and the only way to be successful – or so I believed – was to concentrate on commercial music and not write the kind of music that I really wanted to. Throughout those earlier years, people in the music industry – A&R, producers, etc. – had often commented on the classical influences in the songs I was writing and believe me it wasn't always meant as a compliment. So after a few years away from music, I very slowly felt the urge to write again. And I started to notice that there were other guys out there, like me: thirty-something, ordinary-looking men who were writing minor-key, classically influenced music, a million miles from what you hear on commercial radio, and seemingly having success with it. Some of them were classically trained and some, like me, were not – it didn't seem to matter. It was a very slow realisation process, to where I finally thought: if they can do it, why can't I?
Your music seems to be more steeped in the classical tradition than the works of the modern composers you are sometimes compared to, like Max Richter and Olafur Arnalds. How do you place yourself? And how do you see the whole issue of "genre"?
It would be almost impossible to find new music that we'd like if there was no such things as genres, or "pigeon-holing": we wouldn't know where to begin looking. So overall I have no problem with being categorised but it really depends on the point of reference of those doing the categorisation. For example, I see artists referred to as contemporary classical who are nowhere near classical as far as I'm concerned. Likewise, I'm sure many people in the classical establishment would say that I'm nowhere near classical! So, it can sometimes be a bit misleading and, given that the genre of "classical" covers at least 500 years of music, it's probably impossible to say exactly what constitutes "classical" anyway. I'm probably a lazy minimalist: I start of with a minimalist idea but then get bored quickly, and expand it to the point where it's not really minimal anymore 🙂 Also, I love melody so that's very important to me. Some writers prefer texture over melody, but not me. I like people to remember my work. Have you ever tried humming a texture? It's not easy. Actually, my music is probably a reflection of how I communicate with others in day-to-day life. For example, if I had to phone you up about something, the conversation would be over in two minutes, because I usually get straight to the point and cut out all the boring, unnecessary bits. So when I write a piece of music, I pretty much do the same.
Tell us a little bit about the album. Is there a unifying theme? Are the pieces all written specifically for this album or have you been collecting them over a longer period of time?
The album covers almost 20 years of writing. The first track ("In The Beginning") was written when I was 17, the second track ("Milan") was the month before the album was finished, when I was 36. "Washington Subway" was 2008, whereas "25th March 1996" was started on that date, but then revisited in 2008. So, from one track to the next it's jumping from teenager to thirty-something. I think future albums will be different, simply because they will cover a much shorter period of my life. At least, I hope the next one doesn't take 20 years again!
What are you listening to these days?
Loads of different things, as is always the case. I like a lot of world music, especially Celtic & Klezmer, and crossover artists such as Cesaria Evora and Yann Tiersen. Film music pioneers like John Barry, Henry Mancini and Ennio Morricone have played a big part in my musical upbringing. I'm listening to Trespassers William a lot at the moment as well as Keran Ann, Nick Drake & Yael Naim. From the classical side, Michael Nyman, Philip Glass & Max Richter are my favourite living composers. Bach, Ravel & Rachmaninov from the past.
What's ahead for Richard Anthony Jay?
I have a side-project, called Marble Hill, and its first album 'Imperfect Beauty' will be released in 2010. It features drums, bass, guitars and synths, alongside my regular piano and strings. Early in 2010 I'll start work on the follow-up to 'This Is What I Live For'. I also hope to work on a film and maybe a ballet as well. Finally, I'm thinking about putting together a string quartet to play some live shows – I haven't played live in almost 15 years, and that was only to accompany a singer, so it's quite a big deal to me!
– – – – – – – – – – – – – – – – – – – – – – – – – – – – – – – – – – –
Two and a Half Questions with Richard Anthony Jay written by Tigon.