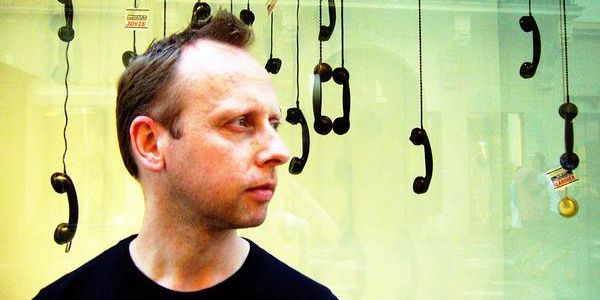 This is the first time we're hearing your voice. What prompted this revelation?
I've always been keen to humanise digital music and technology and have always used voices in my work since the earliest scanned phonecall recordings of the 1990s, but felt that I wanted to offer more of a personal connection. I wanted the voice to sound as if someone is simply humming along to the music in an intimate way, casual and gently.
Tell us a bit about your sample of William Burroughs. What is the message that you're conveying with his words?
Burroughs is a figure who has inevitably influenced my ideas and creative approaches over the years since I was a teenager and at the legendary Final Academy performances in London. His notion of cut-ups developed with Brion Gysin was inspiring in terms of finding something new in convention and using his voice in another form here inside the music, cutting and pasting lines from different readings and presentations, was a way to offer a human presence again within an electronic field. The meaning is less important here, more a deconstruction of language.
What about your collaboration with Patricia Rozario? What prompted you to bring her into this work, and what was the production experience like?
Patricia and I had previously worked on the soundtrack to the contemporary dance piece Faultline and we performed several live shows together. She has frequently worked with composers such as Arvo Part and John Taverner so felt a strong affinity with her. I composed this piece for her to sing over and in fact she improvised all of the vocal lines here to the music in the studio to spine-chilling effect. She's an amazing Indian singer.
What's next and what are you working on right now?
That's always the exhausting question 🙂 I'm Visiting Professor at Le Fresnoy art school in France at this very moment, whilst continuing to travel the world constantly for performance, installation, composition. In addition…
I have a new album, a theatre soundtrack coming out in Italy in November, 'Consegnaci, bambina, i tuoi occhi', released on SMS contemporanea_Siena
I just completed the soundtrack for the global campaign for the new Samsung Corby telephone
I am composing a new film soundtrack for Dr Jekyll & Mr Hyde to be premiered in Vienna this year and then to tour around the world in 2010-2011
Kirkou & Karaba, the children's musical I composed, recently came out on DVD in France and is touring again throughout France
I just completed the soundtrack to a film Oops Wrong Planet, directed by Anouk de Clercq
I just completed the soundtrack to a film Evaders, directed by Ori Gersht
My work can be heard in the amazing new Darwin extension built in the London Natural History Museum, where I soundtracked the DNA sequence of mosquitoes
I just completed a new album with American composer David Rothenberg to be released in 2010
and so on 🙂