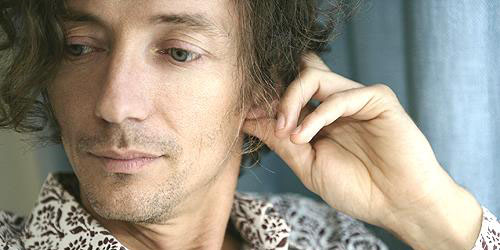 There is a variery of instruments on Ferndorf. How did the cellos and most interestingly trombone come into this equation?
Well after releasing three piano solo records, two of them were pure prepared piano, i thought to carry on working and maybe push the work with the piano to certain borders. one is to work with other instruments until the piano maybe disappears but the sound of my music is still left. so i see the instrumentation on ferndorf as a possible beginning of getting deeper into the orchestration. and i have a big connection to bass and tenor instruments… the cello has a huge range which i love.
I noticed that your piano was still "prepared". Tell us about some of the techniques you used in modifying the instrument?
i use a lot of different things. mainly i put different material between the hammers and the strings but also vibrating and tickling toys. depending on the material the sound that adds on top of the normal piano sound is different in quality and colour. so if you put cardboard between hammers and strings it sounds like a drum and if you use paper you still hear the piano tone, but modified.
How did you prepare (if at all) for your improvisational pieces with two cellos?
we rented a concert space in duesseldorf, set up a lot of microphones and a recording system and then we started playing without rehearsing. we recorded around 45 tracks and afterward we choose the pieces that had the most intense feeling. a lot of times you can tell already while you are playing. Insa and Donja are wonderful open cello players that are able to carry their own music for a long while… this is maybe the best situation, that musicians are strong enough to give the others the piece to rest but not necessarily.
Tell us about your upcoming work…
there will be another 12 inch and digital release coming up and the end beginning of next year called "Snowflakes and Carwrecks" which is still out of the same session but contains much longer pieces that were not fitting on Ferndorf. some pieces are 9min 50 long and they occupy the whole record. after that maybe one short piece can survive. in total it will have around 40 min of music. then there is a dance vinyl coming out with a piano remix on the b-side on the english label care of community. on the french label BipHop there is a 17 min release of a concert with me and the english electronic duo Antenna Farm (bip-hop.com) the record is called Vol.9.