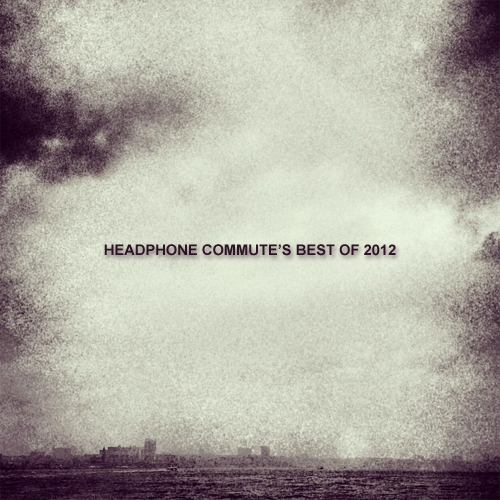 And so it's the last day of 2012… People around the world celebrate the calendar roll-over, and, to be honest, I still see it as an arbitrary date attributed to our planet's position relative to the sun. So I'm not really sure what all the fuss is about. Nevertheless, I must join in, and take a look at 2012 in this "year in review". Tomorrow marks the 5th year of Headphone Commute's existence. That's right, kids, exactly five years ago, in January of 2008, after a growing following on my last.fm page, I decided to kick off this dedicated site. It's hard to believe how much the magazine has grown. Of course, I never thought that it would make it this far, just like I can't possibly imagine where it will be in another five years.
And although I hope Headphone Commute has a bright and long-lived future, it is with sadness that I see more and more similar resources shutting down. This year alone saw the demise of many wonderful sites, among them the mnmlssgs blog, The Silent Ballet, and The Milk Factory. What are the reasons for saying goodbye? Thankfully, sites like A Closer Listen pick up where some left off to bring more music to our ears. And since I'm already talking about the losses of 2012, I must pay my respects to Pete Namlook – a pioneer, an inspiration and an amazing musical force. RIP, Pete, you will be missed…
My musical tastes in 2012 have evolved a little more, gravitating even further into experimental, ambient, and modern classical genres. I'm not sure if I'm just getting older, or if the trends are slowly migrating that way. I think it's a little bit of both. For example, two of my all time favorite composers, Hauschka and Max Richter got picked up by the world-renown German classical label, Deutsche Grammophon – so the world is definitely noticing this trend. I'd love to see Nils Frahm, Ólafur Arnalds, and Jóhann Jóhannsson on the label next! Meanwhile, Experimedia, 12k, Line, Touch, Editions Mego and Room40 continue to lead the way, taking me deeper into chalenging, cerebral, and meditative states.
There's been an interesting gathering of forces around the so-called 'hauntology' genre. Artists like 36, Black Swan, Kreng, Tape Loop Orchestra and Ingenting Kollektiva come to mind, and hopefully next year we will see a little more of their noir-fi works – something I'm definitely looking forward to. Meanwhile, a bit of unclassifiable post-everything voodoo rhythms are evolving courtesy of Demdike Stare, Andy Stott, Raime, Actress, and Vatican Shadow. A special nod towards releases by Raster-Noton, Stroboscopic Artefacts, Brainfeeder and Tri Angle. Again, I'll be sure to keep my eye on their catalog in the next year.
Warp Records dropped some goodies this year. Among them amazing releases by Squarepusher, Clark, and Brian Eno. All are heavy hitters there. Ninja Tune seems to be back as well, with some nice tunes from Plug, Yppah, and Blockhead. No surprise there. Erased Tapes, Bedroom Community, Sonic Pieces and Serein continue to impress, with some of my favorite releases concentrating on quality over quantity. Same must be said for Fluid Audio, Miasmah, Glacial Movements, Time Released Sound, hibernate and Ian Hawgood's new Koen Music. Perhaps the most prolific label this year was Denovali, with an eclectic collection of releases from all of my favorite artists. A special shout out to Ultimae, Tympanik and n5MD – although I haven't had the time to cover their releases in more depth, they're constantly on my rotations!
I've seen a lot of live shows this year, and must admit that I've become more interested in smaller, intimate, sit-down real-instrument performances, such as the ones I witnessed by Hauschka, A Winged Victory For The Sullen and Max Richter, than loud teen-packed all-night warehouse events. Perhaps that is why I didn't pay much attention to dubstep and techno this year. Of course I get my taste during music festivals. This year's Unsound Festival in New York and Decibel Festival in Seattle were definitely the highlights of my musical adventures. Next year, I hope to make it to MUTEK, Substrata, and perhaps a music festival in Iceland, Germany or London. It's still sad to admit that some of this music sounds better in my headphones!
Speaking of headphones – I decided to try out a new feature on Headphone Commute and publish some equipment reviews. I really enjoyed writing those and you guys have responded positively, so be sure to see more in the coming year. I'm also excited about the new Headphone Commute Soundrop Room on Spotify where I curate an interactive playlist within a particular theme and get to know you guys through a live chat. For the first time ever I am listening to music I enjoy with a group of like-minded individuals, and I don't see a reason to ever go back into solitude again.
Of course I couldn't end this review without mentioning the devastating effects of Hurricane Sandy. And although the storm has greatly disrupted my life, it somehow turned into a somewhat positive event by giving birth to "… and darkness came" benefit compilation. I am incredibly honored and humbled by all the artist participation in the release, and of course deeply thankful for all of your support. In less than a month we were able to raise over twenty thousand dollars, and this generosity still gives me hope. Again, I never planned on putting out a record, let alone inciting folks to give up some cash. This experience alone was very educating, as it allowed me a glimpse into the other side of this 'music business'.
So those are my thoughts… Feel free to comment on anything in the above and share some of your favorite moments! Tomorrow (Jan 1st) I kick off the publication of Headphone Commute's Best of 2012 lists, and then it's on to bigger things in 2013! Happy New Year!
~HC