zakè & ossa
syntheticopia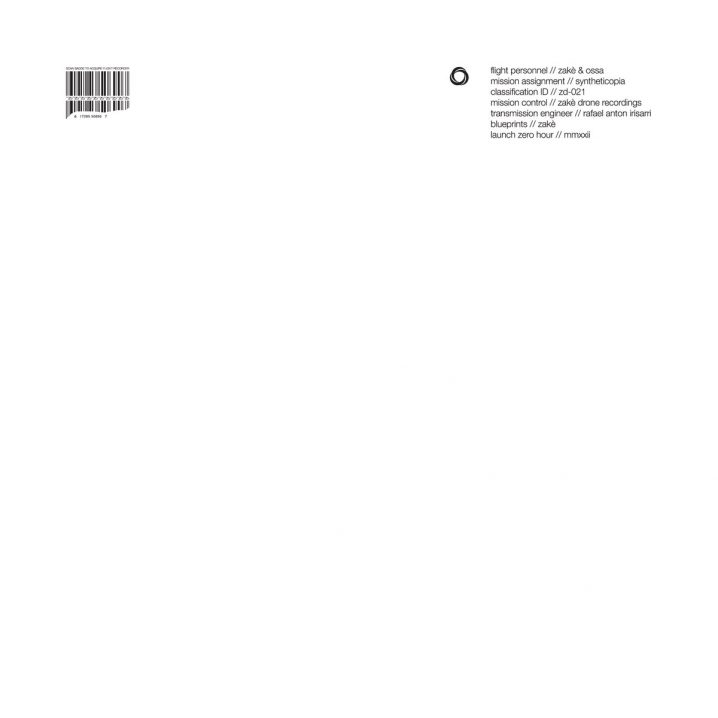 If synth-based music was so easy to make, then why don't we have so much fantastic synth-based music? Just take a synth, create a sound, then press a chord with an arpeggio turned on, record a passage on a loop and tweak some knobs while you are at it. This is a lot of what I see on videos showcasing a modular gig, and frankly, it still sounds just like bleeps and boops. I know exactly why that is, and this I'll leave out for another time and moment (TLDR; sound design != music). But let's instead turn towards Zach Frizzell, the founder of Past Inside the Present label, and his collaboration with Kaiton Slusher, together known as zakè & ossa. The duo releases an 11-track album, which they titled syntheticopia, on a beautifully crafted 160g "purple nebula" vinyl with a very minimalist layout and cover design, as you already see featured on these pages. But beyond this classic presentation and the array of semi-modular analogue synths, such as Moog DFAM & Mother-32, Korg Minilogue XD and Poly D, along with Tascam field recorders and the final mastering touch by Rafael Anton Irisarri, lies something truly stunning to enjoy. Welcome to Astronomer, Inc. You are about to set off on a journey. And this interstellar voyage shall be accompanied by their soundtrack of highly textured, layered atmospheres, spacial dimensions, and ethereal drift. It's impossible not to compare some delicate pads which are slightly detuned, lo-fi and wobbly with the output from Boards of Canada (check out "space and time" in particular). Sprinkle in some samples from the National Aeronautics and Space Administration (NASA) and the resemblance evolves into a necessity. And this, of course, I mean in a very positive light. The conceptual storyline portrays a mission of studying the sound origins of the cosmos. "(AI) is a non-government agency that is responsible for auditory research of deep space phonic transmissions and sound exploration. AI's research is a mix of disciplines which encompasses earth-based instrumentation and sound devices, while capturing celestial phonic emissions." And although it seems that the flight personnel never returned to their earthly home, I'm really hoping they'll send more transmissions from wherever they are, out there, in the universe. This one is out on Zakè Drone Recordings, which Zach reserves for his own and collaborative works. Highly recommended.
Christopher Willits
Gravity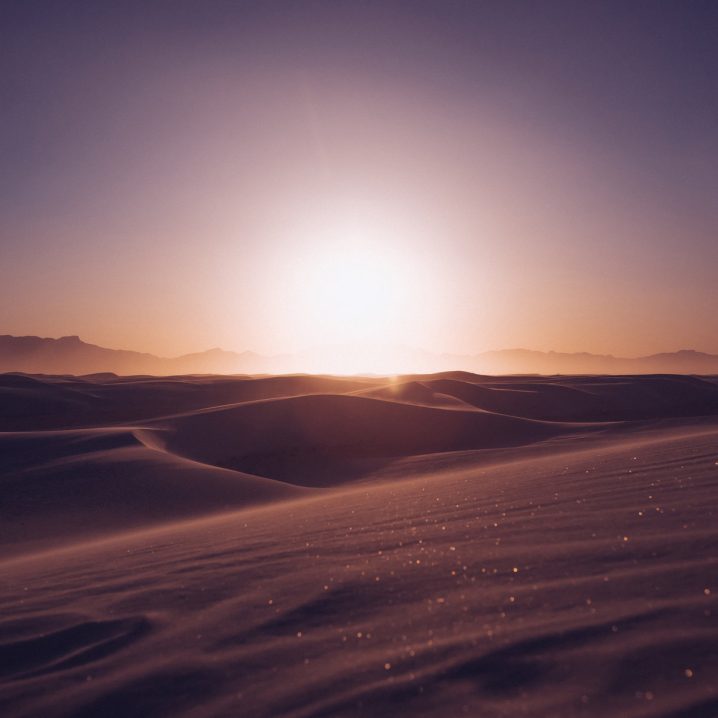 Throughout the last two decades, San Francisco-based musician and multimedia artist, Christopher Willits, has been exploring music as a tool for healing. This has increasingly become his focus, especially during the lockdown, when the anxiety of the unknown seemed to be a part of our everyday lives. In 2017, he released a spatial composition, Horizon, exploring the universe of three-dimensional music. You can read more about the process and his very own audio platform Envelop in this studio special. This year, he's back on Ghostly International with an eight-piece album, titled Gravity, investigating the intention of deep listening. "Willits encourages listeners to seek an immersive playback setting for the spatial audio recordings (via headphones or speakers) and to let the sound guide the mind's intrinsic need to process." The sounds seeping out of his custom Moog guitar, bass guitar, synth and voice, appear to gently ebb against the sand grains, of an ever-agitated, noisy mind. Focusing on individual harmonics, as they flow throughout the dimensions, opens up a world of sound meditation, where instead of breath you find another anchor. This is where your monkey-mind can rest, finding peace, allowing to let go. "For me, this album is like a prayer of gratitude; feeling the curves of life, listening to the balance, acknowledging the ongoing journey," says Willits. "Every piece is a hymn filled with the balance of acceptance and perseverance, grief and inspiration." This is therapeutic music, which I will prescribe you for these times, preferably at sunrise, as you set up your intentions for another day. What will it bring; what will it take away? What will you leave behind when you are gone? If you prefer a guided meditation, allow me to recommend you a Christopher Willits rework of a timeless mantra spoken by the late Ram Dass, titled "I Am Loving Awareness," based on the original piece by East Forest, which features vocals by Krishna Das and tabla by Javad Butah. Both of these are digital releases, which you can find on all of your favourite streaming platforms, or purchase directly via Bandcamp.
Kcin & Tilman Robinson
Requiem for the Holocene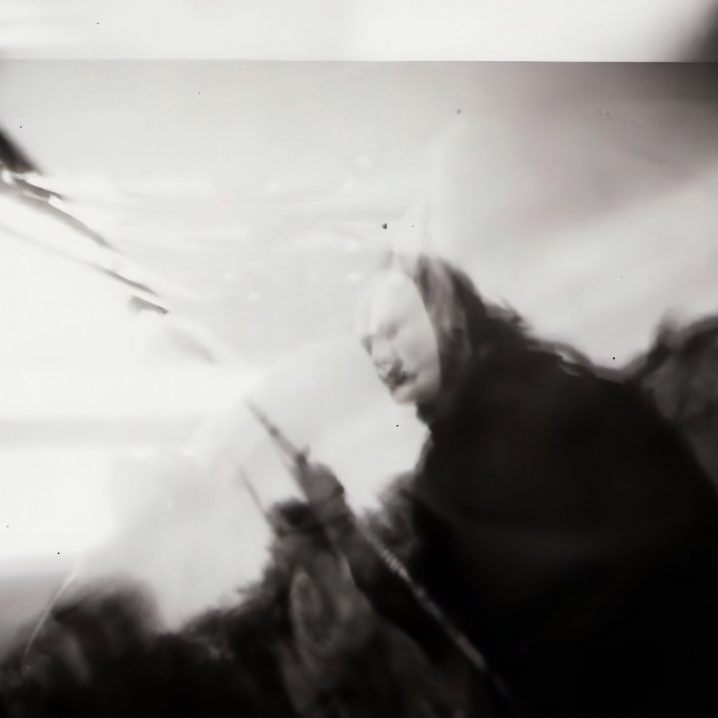 Here's a record that slipped past your radar, and it almost eluded my own. But fear not – I'm pretty tuned into the sweetest of sounds, and when it comes to this particular collaboration, it's as sweet as it gets. If you're not hungrily consuming pretty much everything by Kcin, I'll have to say that you're missing out. And if you're not hungrily consuming pretty much everything by Tillman Robinson, I'll have to grab you by your shoulders and shake you a bit. Kcin is a project by an Australian Nicholas Meredith, whom I profiled with his two-track release, Sleeplessness and Hopelessness I back in 2019. On this four-piece release, he is joined by an Australian Robinson, who first appeared on these pages back in 2016 with Deer Heart, and I haven't stopped listening since. Together, the duo weave a suspenseful narrative, full of peaks and valleys of dynamically evolving sound, layered with grit, rumble, and post-industrial modern aesthetic. But then the clouds open up, and droplets of piano keys fall with the sunshine, even as winds of the violent storm gather on. "The music is thick with throbbing bass and distortion-heavy percussive textures but also pauses for breath with its shimmering, piano-rich title track." The sounds in this requiem are inspired by the unknown and anxiety-ridden future, and all of this was imagined even before we sunk into the current abyss. Originating in live performances from before all the lockdowns, the ideas expressed through the psychological sonics still resonate with us today, persistently building on the "expression of grief for the deterioration of the biosphere as pandemics and unprecedented seasonal disasters continue to ravage Australia in 2022." The digital EP was released back in April, on the Australian Spirit Level imprint, which I check in with from time to time. Its founder, and the host of the Double J digital radio station, is also a musician, who dabs in more pop-side of electronica – check out his track "Sparrow" if you're a fan of Moderat and Bonobo.