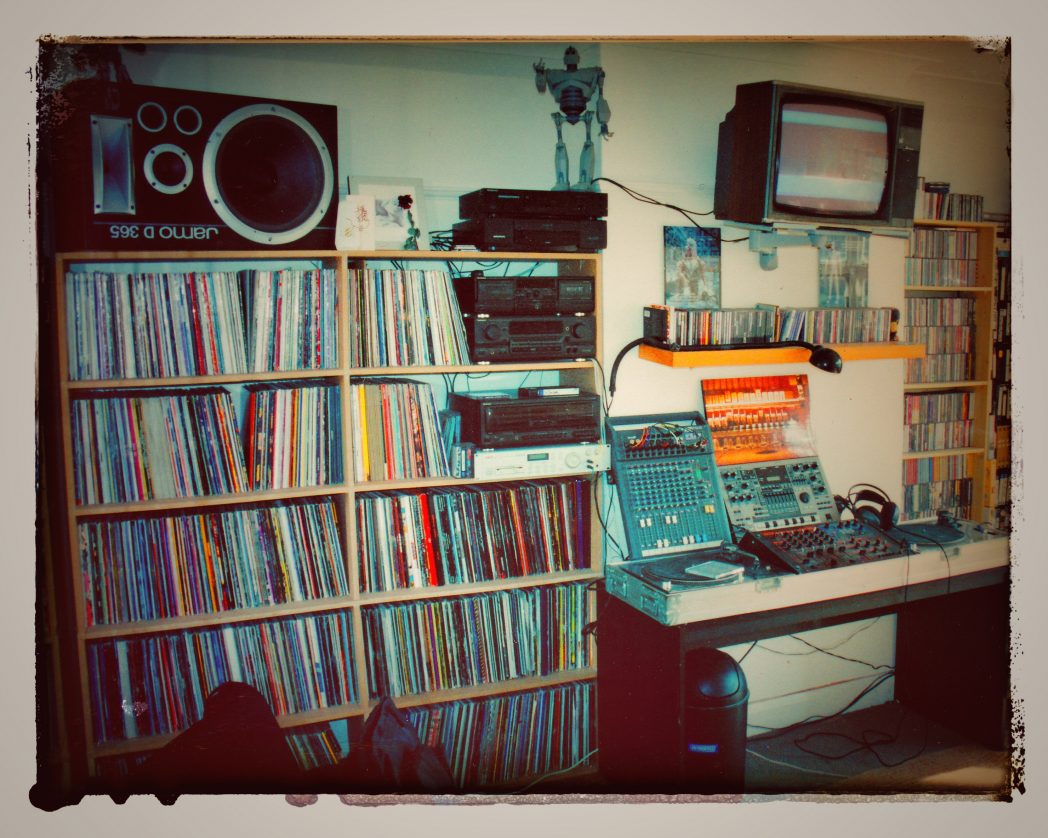 In order to understand the present, sometimes one must look into the past. It is, after all, the memories that make up the "you" of who you are. If you are to erase them, and your past, would you be an entirely new person? Perhaps you'll make the same mistakes again. And buy all that expensive vinyl. 😊 In the case of Orangewarrior, the past includes a collection of electronic and ambient music of the mid-90s. And that precisely coincides with my very own "becoming" of the time, which is why I'm very much excited about this special mix. This is a fun journey down the memory lane which I hope you will enjoy with us. See a blurb on the mix plus the entire tracklisting below!
As lockdown was starting around the world, the hashtag #Me@20 saw folks posting photos of themselves age 20 online, often embarrassing and gawky with bad hair and worse clothes. Well, I had a root around and as a notorious photo-phobe, the only snap from around that time I could still find was of my student digs (see photo attached), which it gave me the idea for this mix – a snapshot of my favourite music from when I was not yet 21…
History will say that music in Britain '97 was all about Spice Girls, Britpop or The Prodigy, but for me, it was an exciting time in electronic music – Detroit and Berlin techno sounds had been drifting into the UK clubs from different continents, the sounds absorbed, processed and reshaped by pioneering labels like Warp, R&S, Rephlex, Mo Wax, Ninjatune, Skam, and many others… often dismissively labelled as "eclectic" in Tower Records or Virgin Megastore. A few years earlier, we'd go from The Orb all-nighter raves to ambient techno clubs like Telepathic Fish, Quirky and Club Megadog, absorbing influences from DJs like Mixmaster Morris, DJ Food, Aphex Twin, μ-Ziq and so on… As we got older, the scene evolved and splintered in different musical directions but was often guided by the same producers and labels.
This mix is my love letter to those times of exciting vinyl hunting, and some of my most beloved tracks. I'd hope that listeners can enjoy the warm glow of familiarity with some tunes and then be surprised by an old gem unearthed, or polished in a different way than they might remember.
Nostalgia has proven to be a great comfort in the last few disturbing months, and I hope that for a couple of hours at least, I can transport you back to the heady days of late 90s electronica… be that at the Blue Note Solid Steel sessions, That's How It Is, or just sat around a pair of turntables with good friends and endless nights… Enjoy!
Tracklisting
B12

Soundtrack of Space (Warp) 1993

Neuro Project

Wizard of the Four Winds (3 Beat) 1993

Knights of the Occasional Table

Rain (Planet Dog) 1993

The Irresistible Force

Symphony In E (Rising High) 1992

Higher Intelligence Agency

Conoid Tone (Beyond) 1993

Beaumont Hannant

Utuba (Warp) 1994

Bola

Forcasa3 (Skam) 1998

Sun Electric

O'Locco (Hyperfloral) (Thomas Fehlmann Remix) (Apollo / R&S) 1993

Kinesthesia

Flicklife (Cylob Mix) (Rephlex) 1996

La Funk Mob

Motor Bass Gets Phunked Up (Electrofunk Remix) (Mo Wax) 1994

LFO

Tied Up Electro (Warp) 1994

Link

Antacid (Jedi Knights Remix) (Warp) 1995

Space Djz

Celestial Funk (Infonet) 1995

Bomb The Bass

Absorber (4th & Broadway) 1994

Autechre

Flutter (Warp) 1994

Speedy J / De-Orbit (Plus 8) 1991

The Future Sound of London

Cascade, Pt. 1 (Virgin) 1993

Aphex Twin

On (Reload remix) (Warp) 1993

Reload

Le Soleil et La Mer (Infonet) 1993

Strata 3

(It's Not) A Man's World (Bush) 1994

Air Liquide

Stratus Static (Rising High) 1994

DJ Shadow

In/Flux (Alternative Interlude '93) (Mo Wax) 1993

La Funk Mob

Ravers Suck Our Sound (N.O.W. Mix) (Mo Wax) 1994

The Sabres Of Paradise

Bubbles & Slide (Nightmares On Wax Mix) (Warp) 1995

Nightmares On Wax

What I'm Feeling (Rae & Christian Mix) (Warp) 1996

DJ Food

Dark Lady (Ninja Tune) 1994

RAC

Scuba (Warp) 1996

Les Rythmes Digitales

Kontakte (Wall of Sound) 1996

UNKLE

Coffeehouse Conversation (Plaid mix) (Mo Wax) 1994

Plaid

Headspin (Warp) 1997

Push Button Objects

Non-Existant (Keyed in by Gescom) (Chocolate Industries) 1998

Boards Of Canada

Happy Cycling (Music 70) 1998

Meat beat manifesto

Prime audio soup (Vegetarian soup by Boards of Canada) (PIAS) 1998

bubbahs tum

dirty great mable (boards of canada remix) (iLL) 1997

Akasha

Brown sugar (PFM's cosmic journey Remix) (Wall of Sound) 1997

Photek

rings around saturn (Photek) 1995

Peshay

On The Nile (Metalheadz) 1996

Forme

New Element (Good Looking Records) 1996

Wagon Christ

Pull My Strings (Oven Baked Mix) (Rising High) 1995

Squarepusher

Tundra (Rephlex) 1996

Lemon D

Manhattan Melody (Hardleaders) 1996

Alex Reece

Pulp Fiction (Metalheadz) 1995

Alex Reece

Jazz Master (K&D Session™) (4th & Boadway) 1995

The Orb

Towers of Dub (WAU! Mr Modo) 1992

DJ Food

Consciousness (Ninja Tune) 1994

AIR

Modulor (Modulor Mix Produced By Solid) (Source Lab) 1995