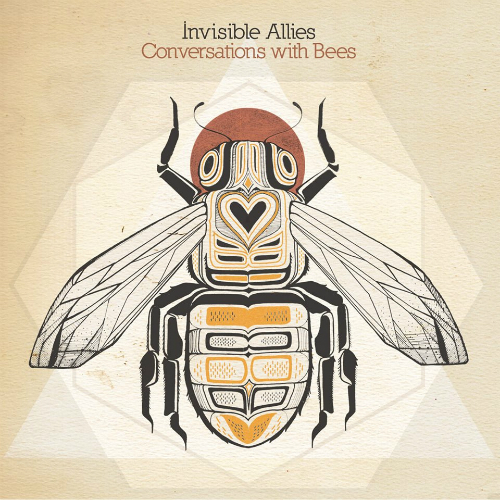 You remember Bluetech, right? Evan Bartholomew has been producing electronic psychedelia since 2003, most notably known for his releases on Aleph Zero, Interchill, and his very own Native State Records. Sometime in 2007 (I believe), Bartholomew met up with another favorite artist of mine, Jamie Watts. The latter has been recording as KiloWatts for Austin (Texas, US) based Artificial Music Machine label, until he got packed up by Evan's Native State. In 2010, the duo has collaborated together on Hyperdimensional Animals, grabbing a spot on Headphone Commute's Music For Awakened Spirits And Open Minds best of the year list. And now, four years later, they are back with another full length, this time on the beloved Aleph Zero, an Israeli label run and operated by Yaniv Shulman (yes, that Shulman) and Shahar Bar-Itzhak (founder of IsraTrance).
Together, Invisible Allies explore the melding of synthetic and organic, ambient and glitchy, and incredibly well produced downtempo beats. I have previously lauded Watts' intricate production aesthetics, infinite ideas, and incredible musicality within each piece (yes, there are many instantly memorable melodies that forever get stuck in your mind). I also have praised Bartholomew's sound design, atmospheric ambiance and head-nodding rhythms. So you could imagine what happens when you put these two talents together. Add a touch of acoustic live instrumentation into the mix, such as flute by Meryl Joan, Violin by Nils Bultmann (from Transatlantic Art Ensemble), tabla playing by Jason Rinker, trumpet by Dan Covan, and vocals by Sonja Drakulich (of Stellamara) and you've got yourself a continuous hour-long hypnotic journey taking you into outer dimensions which somehow appear to be very grounded to Earth.
Invisible Allies are explorers of the digital mysteries, documenters of forbidden histories and technoid inductees into the college of prismatic sound design. Collaborating through secret transmissions written in cyphers of bark and seeds, the musical collaboration of Bluetech and KiloWatts is decidedly unclassifiable in terms of genre, skipping school with warehouse dub theatrics, having an illicit romance with psychedelic production techniques and participating in a class riot against normality with techno, ambient, downtempo, breaks, and broken beatscapes.
The release includes a poem by Lily Ross (who came up with the concept for the album), from which the duo drew inspiration which was paralleled in their work. The track titles, such as 'Bee's Longing', 'Rainfall (Jazz on Tin Roof)', and 'And the Weeping Stopped', are built upon the lines from the same poem wrapping the homage to these "master gardeners of the planet" into a coherent whole. The music features elements of jazz, ethnic sounds, IDM and psybient (ok, I used that term!), all knit within a playful framework of intelligent exploration of songwriting, keeping your mind guessing at the next twist and turn. I would love to experience this sound at an outdoor summer morning party!
If you're craving even more cranium candy, I can't highly recommend KiloWatts' most recent release, Seven Succulents (KiloWatts Music, 2014). And if you want a more spiritual [musical] path, be sure to pick up Bluetech's Dreaming Into Being, released by Sounds True (a multimedia label responsible for publications on meditation and being by the likes of Ram Dass). Conversations with Bees is a definite highlight from a recent Aleph Zero catalog! Highly recommended for fans of Ott, Shulman, Aes Dana, and of course, KiloWatts and Bluetech themselves.
invisibleallies.net | aleph-zero.info
©
Words by HC