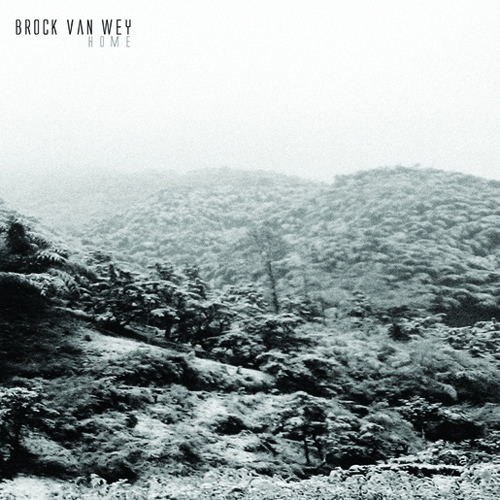 You know, as the world turns and feeds off its own collective insanity, creating nothing useful but pain and suffering, I try to step back, close my eyes and simply breathe. In those moments I often turn to Brock Van Wey, and his truly blissed-out music. Thankfully for me, there is plenty from his catalog to choose from. Besides a few releases under his real name, of which Home is only the second on echospace [detroit], Wey has recorded over 20 full-length albums under his bvdub moniker, and even a few releases under Earth House Hold and East Of Oceans projects. And although at times it feels difficult to keep track of his ambitious output, it is the complete opposite feeling of being immersed in it – an effortless waft in the ocean of sound.
The work of Brock Van Wey has appeared numerous times on these pages, through album reviews, interviews, studio specials and even a few fan-dedicated mixes. Yet over and over I feel drawn to his output, compelling me once again to write these words. As I have already alluded, Home is a followup to Wey's 2009 opus, White Clouds Drift On And On. The latter, also released on echospace, came with a second disc full of dubbed out interpretations by Stephen Hitchell as Intrusion. The sequel (if it may be called that), now nearly five years later, is also a double release, this time without the remix offering, but still, nevertheless, just as compelling.
Brock returns in beautiful form with what he's said to us is his most personal and self defining moment in his fruitful musical career. This album however strikes on a very different chord from the last, rather than find contentment in repeating himself he's sculpted a unique sound slightly out of focus from his previous work, a sound one could only say is like drifting in and out of consciousness.
The ten long tracks on Home, all over 10-minute each and some approaching even 20, showcase some of Wey's beautiful sound perfected throughout the years. Here are the gorgeous multi-chordal pads, spreading over barely recognizable major scales. Here are the looped female vocals, layered, delayed, reverbed and then layered again. Here are the stunning waves of phrasing, crashing upon the empty beach of your consciousness, and then receding into complete still after the storm. Here is the illusion of time, stretching nearly to three hours yet feeling like a single brief moment. It's easy to get lost in Wey's overlapping and sonic-rich tiers, only to find yourself wrapped in a thick blanket of sound, slowly drifting away into nothingness… and that's precisely where I want to be… as the world turns…
Be sure to read our special: In the studio with Brock Van Wey