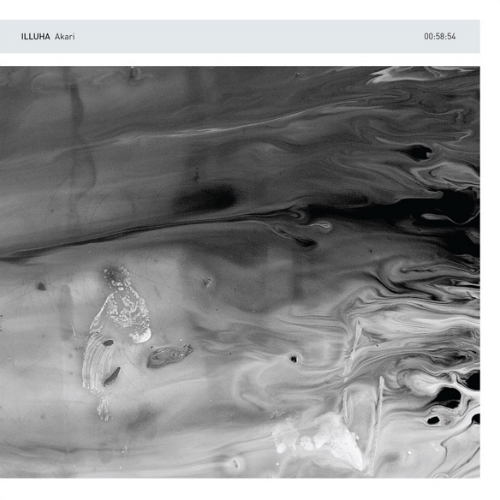 Akari is the new album from the Tokyo based duo of Corey Fuller and Tomoyoshi Date, known as Illuha, on the 12k label. While this is the third Illuha record, it is the first in which the duo worked in studio recording and mixing together (Shizuku (2011) was recorded in the US and completed separately by the artists and Interstices (2013) captured the duo creating their music together live during a Japanese tour). Akari is the Japanese word for light and it proves to be an apt title as there is a bright, organic luminescence that imbues each piece.
Antoine de Saint Exupéry is quoted as saying, "a designer knows he has achieved perfection not when there is nothing left to add, but when there is nothing left to take away". This premise can also be applied to music, especially the ambient genre, and Akari might just be the perfect embodiment of it. Every track strikes an ideal balance between sparseness and elegance with nothing lacking and not a single sound proving inessential. This gives the album an internal harmony and fluidity that proves more and more satisfying each time it is heard.
"The beautiful st-robo studio in Tokyo put a collection of amazing equipment at their fingertips, from vintage mics and outboard gear to a vast collection of instruments, both acoustic and electronic. Their writing sessions were numerous and long with details meticulously obsessed over for nearly a year. The result is the most bewildering music Illuha have created to date. An album swimming with the most delicately tactile sounds and instrumentation that draws the listener in with hushed, motionless attention."
The opening track, 'Diagrams Of The Physical Interpretation Of Resonance' feels like a long and delightful awakening from slumber with the bell tones of guitar harmonics, plucked strings, and delicate piano weaving a gauzy web of sound among sizzling and crackling electronics. 'Vertical Staves Of Line Drawings And Pointillism' is a slightly more tense affair with mildly unsettling flat notes ringing out over somber and heavy bass drones. This tension is beautifully released by the next two tracks which together comprise over 20 minutes of truly sublime listening. In 'The Relationship Of Gravity To The Persistence Of Sound', sparse natural sounds create a mood of serenity as a tide of lush analog synthesizers washes in slowly with ever-increasing power. This is followed by the shimmering 'Structures Based On The Plasticity Of Sphere Surface Tension' which utilizes the sounds of water and delicate instrumentation to create a sense of tranquility.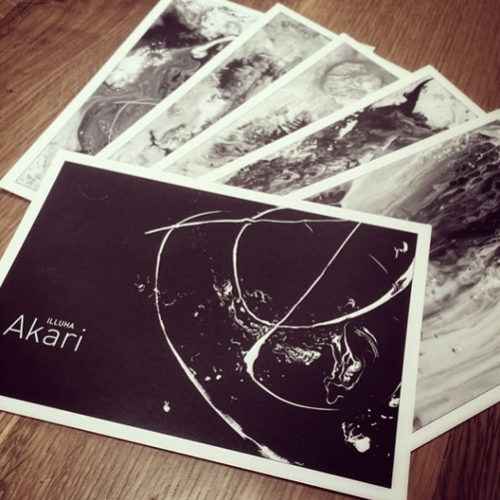 Finally, Akari closes with 'Requiem For Relative Hyperbolas Of Amplified And Decaying Waveforms' in which minimal and hushed tones dissolve into a swirling pool of distortion, thus ending the album with a powerful flourish. Patiently constructed and exquisitely rendered, Akari is one of the most captivating and beautiful releases you are likely to hear this or any other year. I cannot recommend it highly enough. The album is available both on CD and as a digital download along with a 6 postcard set of paintings by Corey Fuller's son, Samuel Estlin Fuller who also did the lovely cover art. See the link below for the various package options and prices.
©
Words by Brian Housman of Stationary Travels