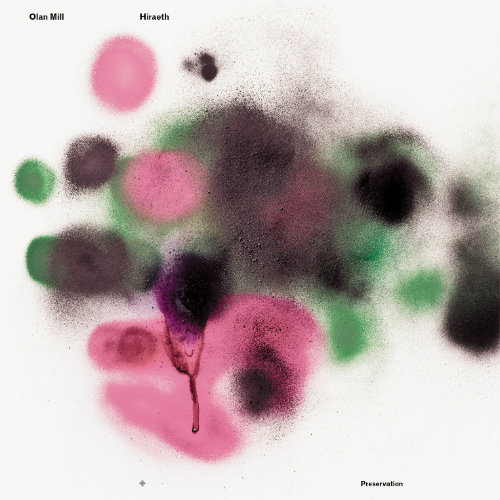 Australia's Preservation imprint has long been in the "business" of releasing beautiful works of ambient and modern classical pieces, which I always consume. Taking a quick glance at its catalog reveals many admired composers such as Sophie Hutchings, Aaron Martin, Greg Haines, Richard Skelton, Noujuva, and of course, Olan Mill. In fact the latter has only joined the roster this past year, for the Circa For 2012 series, with Home, featuring fascinating artwork by Mark Gowing spelling out the album title in a unique "identity system" of an experimental typeface. Olan Mill's fourth proper album, Hiraeth, sees him returning to a label, with a newly refined sound, surely worthy of your time.
The atmosphere on Hiraeth is somewhat joyful, blissful, and, dare I say, majestic. The five pieces appear to be joined by a similar aesthetic of major chord strings, delicate piano notes, and a wordless choir. Although the title of the album is a Welsh word with no direct English translation, which closely resembles a mix of longing and homesickness over the lost [Wales of the past], the music on this 42+ minute release is far from being full of sorrow. In fact, the nostalgia is expressed in a euphoric progression of neo-classical harmony, reminiscent of a requiem for the departed: both of grief and celebration for the places, souls and time.
Of course, I am totally partial towards the moments when textural sounds subside and Alex Smalley begins to play the piano. These are the short and fragile vignettes, when the ambitious and the grandiose melt into silence. Here, without the soprano vocals, without the symphonic strings, we are left within. And the true beauty shines through, like a delicate ray in a blizzard. A perfect example of this is showcased in the 10+ minute "Cultivator," which reveals such delicacy near its end.
"With the resonance of folk melody, […] the deep focus of Hiraeth is revealed through both intimate detail and sweeping revelations of sound. Whether through a pursuit of travel or the changing face of his native surrounds, Smalley conveys the momentum of transition through the surge and flow of his music with unerring force."
Although originally Olan Mill project was spawned by Alex Smalley and Svitlana Samoylenko, it appears that Smalley's now carrying the torch himself. With the release Smalley is taking yet another step towards a full on orchestration, which builds upon progression of his past. Although I wish the sound was slightly sad and darker, it still triumphantly captures wistful woe in joy. The album is mastered by Wil Bolton and Giuseppe Ielasi. Hiraeth is available via Preservation on both, vinyl and CD, with each having a different cover art by Gowing once again…