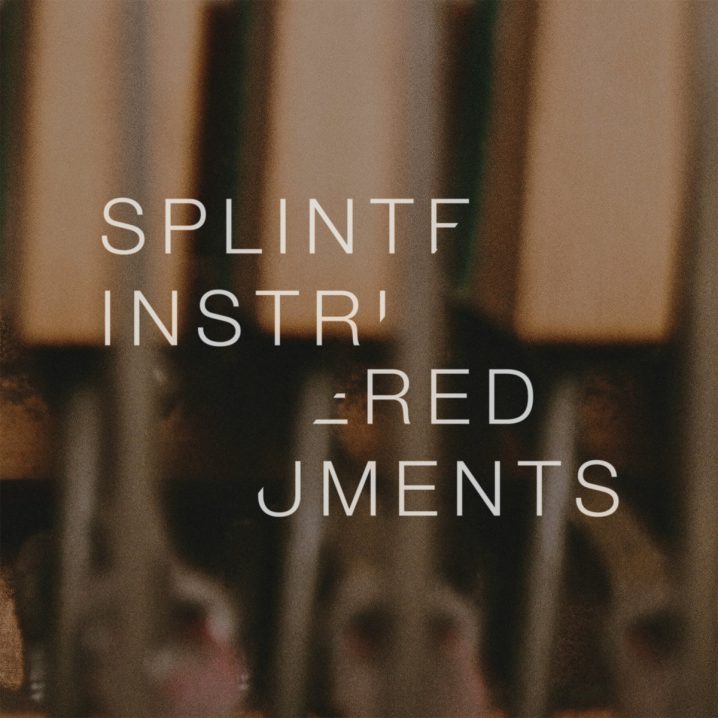 There is tension in the very first note… What is that growling bass slowly rising through the building rhythmic percussion? What is that uneasy feeling of a swelling sound that takes up all of the oxygen in the room leaving you gasping for breath? What is that strong presence that seeps through each pore of its textured coating, raising the sound on a soft pillow of sculpted dynamics and perfectly designed atmosphere? It is the culmination of all previously stored energy releasing itself through Matthew Collings' debut album for the beloved Fluid Audio. And I am immediately in love…
The music on Splintered Instruments is both rough and beautiful. Like a fragile rose, it's ready to puncture your skin with its thorns, while making you intoxicated with its scent. The strings uncoil and the hammers break. The metal is twisted over the splitting wood, as the harmony shatters and pierces with chords. This is not about noise or the decibel levels (although I do recommend you listen to this album loud) – it's about the sheer uncompromised approach to raw sound design, as if extracting an essence with a masticating juicer from each acoustic instrument in play.
Emotionally this record comes out of reckoning with the destructive forces in my life. I've felt my whole life as if there is an immense, violent force ready to come out of me. I wanted to finally reach it and reckon with it. Here it rears its head, filtered through melody…
The final result is somewhat unclassifiable. It's peppered with an eclectic array of later manipulated acoustic instruments and field recordings (I think I even heard a bass clarinet and a crow's "koww" next to distorted guitar, theremin, prepared piano, and some tambourine). The structure is very organic, breathing like a heaving animal, transforming build-ups into collapsing drops, and resting softly on the space in-between. The vocals are not distracting and instead add an element of humanity towards this instrumental requiem of artistic expression.
After a few collaborations with Talvihorros (see A Thousand Plateaus out on hibernate in 2011) and Dag Rosenqvist (see Wonderland on hibernate in 2012), this Edinburgh (Scotland) based composer finally releases a solo full-length. Among the numerous appearances on the album behind an array of acoustic instruments, one name stands out. That name is Ben Frost, and he is credited with producing and engineering Splintered Instruments, as well as playing the piano on "Vasilia". Fluid Audio gives the album its highest honor, and publishes the release in a limited edition run of 200 hand-made letter pressed CDs. The package includes a set of photo prints on archival paper, a guitar pick, and hand-typed sealed envelope. You can also pick up a digital version (FLAC, of course, included) directly from the artist's bandcamp site.