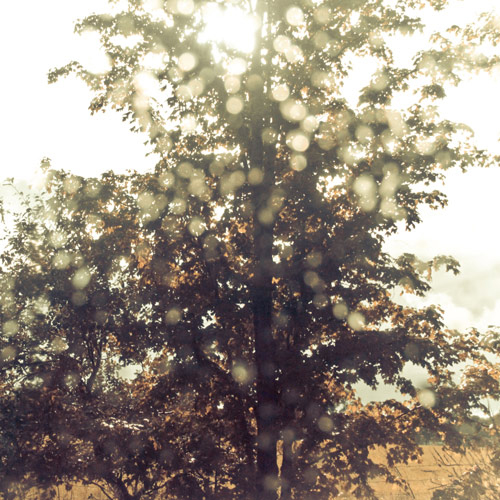 The warm docile tones of Ex Confusion simply remind me of the past. The delicate and soothing piano keys revive the long summer nights and early cold mornings in embrace of another. When first touch of love was acute and immeasurable, beyond worldly space and the infinite time. When words like 'forever' were spoken with virtue, and each simple lyric connected within. And if you've felt that teenage love, perhaps even once in your lifetime, you know that you've spent many years in search of its trace. It's not that we can not return to those feelings, but rather that they can not ever be felt as the first.
The titles of Embrace take me back to those thoughts. From "Be Still", to "If There Is Love" to "When I Think Of You" and "Speak Softly In My Dreams". And of course there's also the music. The gliding ambiance of a soaring guitar, soft padded notes, and delightfully hopeful shoegaze. Gently resonating textures coat the listener's memories with fuzz, slowly drifting out of focus in the mirror of their life. The sounds are nostalgic  but they're not utterly sad. Instead they are neutral, observing the history with non-engagement from afar. This harmony neither judges nor praises past deeds. It simply exists in-between major chords.
Embrace, at it's core, conjures a very strong thread of nostalgia. Wonderfully warm, hazy, sun-lit memories that actually somehow seem tangible. We all have something to remember, but Ex Confusion would now like the listener to use his compositions to embrace personal memories that are so very dear.
Ex Confusion is the alias of Atsuhito Omori, previously releasing Something To Remember (U-Cover, 201o) and You And I (Twisted Tree Line, 2011). Embrace is his first full-length release for n5MD, one of my all time favorite labels run by Mike Cadoo (aka Bitcrush), where Omori should feel right at home among emotional electronica from acts like Dalot, Lights Out Asia, Last Days, Near The Parenthesis and Port-Royal. Omori's droning soundscapes will surely appeal to fans of Marsen Jules, Slow Dancing Society, Jasper TX, Ian Hawgood, bvdub and Celer. Highly recommended.