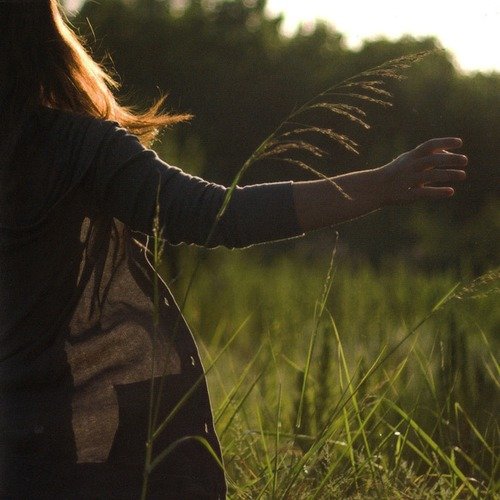 Currently bvdub seems to be experiencing something of a localised renaissance. Prolific simply doesn't cover it. His ability to create and re-express himself seems almost viral in nature; no clumsy process of gamete-fusing could produce such an explosion of life. The dust has scarcely settled on February's hazy-eyed beauty The First Day and yet Brock van Wey has dropped not one but two new albums in our laps: the divine Serenity and the stand-alone bonus disc Don't Say You Know. It isn't often that one finds themselves impressed just by the sheer quantity of an artist's work but when a musician has such a proclivity for intensive production that there simply aren't enough days in the release schedule even the most hardened cynic can't help but show a grudging admiration.
It may seem a slightly unusual practice to choose to review what has been labelled a 'limited edition bonus disc' over a primary release but this really is no mere collection of outtakes and snippets unworthy of a pressing. In practice Don't Say You Know is the sort of album that could easily represent several years of work for any other artist. Playing the more receptive partner to its bold and unflinching sister, this full-length release is a sublime composition assembled from field-recordings, deconstructed vocal samples and meticulously produced harmonies; in actuality Don't Say You Know easily wins the right to be discussed on its own ample merits.
Initially the album may seem like something of a departure from bvdub's previous work. It is far softer and shyer than some of his other releases and yet contains far more rhythms than one would usually expect, toying with whispered snatches of breaks. Its hazy granular pads are omnipresent throughout, creating a continuity of tone that will charm some and frustrate others. Clearly the artist is stretching his repertoire and with this in mind it would be incredibly easy to dismiss the album as an aural experiment without giving it a real chance to unfold. However in actuality, Don't Say You Know really is best seen for what it is: unfamiliar territory. It's something that needs to be consciously explored.
Opener 'So Far From Home (For JR)' is a perfect synecdoche for the release as a whole. Mixing rippling breathy pads with deeply resonant harmonies, it artfully teases with vocal structures without ever letting itself become overly reliant on them. It's a wonderful promise of things to come, captivating and yet ephemeral. A more speedy, aqueous listening experience is present in the form of the wonderfully titled 'My Sun Shines Through Your Rain'; a synergy of light breaks and looped vocal snatches that never completely occludes a light murmuring of keys.
Don't Say You Know contains plenty of easy points of access – the delightful 'All It Takes' is a slow build of pads that lead you gently into a high-passed, sibilant beat, seeming to conjure up images of half-remembered visits to the coast and flirting with long imprinted sensations of airy expansive warmth. But the album also contains cavernous depths. 'Don't Say You Know', from which the release takes its name, at first seems like a familiar vista; it is only when the wandering foot of the track, a resonant piano refrain that lurks beneath the quivering electronic pads, begins to peak that the true extent of its sombre depths and scintillating highlights are revealed. It has an unassailable inertia to it that is truly stirring.
Whilst the majority of the release makes brave strides into new landscapes, 'Pure of Heart' is an unflinching demonstration of the style bvdub has spent his career developing. Its long atmospheric build is pointedly bittersweet, both melancholy and yet holding a real sense of purpose, a feeling of urgency that it maintains without ever quite betraying what it holds in store. Overall the timbre is wonderfully refined. Resonant piano notes blend with looped crescendos and gradually the delicate fabric is interwoven with carefully trimmed vocal phonemes. Finally by the time its perfectly executed beat drops into place the acoustic landscape presented is utterly stunning.
Unfortunately, although the album contains plenty to rave about, Don't Say You Know is still not entirely without flaws. At points the old school pads and flecks of sugary vocals come a little close to outstaying their welcome, denying the artist's flair for production sufficient room to express itself and perhaps raising the question whether cutting some of the material back would in actuality serve to make the whole stronger. In addition, when compared to some of bvdub's other releases, Don't Say You Know doesn't show quite the same meticulous attention to the lower frequencies which is a real tragedy, losing the organic dub techno feel that marked great tracks like 'We Move As One' from last year's Tribes at the Temple of Silence.
However these are slight criticisms that don't stack up against the album's obvious merits. Altogether, far from just making a competent job of a vague double album, bvdub has succeeded in producing two complementary releases that nevertheless hold unique and indelible narratives. Don't Say You Know is an exquisitely tailored addition to bvdub's already extensive oeuvre and makes the inevitably brief wait for his next offering seem almost unendurable.
©
Review by Josh Russell exclusively for Headphone Commute.