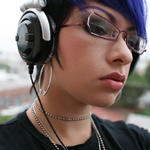 Here's a quick update on all the beautiful things at Headphone Commute. First of all, we want to thank you for your patience while enduring the silence during our move. It's not over yet, but we have been slowly settling in at our new home on the East Coast. The listening studio is almost setup, but the slap back is still pretty awful, and is a bit depressing. So a pair of headphones help us through the day, for the time being. If you are a record label or an artist with whom we've had previous relationship, by now you should have received our new mailing address. We've got plenty of promos right here to catch up to, but the time is still restricting, so please bare with us while we clean up the queue.
Have you noticed our new logo? That's right! The new face of Headphone Commute is none other than Zoetica Ebb – artist, writer, photographer, style technician and a co-founder of Coilhouse magazine who has written up a praise for Headphone Commute, and now agreed to be our new protagonist, if you will. Let's be honest – we think Zo is beautiful, and love the presence she adds to the music, the mood, and the weight of our words. We hope you feel the same. Check out Zoetica's recently relaunched site, Biorequiem.com, and drop us a line on your thoughts.
We would also like to welcome Tigon as a new contributor to HC. Tigon has been following our write-ups for quiet some time, and finally decided to try his hand at writing. We've stumbled upon his reviews and they closely resembled our words and more importantly our taste. Basically, Tigon covered albums that we've lacked the time to praise. Not to mention the fact that his posts came at a time during our transition, becoming indispensable words to carry us through the move. Tigon's recent reviews covered music by Proem, Rival Consoles, and even Alva Noto + Ryuchi Sakamoto, with a follow up of our Two and a Half Questions! We're looking forward to having Tigon as a regular contributor to HC with many more great things to come!
And last, but not least, to carry you through the silence during this dreadful period of our relocation, we offer you another mix. This one is a little special to our hearts, titled Thank You, Chicago, Good Bye. Recorded live at Chicago's Hidden Forms radio, WNUR 89.3FM, the one hour mix of crunchy IDM and melodic electronica features a handful of special tracks from significant moments during our five year stay in Chicago. It's not exactly nostalgic or celebratory, but more of a marking point in time of yet another transition. Here are your usual suspects like Lusine, Hecq, Deru, Yasume, KiloWatts, Trentemøller and many more…
Download this free mix, and see full track listing only on Headphone Commute