[Editor's Note: PCM are Francesco Perra (P), Matteo Cantaluppi (C), and Matteo Milea (M). Their new album, Dreamland, was released on September 15th via n5MD]
Let's start at the very beginning. Can you tell us how you got involved in composing, and what was your very first piece of gear?
For the first two records, "Attraverso" and "Macro", we started with pure improvisation, recorded directly within Pro Tools, like old Jazz Records. Three days of making music, sharing ideas and riffs, straight to the computer. We started with Arturia Beatstep Pro as a main sequencer, in sync with Matteo Cantaluppi (using a lot of non-modular synths like Moog Voyager, Prophet 8, Korg Polysix, etc.) and effects pedals like Eventide Space, Meris Ottobit, etc.) and Matteo Milea (using hardware drum machines, analog effects such as Roland Space Echo or Spring Reverbs, and modular synths). Francesco Perra (A.K.A. Perry Frank) plays the guitar processed through many different delays, reverbs, and multi-effects pedals. He also recorded some new album tracks using the tape loops technique with an old Fostex X18 multitrack recorder. The new record, "Dreamland," was started remotely, and it was written more traditionally, using more solid structures and different kinds of synthesis (Granular, Additive, etc.).
How many different studio iterations have you gone through, and what does your final setup look like right now?
We currently work remotely, sharing ideas that are later mixed in Pro Tools. Matteo Cantaluppi uses different kinds of hardware (Moog Voyager, Prophet 6, Korg MS20, Tasty Chips GR1, Roland 808 and 909, Roland JX-3P, Eventide Space, Ottobit Meris, Avalanche Run by Earthquaker Devices, and lots of analog Compressors such as Empirical Labs Fatso and Urei 1178). Francesco Perra uses a complex stereo pedal chain featuring effects such as Strymon Bigsky, Timeline, Nightsky, Hologram Microcosm and Infinite Jets, Chase Bliss Dark World, Mood and finally, a Walrus Audio Mako ACS1 Amp simulator to connect directly in stereo to the audio interface or the tape multitrack recorder. Matteo Milea also has his studio where he experiments with recording techniques and different real and electronic instruments. At the moment, he uses a hybrid approach between live sequencing and recording. He uses the (Elektron) Machinedrum a lot as a central MIDI "Creator" and also for composing synths patterns; sometimes, everything is synced via MIDI I/O interface to the computer DAW (Ableton or Pro Tools), and for the soundcard, he uses an Apogee Quartet. He owns a couple of old synths like the Korg DW8000 and the Poly-Ensemble, Moog Mother 32, a small modular system with Doepfer, Mutable Instruments, Waldorf 2-Pole filter, a Binson Hi-fi 10w amp, and many pedals.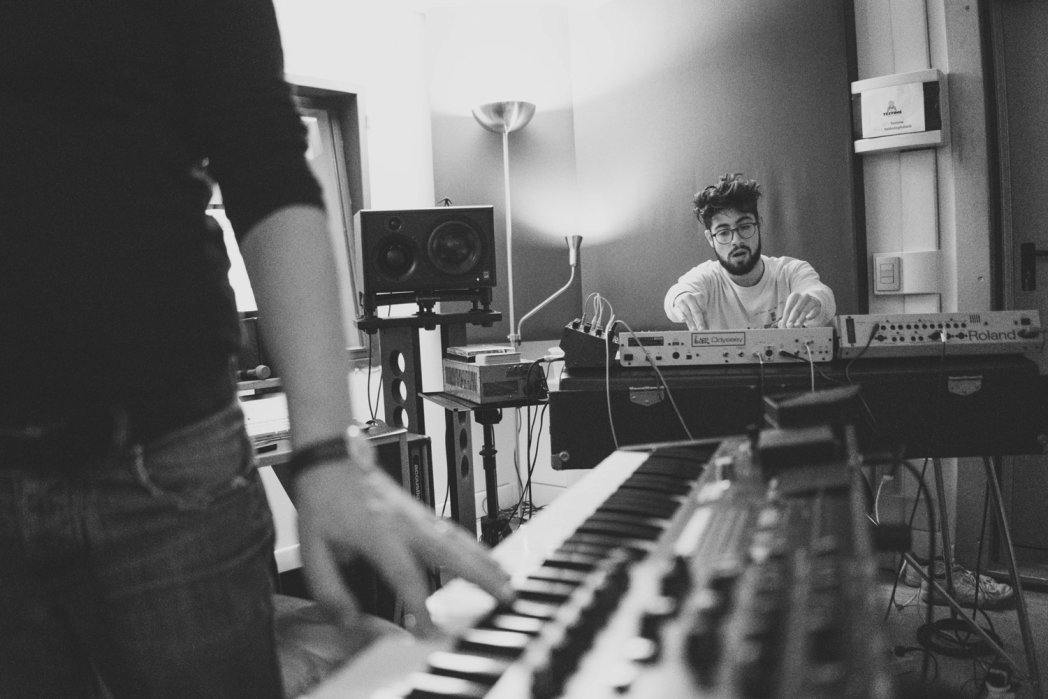 Tell us about your favourite piece of hardware.
Matteo Cantaluppi: the Prophet sound is essential; it is probably my favorite synthesizer. I also love Akai samplers and the Moog Voyager.
Francesco Perra: my favorite pedals are the Hologram Microcosm and Strymon Nightsky. They are a perfect couple that can help you to create soundscapes with no other pedals. My 4-track recorders (Fostex X18 and Tascam Porta01) are something I can't help using when I record music.
Matteo Milea: Since I've got in touch with the Elektron Machinedrum, I have fallen in love with it. Ultra versatile, capable of producing outstanding drum sounds and great almost synth sounds, with the new firmware mod, you can go deep into programming and reach a new level of pattern complexity. Also, the Moog Mother 32 is a very special piece of equipment to me as it was the first hardware synth I bought.
And what about the software that you use for production?
We use software very carefully, only Pro Tools for recording and editing, like an old Tape Machine Recorder, and a few virtual instruments (Arturia Pigments and Synclavier, Kontakt). For mixing, we use Pro Tools as well as a medium, but, in particular, for our first two albums, we printed the final mixes on ¼" Tape Recorder, using an MCI Analogue Desk for the summing. The last record was mixed completely In The Box with Pro Tools.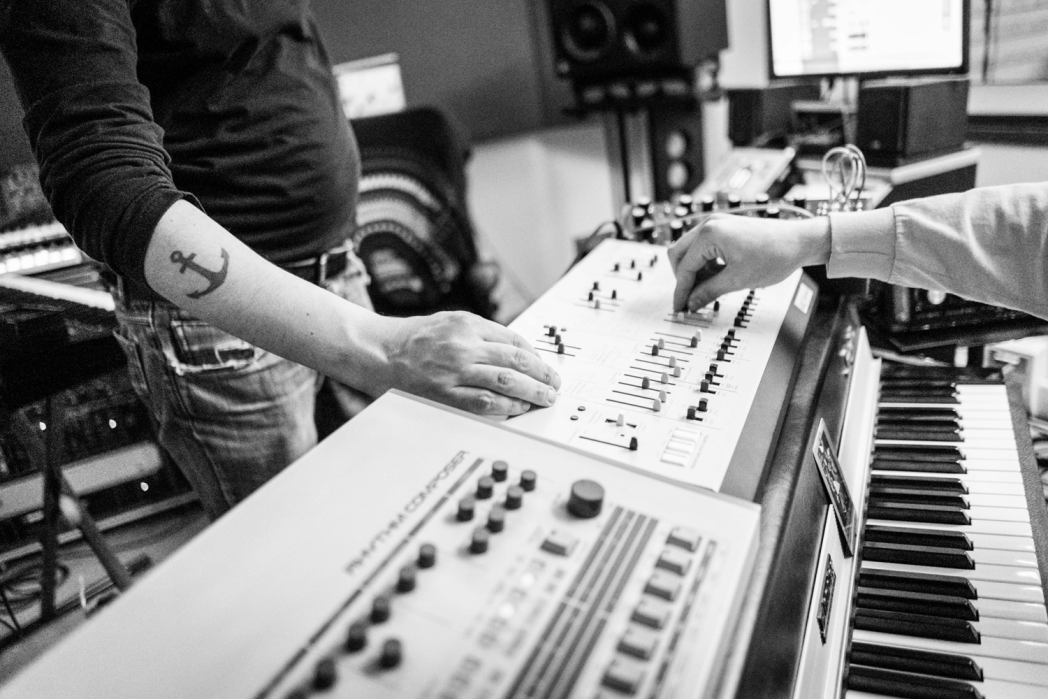 Is there a particular piece of gear that you're just dying to get your hands on, and do you think one day you'll have it?
Matteo Cantaluppi: I'd like to get my hands on the GRP A4 Synthesizer, an Italian analog synth.
Francesco Perra: I'd like to get the Meris LVX, which seems to be a more feature-rich pedal than the Microcosm. I'd like to have a unique, complete pedal like this one to save space on my pedalboard.
Matteo Milea: About synthesizers, a lot of old and new Oberheim and Roland stuff, but my absolute guilty pleasure is the Buchla 700. I would die to have those crazy algorithms to play with. Another deep pleasure should be to buy a Wandrè guitar.
Can you please share some aspects of sound design in your work?
We mainly program hardware synthesizers for each track, not involving computers in this phase; it is a more manual approach of tweaking until we find the perfect pad or sequence for the song. Also, Francesco Perra uses a similar approach with guitars changing on the fly of his signal path and finding the sweet spot for the guitar tone and the melody. We tend to start recording something when it already sounds like a final track. That's because we mainly played and worked together as a band in the studio, and It's important for us to hear the correct sound immediately as we play along with it, and when the track starts flowing, we are ready to record it without overthinking it. Basically, the tracks are already "mixed" while we are playing, like an old-school live record. Listening in this way helps us find the proper dynamics among the playing and the right mood to record a good take. Even though we found this well-working method, we decided for "Dreamland" to change the approach a little bit, so the whole record was thought out more rationally, closer to a "produced" record than our standard live imprinting.
Any particular new techniques that you tried out for your new album?
Matteo Cantaluppi: I used a lot of Granular Synthesis, which for me is a new thing, and for the last record, we also used more arpeggiators, drum machines, and more rhythmic elements.
Francesco Perra: I recorded all guitar tracks with the Fostex X18 to give my guitars a genuine cassette sound and then transferred them into the PC. This time, I didn't use my amps; I utilized a stereo amp simulator pedal, the Walrus ACS1.
Matteo Milea: as the record was conceived to be more produced this time, I decided to work with some VST like the Arturia Synclavier, all played via Native Instrument Maschine MK3, MAX utility/Midi plugins were used to create some complex interpolation between my dynamic live playing and the sonic characteristic of synths, using dynamic touch allowed me to control many sound correlated modulations. Once I was satisfied with the recording, I post-produced the sounds in every possible way until they perfectly fit into the mix.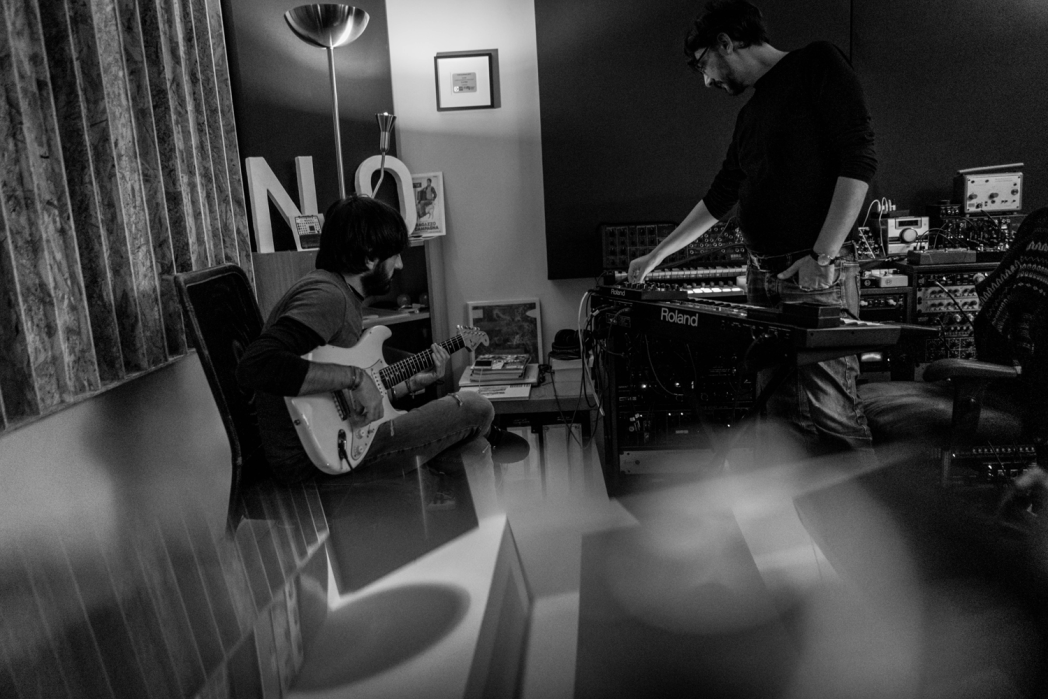 What does your live setup look like, and what do you bring with you when you travel for an extensive tour?
At the moment, we never played live, and we are developing a live show. We'll probably use an Akai MPC LIVE 2 as the primary playback machine, with some pre-recorded backing tracks mixed together by Matteo Milea through a Mackie analog mixer and some FX. Then both Matteo Cantaluppi and Francesco Perra will play on top of them with guitar and a Prophet 5. A very compact set.
What is the most important environmental aspect of your current workspace, and what would be a particular element that you would improve on?
Matteo Cantaluppi owns a recording studio in Milano, so we met in the studio for the first two records and made a live setup in the control room. We liked to be in the same space where we could look at each other, interact as humans and play with the natural dynamics. We'd probably have a bigger space, with a lot of sunlight and maybe in more direct contact with the natural environment.
What can you tell us about your overall process of composition? How are the ideas born, where do they mature, and when do they finally see the light?
For this new album, we completely changed our standard way of making records. Even though the first two albums were recorded together at Mono Studio, for Dreamland, we started to work separately, each of us in his own studio, and then mixed our parts. It happened that Francesco or Matteo recorded their demo in their studios and then sent the music to Matteo Milea or vice versa. The ideas mature slowly. After completing the recording process, we look back at those tracks and vote which sounds more coherent or just "good" in the new album context.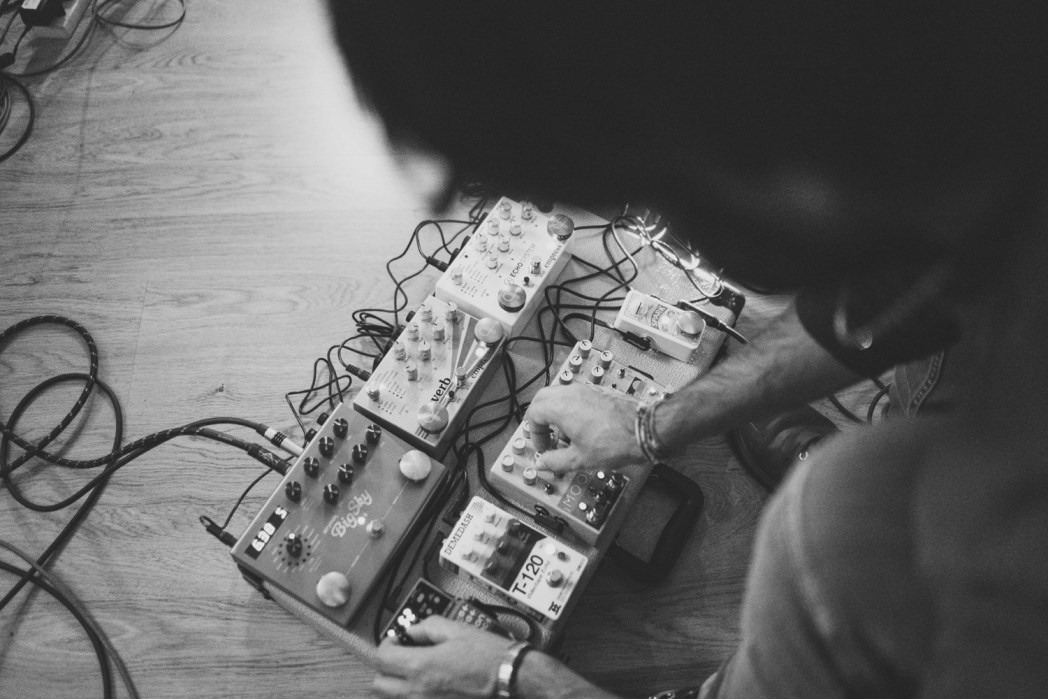 After the piece is complete, how do you audition the results? What are your reactions to hearing your music in a different context, setting, or sound system?
We have different kinds of contexts: smartphones, Headphones, the recording studio, and our cars… we also have different turntables for the test press.
Do you ever procrastinate? If so, what do you usually find yourself doing during those times?
Francesco Perra: I love procrastinating; one of the things I find myself doing the most is watching and discovering hidden places on Google Maps.
Matteo Cantaluppi: I am one of the few fans of boredom. I like to read, meditate, surf the internet, listen to records, take a walk, watch movies, go to an exhibition, and sometimes do nothing.
Matteo Milea: I'm not fond of procrastination too much, especially when I'm really into the deep mind state of a musical workflow. I often work consistently for hours tweaking and modifying my sound until it gives me back the right idea I envisioned in my head. After this creative process, I usually feel very drained, so I need to think about other things. That's when procrastination could help me find a new idea. I love surfing the web, looking for record shops' latest releases, and watching many documentaries about engineering and nature.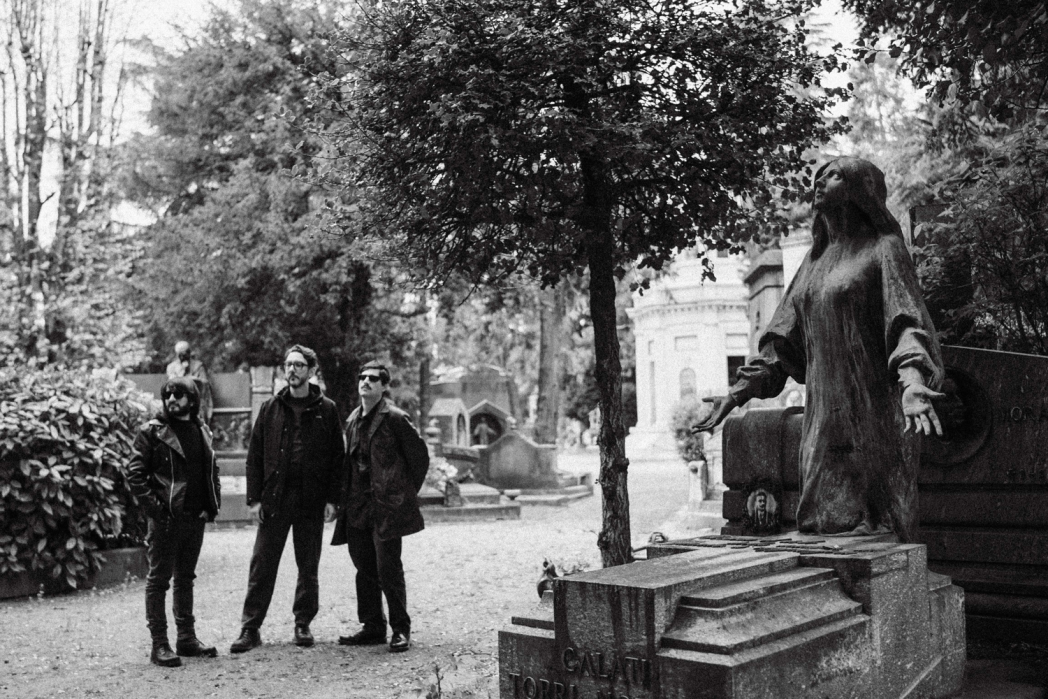 What gets you inspired?
Francesco Perra: I spend hours and hours with my pedalboard, trying to create new sounds, but what really inspires my music is walking in natural landscapes, going trekking, and watching the sea in all kinds of weather conditions.
Matteo Cantaluppi: My main inspiration is thinking about outer space and the possibility of non-terrestrial life.
Matteo Milea: I love getting inspiration from everything in my life. In particular, I've always found great sources in studying modern physics, engineering, and technology quests. The history of human society is also of great inspiration to me. One of my biggest passions outside music is watching all kinds of old and new motorsport and racing-related content.
And finally, what are your thoughts on the state of "electronic music" today?
Matteo Cantaluppi: I always listen to ambient radio, mixtapes on NTS Radio or the Italian Radio Raheem. It helps me to slow down and meditate. I don't like the city and the "Capitalism" noise. I have yet to learn about electronic music's general state in today's age. To me, ambient music can help us to find contact again with nature and space.
Matteo Milea: I think we live in a pretty vivid time for electronic music. The possibility of listening to pretty much everything that stretches from slow ambient to "extreme" noise recording and everything in between is the point for me. Even though we'll need some changes in how the general public perceives electronic music and how artists can communicate their messages better, there will be more and more possibilities to share better music easily.
Francesco Perra: I dream of a world where Ambient has a more significant role in music. I often feel disappointed when I hear commercial music of different genres. You suffer from it even if you don't want to listen to it. When you accidentally turn on the TV or go to the market, or even drink a beer in a beach bar, there's always that kind of music, and it's painful for me. All those stupid refrains that go directly into your brain are a pain. Many notable artists release their music in limbo without the attention they deserve, and a lot of silly music has too much space. People need to be educated to recognize good music. [Editor's note: Amen!]