Release Notes
Label: Injazero
Release: Kyiv Eternal
Date: February 24th, 2023
Mastered By: Taylor Deupree
Artwork By: Oleksii Samsonov
It's December, and the world seems to hit that neutral gear, where everything seems to be slowly rolling down that hill until, eventually, it will come to a slow crawl somewhere near the end of the year before pressing the foot on the pedal again. Unfortunately, that is not the case with the state of affairs in the ongoing conflict between Russia and Ukraine. Finally, even the press outlets and Wikipedia have officially started calling the Russo-Ukrainian war, starting back in February 2014 and a full-scale invasion on February 24th, 2022. If anything, the tensions are escalating. Switch over your channel from football to news, and you will get confronted with the reality of the situation. As the first anniversary of the invasion approaches, Kyiv-based composer and sound artist Heinali (real name Oleh Shpudeiko) announces the upcoming release of an album, Kyiv Eternal, scheduled for February 24th via Injazero Records. Today I am premiering for you the title track, "whose rich swell and powerful soaring chords rise with the sound of hope." On the beautiful album cover, we see a monument to the 16th-century Ukrainian political, military and civic leader Petro Konashevych-Sahaidachny, which has been wrapped up to protect it from air strikes. This music is a tribute to the city we both love (as I was, too, born in Kyiv and will always call it my home), to the city that refuses to fall in hopes that this horrible war will finally end.
It was a 2012 recording of an autumn rainstorm during one of my night walks around downtown Kyiv. It is personal, and it ties my life with the city. It's one of my first field recordings. I recorded it while I was living in the old apartment I grew up in, not far from downtown. Back then, I was suffering from a breakup. It was my first relationship, and it started and ended in Kyiv. It was pretty bad. I would go on these long walks almost daily. They took several hours, and I sometimes took my pocket field recorder with me. I think these walks were a form of therapy, losing yourself in the city, letting it take in and dissipate in its vastness emotional baggage you were carrying. And it was a practice that brought me close to the town itself.

— Heinali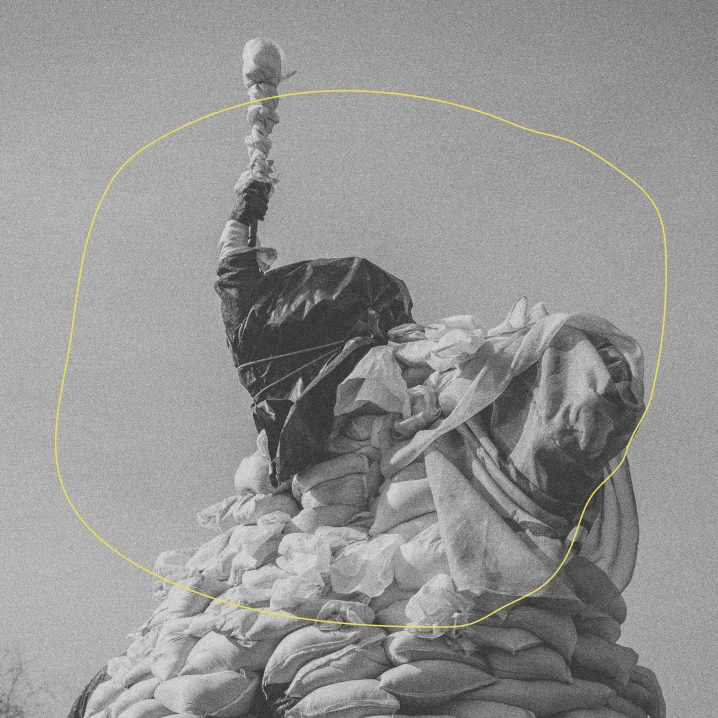 Once again, the full album is out on February 24th, on a limited edition yellow vinyl and digital via Injazero. You can pre-order your copy on Bandcamp now.