Release Notes
Label: NAHAL
Release: Future Sabbath
Date: January 15, 2021
Mastered By: Camille Jamain
Artwork By: Faye Formisano
It may be the first time you hear of FOUDRE! but it's already their fifth full-length album. Previously appearing on BLWBCK and Gizeh, this exclamatory named project is actually a supergroup [that's when numerous established solo artists come together for a unique collaboration], comprising of Frédéric D. Oberland (aka Oiseaux Tempête, Le Réveil des Tropiques, FareWell Poetry), Romain Barbot (Saåad), Paul Régimbeau (Mondkopf, Extreme Precautions, Autrenoir) and Grégory Buffier (Autrenoir, Mätisse). If those names are familiar to you, then so is their music, which is generally evocative, post-apocalyptic, drony, noisy, and dark. So you can imagine their potential at conjuring the spirits of the underworld during a joint ritual. This particular gathering "stems from a desire to probe the invisible forces that live within us, through a ceremony that brings together occult sciences, forgotten landscapes and the fever of the unconscious." Such is the case with their latest release for the French NAHAL Recordings, a label run and curated by Régimbeau and Oberland themselves.
The music is brooding, stirring, and menacing. The synth pulses chase after heartrate, the instruments wail, the organ evokes a post-spiritual creed. I can only imagine this music performed live on the stage – an experience from which this semi-improvised exploration in texture originally flourished. Yes, I miss feeling live music so very much. The closest I can come to this encounter is by putting on a record at home and turning it up to eleven. So here's a teaser from the group's upcoming Future Sabbath album, released early next year, with a premiere of a track titled "Black Swan Theory I."
Gathering regularly since their debut in 2015, FOUDRE! brings together electronic and acoustic instruments, merging incarnate and disembodied souls, past and snippets of a post-apocalyptic future. After the ghostly and hovering EARTH (2017) then the wild and telluric KAMI神 (2018), Future Sabbath travels even further into the tangle of genres and textures, offering a luxuriant palette of moods and emotions. Passing through the tracks with evocative titles, mystical symbols, and spiritual signs set this Sabbath of machine sorcerers ablaze.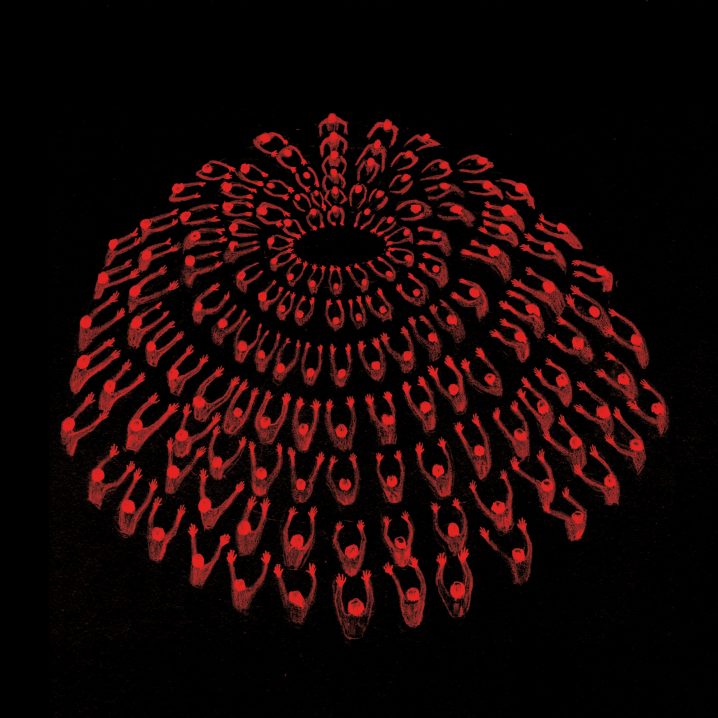 The album is out on January 15th, 2021, available as a digital release, as well as on a deluxe 12″ vinyl [with a stamped metal red hot foil]. The album features fantastic cover art by Faye Formisano sourced from her La Danse Secrète series of drawings using a blue crayon. It looks nice and sinister in red!