Release Notes
Label: Subcontinental Records
Release: Primitive
Date: September 2020
Mastered By: Chihei Hatakeyama
Artwork By: Joram Mennes
Today I'm spending some time with an ambient, experimental, and avant-garde label from India (and the only ambient label in India that I know of, may I add), called Subcontinental Records. Among its roster of signed artists, I only seem to recognize Chihei Hatakeyama and now Hoshiko Yamane, who released her album, titled Primitive, under her moniker, Tukico. Yamane has previously appeared on a few familiar labels – there's her 2017 EP, A Story Of A Man on 1631 Recordings, and collaboration with Mikael Lind, on a 2019 album Spaces In Between, for Time Released Sound. Yamane is an Osaka-born, Berlin-based violinist, composer, and electronic musician who has also been a member of the revered Tangerine Dream since 2011. But I won't let her past membership overshadow her present solo work, which, in itself, is worth your attention. For today's premiere, I am featuring a video directed by Sharath U Holla, featuring Yogarwa, shot for a track titled "Carnim Aiso." This is a beautiful cinematic piece, resonating with pure analog-sounding synth waves, spacious arpeggios, and of course, Yamane's violin. As usual, with my choice of video premieres, the visuals here only enhance the complexity of the piece and add their own mysterious story.
Primitive is a deep, submerged world of ambiance and atmospherics, which I can't help but color with the dark green and blue hues depicted in the album cover photograph, taken by Joram Mennes. On the album, the sounds swirl, tremble, and pulsate, evoking a callback to 80's kosmiche musik, early ambient, and modular synth explorations, with a generous palette of an electric violin. And whether I feel like I'm traveling past our known galaxy or the underworld of unexplored Oceania, Primitive perfectly balances sonics and space occupied by its ten radiant tracks.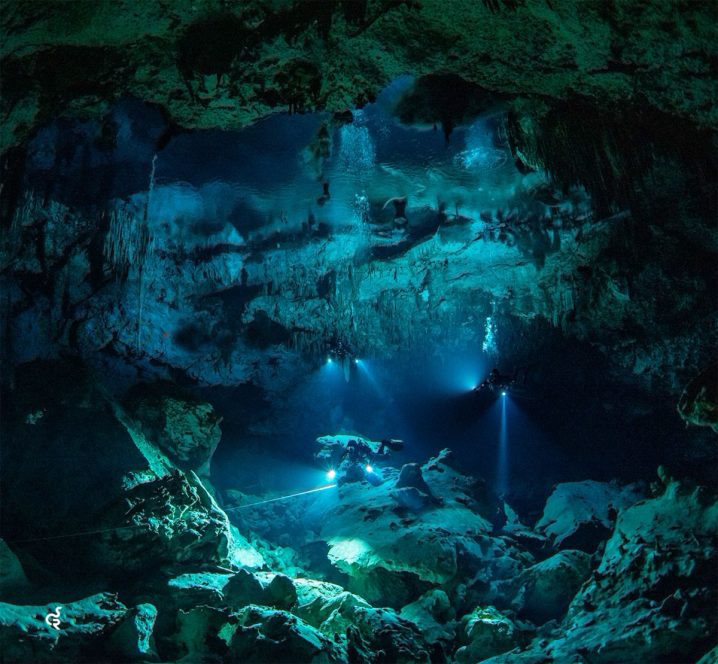 Mastered by Chihei Hatakeyama, the album is available digitally and on a limited edition compact disc, directly from the label's Bandcamp. Be sure to also catch some of Hoshiko Yamane's solo albums, film, and dance scores, released under her real name. And let's keep an eye and an ear on Subcontinental!