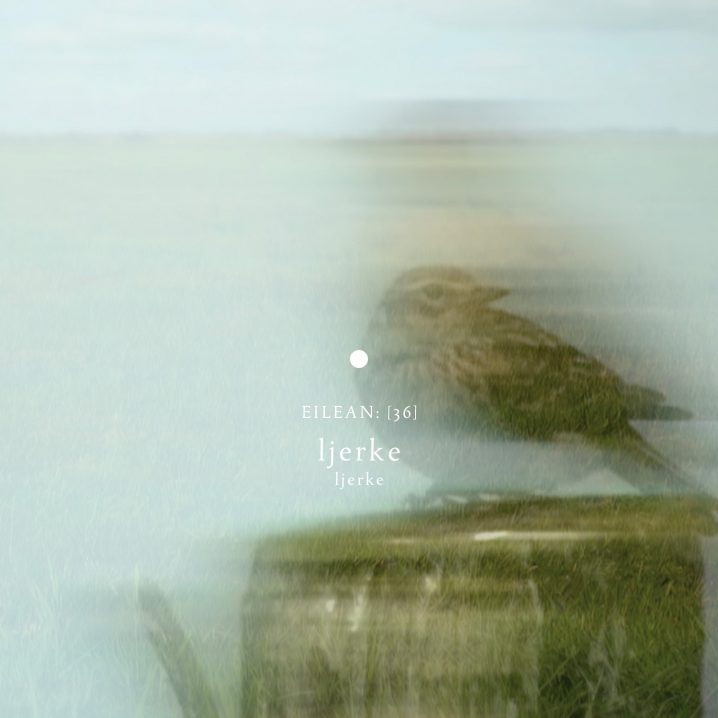 So Eilean has done it again. Stop it, Mathias, I just can't keep up! For its 65th release (and 36th point on the imaginary map), the label introduces us to Ljerke with their self-titled debut. The group is a Dutch and Norwegian project taking its name from the Frisian landscape. Here we've got an excellent collective of avant-garde musicians, some of whom have previously collaborated with each other before (dig out albums on Home Normal and Rural Colours), most recognizable of whom, because I will always be haunted by his voice, is Jan Kleefstra, with his spoken word (do you remember Piiptsjilling?). I'll spare you the cast of characters appearing on this collective (please see the album's Bandcamp page for full details and credits), but let it suffice to say that this multidisciplinary live collaboration ticks all the right boxes of an all-encompassing experience with their music, poetry and film.
What I love the most about Ljerke is the environment that it sets out to create from beginning to the end. Given the multitude of artists involved in its production, I am impressed with the consistency of execution and synchronized mindset of all, operating on the same wavelength (pun intended). Ljerke is a gloomy, widespread terrain, but of the earthly nature, battered with winds, night, and sound. The environment is very open, allowing sounds to come in and fade, like a torn page of a newspaper aimlessly floating in the wind on its quest towards neverwhere. This lifeform is scratching the strings, weeping the brass, and glitching the textures, all set in a field recording of what I'd imagine a desolate place, striving for care to simply be heard. There is a sense of urgency in Kleefstra's calm request, delivered in a language of the Frisian people, from the north of Netherlands, and although all the words escape my understanding, I can entirely grasp the meaning of the plea.
The album was born as a result of long improvisation in the Friesland countryside, in preparation for a series of live performances. Aiming to capture this unique achievement, the group recorded their work with the mixing and editing help of Rutger Zuydervelt (aka Machinefabriek), all of which is compiled on a CD and a DVD version of the release. Although all physical copies seem to be sold out as of this writing (find a few on Stashed Goods), the digital is just as pungent. Check out this habitat for yourself, then drop by for a visit, where you will find me incubating under a lonely withered tree.