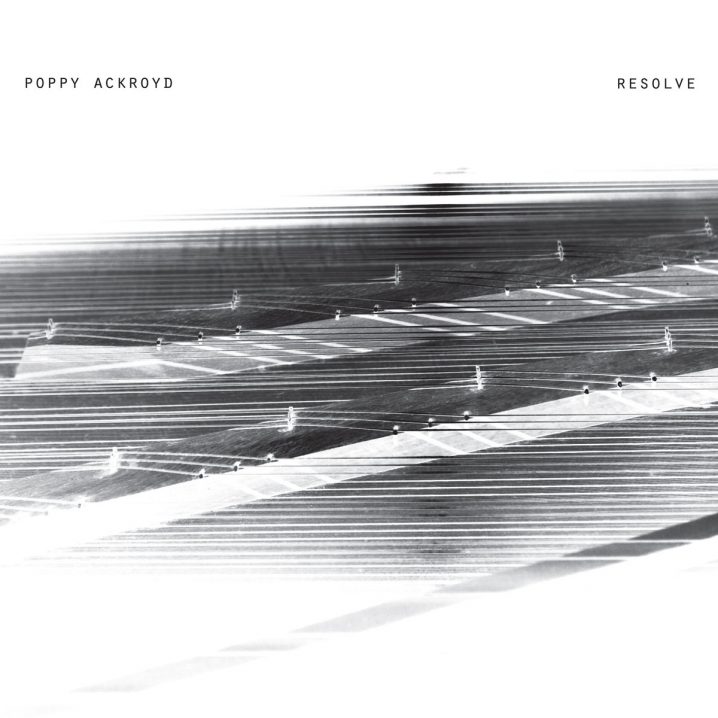 When we got a chance to speak with Poppy Ackroyd this past summer, she was about to release Sketches, an album of solo piano reworks of material from her first two studio albums as well as pieces from an upcoming new work. Now that album has arrived, erasing any possible vestiges of doubt that she is one of the most innovative and exciting artists on the experimental classical scene and a truly distinctive artistic voice.
Resolve finds Poppy building and expanding upon her dynamic and percussive approach to playing the piano in ways both conventional and unconventional. It also finds her collaborating in the studio for the first time with other musicians including Manu Delago (Bjork, Cinematic Orchestra, Anoushka Shankar) on hang, Mike Lesirge (Bonobo, Andreya Triana) on clarinets and flute, and Jo Quail on cello. It is a vibrant and mesmerizing record with a positive impetus behind it. 
Resolve is about the determination to embrace the good things in life whilst dealing with unexpected and challenging difficulties. Finding the light in the dark, facing sadness and loss head on, and developing a growing inner strength.

— Poppy Ackroyd
There is a translucency to each of these ten compositions that exposes the intricacy of their inner workings, but it would do them a disservice to refer to them as delicate. They move with purpose and irresistible forward momentum. The pair of tracks which open the album, "Paper" and "Light", are each driven by a steady clockwork heart with gears that turn and mesh in precise rhythm while tracks like "The Calm Before", "Resolve", "Luna", and the remarkable "Stems", build and chain organically like helical structures in constant motion. By way of contrast, "Quail" and "The Dream" offer transcendent diversions into ethereal realms of contemplative beauty.
The final coda, "Trains", is a piece which also closed Sketches in solo piano form. The fully orchestrated version of the song gathers pace behind the locomotion of syncopated percussion and swelling strings. To enhance the experience even further, it has been set to an award-winning video by filmmaker Jola Kudela with time-lapse footage shot on the beaches of Norfolk and Suffolk which he used to create a surreal, moving landscape which seems to live within the mind and piano of the artist.
The world is seen as a vibration, and everything in it is seen as rhythm and repetition. Nature pulsates, creating a transcendental pulse. Poppy, as an artisan, responds to the rhythm or creates it herself. Both worlds – elements of nature and the space within her instrument – coexist and filter through each other. This coexistence is reflected in the picture. Life is a journey and the strings, just like railway tracks, mark the direction. The world is enclosed in the piano, and the piano becomes the world. The world vanishes when Poppy stops playing.

— Jola Kudela
Resolve is available on CD, vinyl LP, and a variety of digital download and streaming platforms. It was worth noting that Poppy did also offer a very limited vinyl edition which quickly sold out. This edition included a signed print etched on a copper plate and printed in London on a Victorian copper plate press. The image was based on the album cover which itself was created from a photograph by Kat Gollock.
Words by Brian Housman of Stationary Travels