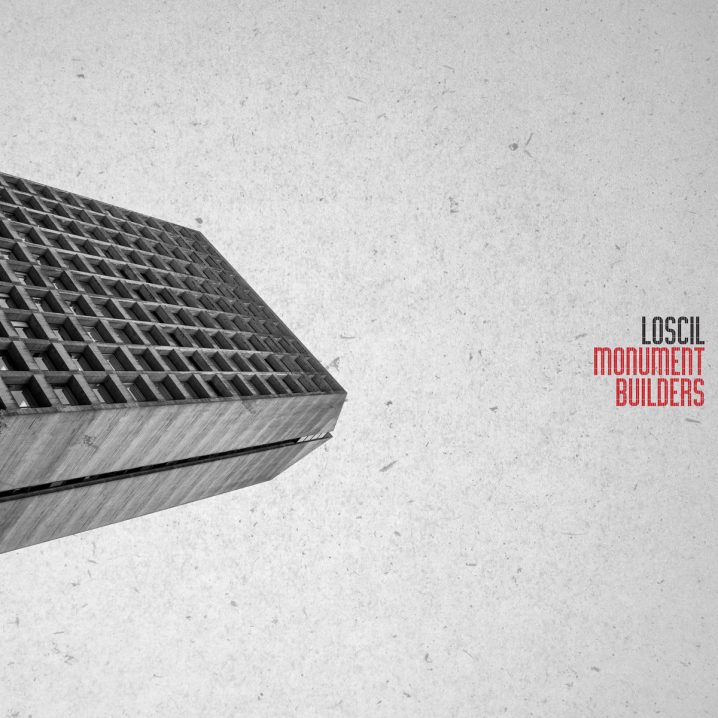 Released by Scott Morgan nearly six months ago now, in November of 2016, [this just shows you, how far behind all of the music I want to share with you I really am], Monument Builders is loscil's eighth studio release for Kranky. Not counting some of his collaborations and outstanding singles that this Vancouver-based musician published on imprints such as Gizeh, Thesis, Frond and Glacial Movements, among the many, Monument Builders feels like the original loscil I have fallen in love with, since the early 2000s, when I heard his first releases on Kranky: Triple Point (2001), Submers (2002), First Narrows (2004) and Plume (2006).
Morgan's oscillating loops (indeed that is what his moniker was originally named after, from Csound computer language) magnetize, hypnotize and charm the mind into complete submission of gorgeous spacial textures, punctuated with a deep heartbeat of a bass. The music is warm to the touch, building, perhaps, on the forgotten pillars of the early dub, with its minor chords, filtered sweeps, and pensive rhythms, but the staple sound of loscil is unmistakable among its layers and would be recognized among the crowd. A touch of lo-fi treatments, like slight crackle and hiss (Morgan used his vintage micro-cassette recorder for some loop based distortion), contribute to the overall complex structure of the album, seamlessly erecting complex futuristic monuments, out of collapsed human fabrications, our species' viral consumption, and final deceit. Inspired by a dusty VHS copy of the American experimental film, Koyaanisqatsi, with music by Philip Glass, Morgan explains:
Something about the time-tarnished visuals and the pitch warble on Philip Glass's epic score added a new layer of intrigue for me," says Morgan. "Glass has always been an influence but lo-fi Glass felt like a minor revelation, as if the decay was actually enhancing the impact of the film's message."
Similarly, some of Morgan's influences for the album came from anti-humanist writings of influential philosopher John Gray, along with Edward Burtynsky's aerial photographs of pollution and environmental destruction. All of these dystopian elements float to the top of this composition without much explanation behind the concept, as the suspenseful progression and urgency within some pieces build on top of an acoustic hymn, a brass requiem, and a sonic eulogy for our race, with a slight aural memory, that we have yet to leave behind.
Gray's writing, particularly his book Straw Dogs: Thoughts on Humans and Other Animals, reinforced a bleak notion I had that we humans don't have much say in how it all turns out," says Morgan. "With Burtynsky, I was struck by the fact that something so strikingly beautiful could be the result of large-scale waste and exploitation."
Monument Builders is a reflective, intimate, and complex album, one which will resonate with your inner being as you watch the world float by, consumed with its own made up stories, images, and sounds. Introspection on your own mortality can come heavy with some tracks, fill you with emotion and then leave you dry, but its poignancy would only derive from within, something already inside you, whether you like it or not. A highly recommended release, one that without a doubt deserved a coveted spot on our Best of the Year lists. We'll be playing this one for a while… Thank you, Scott… really…
©
Words by HC