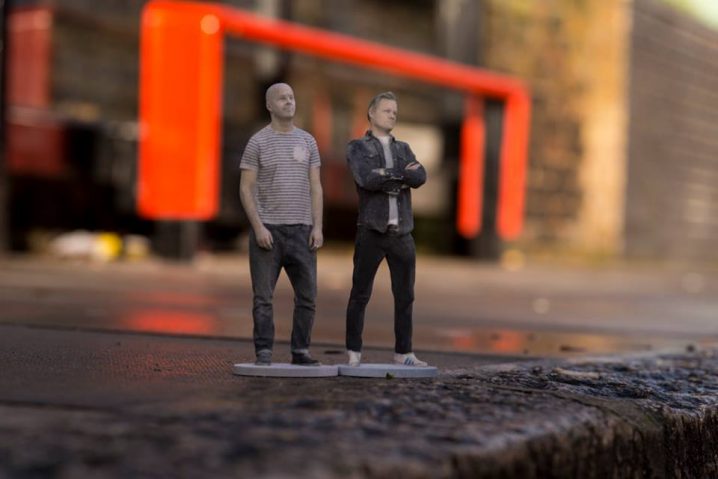 Let's start at the very beginning. Can you tell us how you got involved in composing, and what was your very first piece of gear?
ANDY: There are three key things. The first was Jean Michel Jarre whose Equinox album I religiously listened to on cassette as a kid. Equinox parts 5 -7 on the B side in particular – all those crystal clear electronic sounds, the way he strung the tracks together into one continuous piece, all those fantastic incidentals! I wish he'd left Part 8 off, though. The second was a seminal moment hearing Kraftwerk's Tour de France on offshore pirate station Laser 558. Around the same time, the Street Sounds Electro compilations were appearing featuring artists like Newcleus and The Jonzun Crew – all of which sparked a never-ending obsession with electronic music and a gnawing desire to get involved and make some myself. Equipment wasn't cheap back then so it was with huge excitement that I read about the SpecDrum, an affordable drum machine that plugged into the back of the ZX Spectrum which was a popular early home computer in the UK. This was the first bit of kit I bought, followed shortly by a Casio SK-1 sampler. Dom and I have been mates for years and around this time he bought a four-track Amstrad tape deck so we plugged it all together and made some terrible music that will never be shared!
DOM: Andy would do some mean body popping to Newcleus.
ANDY: I once moonwalked onto a wasp in my socks which, of course, stung me. The following contortions were described by a friend as "the best body popping I've ever seen you do"…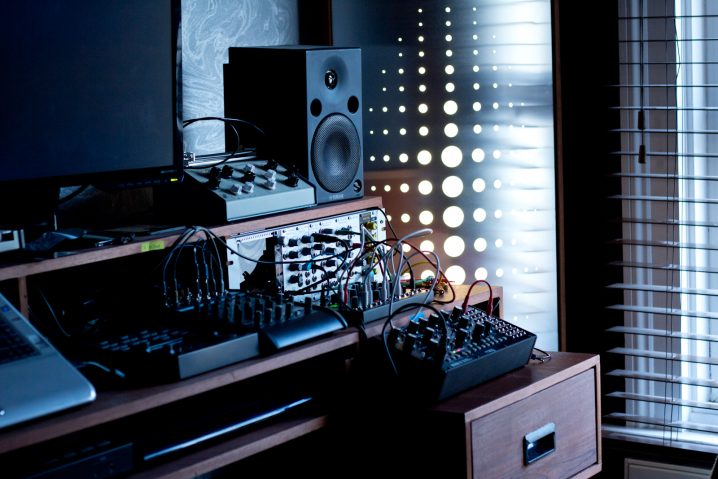 How many different studio iterations have you gone through, and what does your final setup look like right now?
ANDY: We've had countless iterations – a particular favourite being at the back of my parent's garage in Kent where we had a PC running Cubase, a Kawai K7 and various other bits with which we attempted to make tunes after a night at the pub. We now work separately with our own studios but occasionally get together to jam. We've found a nice way of working together despite being in different places – sharing renders and being brutally honest / accepting whenever either of us shares something shit! Current set up is based around a Moog Voyager, Access Virus KC and a Nord Lead Mk 1.
DOM: That garage setup was such a man cave, but very hard to be productive in after a few pints at the pub. I remember spending the best part of an hour trying to diagnose a 'ghost in the machine' in the form of a Donald Byrd sample that was incessantly looping in our sampler… we were too drunk to work it out and came to the conclusion that we were haunted by Donald Byrd so we switched off all the electricity until he left us.
We later moved in together in London and started writing a melodic style of drum & bass. It was the first time we really took it seriously and cut our teeth with real tunes, up 'til then it had been dicking about and writing parody tunes, which we still do from time to time, we are lifelong friends who regularly descend into childish play!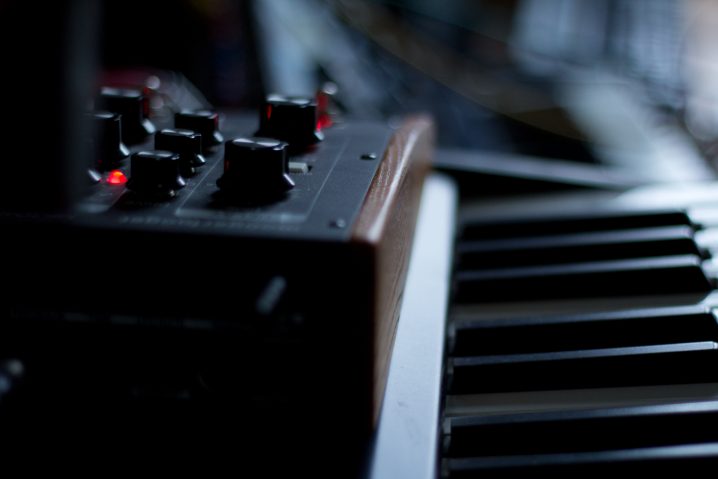 Tell us about your favorite piece of hardware.
ANDY: It would have to be the Voyager which I bought second hand around 5 years ago. I've expanded it with the VX-351 voltage control box plus the CP-251 control processor. It's often too distinctive for lead lines so I like to drive it through plenty of stomp boxes and effects then bounce to audio for further editing / processing. It's amazing for creating big filtered sweeping effects, techy hits, percussive elements, incidentals, weird ever evolving modular patches and of course fat bass – endless versatility that you can easily get lost in!
DOM: I cannot choose one! My modular corner is a beast, it's a holy trinity of Moog Mother, 0-Coast, and a Doepfer rack. The Machine Drum for hi-hats is sublime when applying random square LFO to the decay (so funky). Mono Moisturizer spring reverb to add warm but dirty verb dynamics. And finally my desk, recently custom built with 3 levels of sliding desk surfaces for different parts of the music lifecycle. Bottom: keyboard mouse and midi controller for programming, Middle: piano keyboard for notation / performance and Top: Traktor S5 and drum pads for live performance / rehearsal.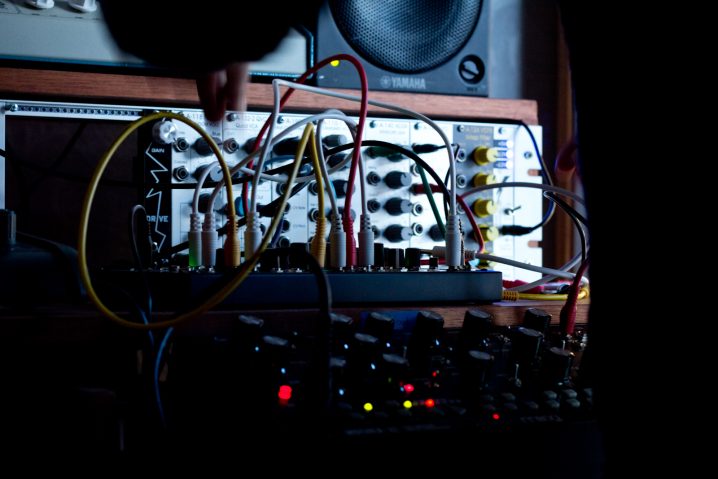 And what about the software that you use for production?
ANDY: We do everything in Ableton with plenty of plugins. We have thought about switching to another DAW, as Ableton definitely has a particular 'digital' sound, but we've got so used to working with Ableton we've stuck with it. Things like Massive and Omnisphere 2 get regular usage too and I love the Fab Filter Pro 2 EQ and Pro MB compressor.
Is there a particular piece of gear that you're just dying to get your hands on and do you think one day you'll have it?
ANDY: A Buchla synth would be pretty nice – a 100, 200, Music Easel or Skylab. Hmmm – I'd better start saving up! Like Dom I've also invested in a 0-Coast – a cute standalone piece of kit that combines east and west coast synthesis philosophies… something to counter all that Mooginess.
Can you please share some aspects of sound design in your work?
ANDY: I've got a bunch of Ableton templates full of different follow action midi clips which I feed into my kit for quick and random results. I've also set up templates with different configurations of midi controller enabled instances of various glitch tools and effects. I shove elements of tracks we are working on into this on loop, and tweak as many elements as possible whilst recording the output. From this audio I then pinpoint and edit out micro elements that will work in the track, or adjust the template set up to hone the output in further. We almost always use plenty of field recordings via a Zoom H4n which heads with me everywhere I travel. I often head into churches or large open spaces to record quiet background ambience and natural reverberations – a ready-made atmosphere to sit behind a track. I recently bought a lovely contact mic built by Leafcutter John which has been great for creating percussive sounds via the banging of various hollow objects!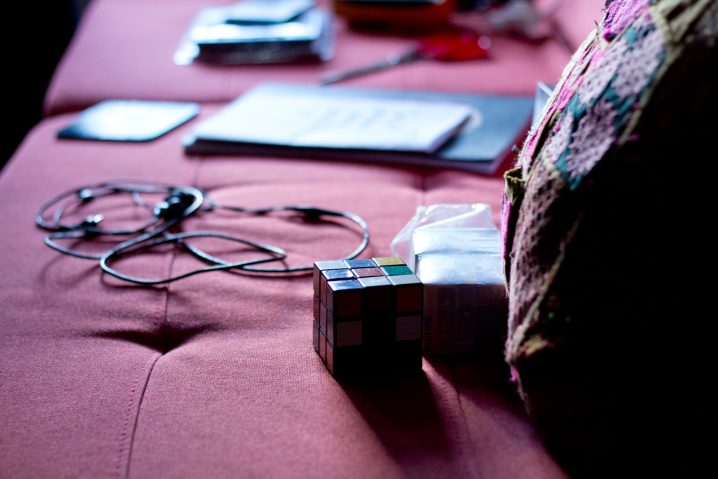 Any particular new techniques that you tried out for your new album?
Dom: For me, band passing or high passing so much more. Squeezing much into the mid / upper mid range to leave room for sparkle and sub in a much more controlled fashion. Also compressing or expanding the stereo field or EQ, not just amplitude, with the rhythm to give more illusion of power without just hoofing up the kick and losing clarity or tightness.
What does your live setup look like, and what do you bring with you when you travel for an extensive tour?
ANDY: This has varied considerably. A few years ago we were regularly doing decent sized gigs and had a full set-up of stands, controllers, synths, effects units and two synched laptops – all of which could be packed into nice flight cases. We'd also have Mach V our VJ joining us on stage as visuals have always been an important element of our live show. These days we are gigging much less so we have paired things back to the visuals and one laptop running into the machine drum, a Virus kb, controllers and effects units.
What is the most important environmental aspect of your current workspace and what would be a particular element that you would improve on?
ANDY: The absolutely ideal environment would be something like Minilogue's studio in the Swedish woods, or Taylor Deupree's amazing looking set up. But we both live in London and isolated cabins full of synth gear are hard to come by. As such I like working in a small darkened room, surrounded by dials and twinkling lights with barely enough room to swing a cat / mic.
DOM: Let's buy a cabin with the massive proceeds from Spotify. Homebase do a good line in garden sheds from £80.
ANDY: To be fair to Spotify they have been very nice and included us on some of their playlists recently!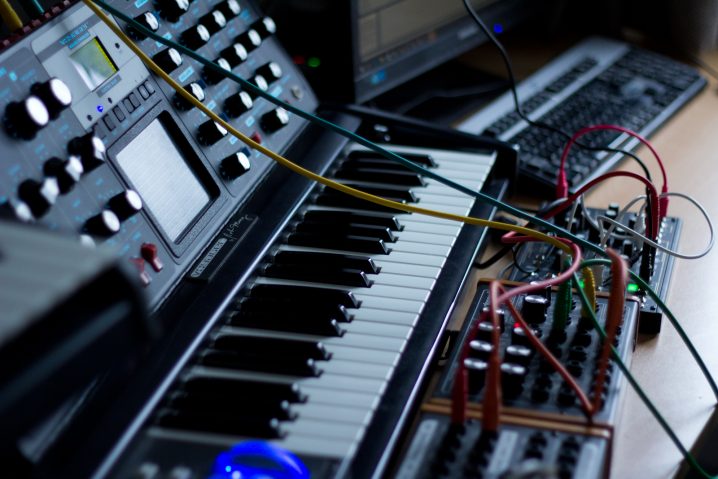 What can you tell us about your overall process of composition? How are the ideas born, where do they mature, and when do they finally see the light?
ANDY: As we mostly work in separate studios, we set ourselves particular parameters to work within when embarking on a new project – so structure around things like bpm and genre. Otherwise, we'll head off on completely different tangents. We're trying to keep our next album in 70 / 140 bpm type territory with drum and bass and old skool rave themes so these are our current starting points when it comes to our new album project.
DOM: The seed of a tune can be anything. I try different things every time. It might be building a melody with a nice patch on the keyboard, it may be noodling on the modular. It may be a sample loop or programming the machine drum. But get arranging quickly or you'll get stuck!
After the piece is complete, how do you audition the results? What are your reactions to hearing your music in a different context, setting, or a sound system?
ANDY: It's strange how listening to your own music with other people skews how you hear it. It's a really useful process to go through – although can be a bit awkward. It's great to get really honest feedback – even if unmentioned and only acknowledged through my own discomfort or embarrassment around mutual listening to a particular track – heh heh! Then perhaps it's time to change it.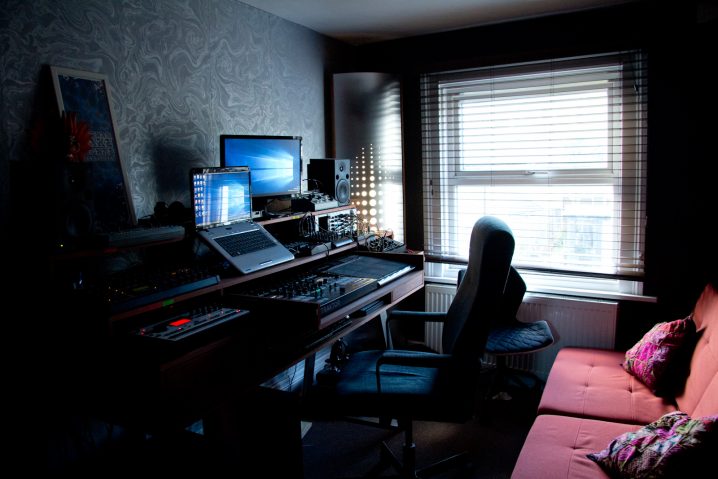 Do you ever procrastinate? If so, what do you usually find yourself doing during those times?
ANDY: The information overload on the web is fantastic from a time wasting / dithering point of view – I enjoy reading music blogs and listening to new sounds. I write about music for Inverted Audio and Igloo Mag and use this as a way to justify any music listening procrastinations. For further procrastination, we have also just started our own label and blog VLSI so have been fiddling with site design and plans about world domination through that. The aim is to release more of our own music through this platform and we are on the hunt for new artists to support and release too.
What gets you inspired?
ANDY: I love seeing live large-scale art / music / installations – things by Ryoji Ikeda, Robert Henke and Autechre's 'in the dark' shows. Max Cooper's new 'Emergence' AV show is also excellent and really inspirational. On the other hand, less known acts and labels can be equally as inspiring – people like Kane Ikin and labels like Bokeh Versions are current favourites.
DOM: Same. Live performances do the most for me. Max Cooper, Moderat, Robert Henke, Origamibiro, Digitonal, Jon Hopkins, Amon Tobin and Infinite Scale have all inspired us at some point over the years.
And finally, what are your thoughts on the state of "electronic music" today?
ANDY: It feels like a bit of a golden age for electronic music. At one point over a decade ago, hardware synths seemed pretty unfashionable – now everyone has gone modular and Roland has released new versions of the classic kit. As an electronic music consumer, it's never been better – there is so much to discover from DIY tape releases to re-issues of obscurities. As a kid listening to Jarre, our current ability to research and listen to so much excellent music would have blown my mind.