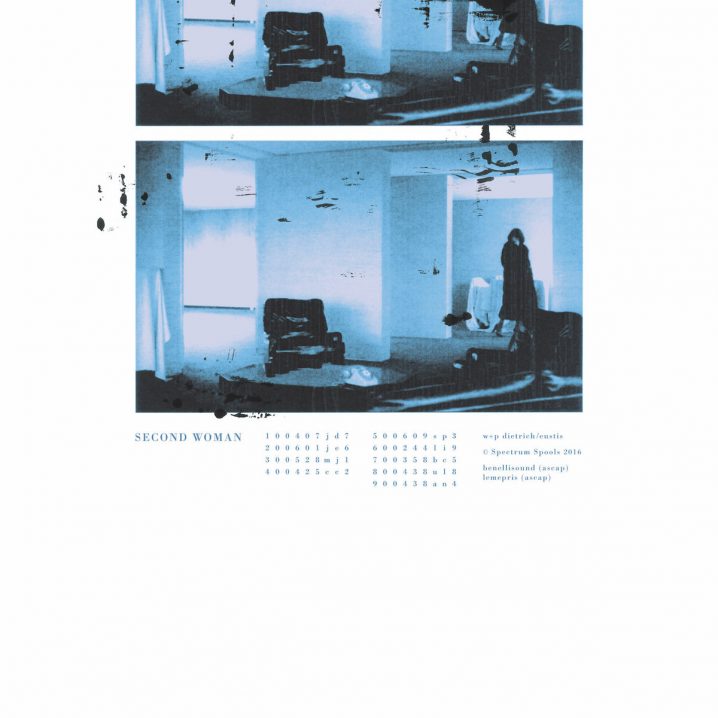 When Joshua Eustis of the beloved Telefon Tel Aviv reached out and told me that he's partnering with Turk Dietrich of Belong on a brand new project, I was immediately excited about this collaboration. Eustis, of course, has captured my attention with Fahrenheit Fair Enough (Hefty, 2001), when, together with the late Charles Cooper (who has passed away in 2009), they have challenged my sonic senses and perception of genrefication, especially with the last [and final?] Immolate Yourself (BPitch Control, 2009). In 2013 Eustis toured with Nine Inch Nails, performing on bass and keyboards. Meanwhile, his fellow New Orleans friend and musician Dietrich (who has already recorded with Eustis as Benelli, and with Cooper as DropD) has been on my radar since 2006, when I discovered his collaboration with Michael Jones as Belong on October Language (Carpark), subsequently landing on Kranky with Common Era (2011).
What I wasn't prepared for, however, is how vastly different the sound of Second Woman would be. Given the background I've covered above, I thought I would be experiencing some shoegaze meets ambient meets electronica meets leftfield synth-pop kind of deal, but from the very first track I was hit with an an experimental and glitchy sound that had me stopped in my tracks. I remember hitting play for the first time on Second Woman, while I was crate digging at a local record shop, all of a sudden unable to concentrate on my search for the next captivating jazz record, as "100407jd7" literally made me pause mid-record-flipping, and I just stood there, trying to pick up my jaw off the floor. I was distracted enough (in a good way) to leave the store, and instead sit on sidewalk listening to the rest of the album. This hasn't happened in a while, and of course, I'm glad that it did.
Second Woman is a nonpareil debut of futuristic electronic music fusing the coveted genetics of the duos respective previous endeavors into an alluring new enigma of ASMR-inducing kaleidoscopic dub. […] The deliberation and control over every particle is obsessive, but the end results of each individual track unfold with an organic temperament unparalleled in a grid-locked world of DAW shaped musics and rat's-nest modular aleatory
There is, without a doubt, a unified architectural theme as the foundation for the most, if not all, pieces on the album. The resistance of time signatures, rubber-band spacing, mathematically evolving rhythms, chromatic chords, and spinning textures, layered at times over a continuous sonic space-time-continuum, create a sense of other-worldly sounds, previously unheard of and unexplored. It is as if the duo have picked up a newly discovered instrument, or found a new formula to play with, exploring all of its intricacies in intimate detail, but certainly without overdoing and over-saturating the results. I thought, at first, that ok, I gotcha, this is interesting, but I'll probably be kind of bored with it soon. And yet, I've managed on my own volition to return to the album over and over again, craving the mutating universe and its psychoactive effect on my awareness.
There is no doubt, Second Woman reminds me a lot of my first exposure to Autechre. There is that slight hesitation and a brief "wtf moment", then, suddenly, everything falls into its place, and music, once again, begins to make sense. On Second Woman, my mind is able to arrange the constructs, conveyed through abstract and kaleidoscopic rhythms, synthetic palettes, and cascading tapestries of soundscapes, as the fabric winds up, bends, and uncoils again, through infinite prisms of resonance and modulation. It almost feels as if, since Autechre decided to push their envelope even further, into, at times, unintelligible theatrics of composition, Second Woman latched onto a conceptual groove that is extremely intelligent and at the same time accessible to these thirsting ears. Perhaps comparing this project to that of Autechre is unfair (how many times has that already been done?), but it's the closest analogy I can draw, paired with the most loudest of applause and much praise which I can express for the album. Highly recommended!
Stay tuned for an Interview with Second Woman coming right up!
editionsmego.com/releases/spectrum-spools
©
Words by HC