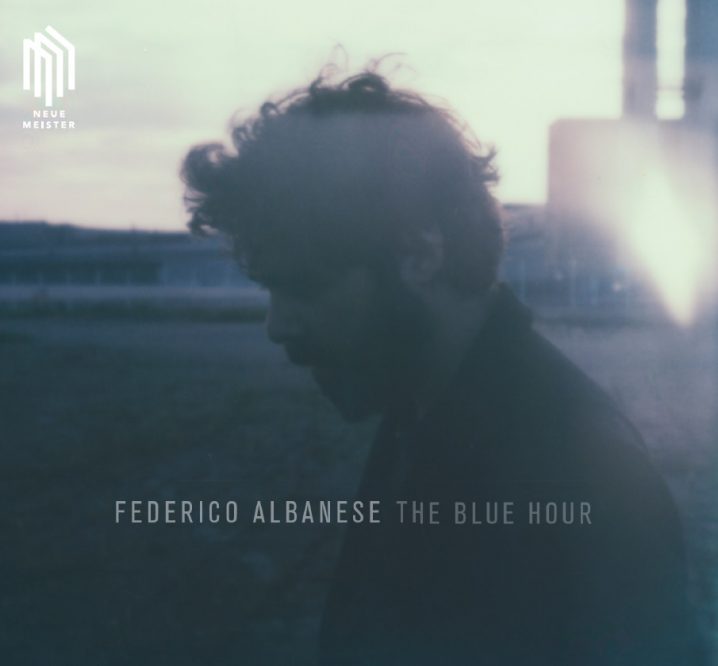 Federico Albanese first appeared on the scene back in 2014, when Denovali Records released his debut, titled The Houseboat And The Moon. The album was followed up by a remix EP with reworks by John Lemke, Cassegrain, Franz Kirmann and Saffronkeira. So you know that the artist was already in a good company. This year, Albanese gets picked up by a brand new sub-label of the classical music imprint Berlin Classics, called Neue Meister. This is the first release for the label, beginning its chapter in contemporary and modern classical compositions, promising to introduce us to its concert series, featuring works by Matthew Herbert, Henrik Schwarz, Paul Frick and Fazil Say. Really looking forward to these… But back to the album!
On Blue Hour, aptly named after that period in time between day and night, Albanese explores beautiful themes with romantic quality piano harmony, orchestral strings, and minimal synthetic and digital manipulation. There is the immediate cinematic tendency to the pieces, paired with a slight touch of nostalgia, longing and desire. Yet this is not the tear-jerker for the masochists-at-heart, the music is full of hope, reverie and promise, skilfully dancing around the piano keys from minor to major chords. Occasionally a ray of sun breaks through the clouds, brightening the twilight which so often sits upon our hearts. These emotions are explored across thirteen compositions on the album, making it a perfect soundtrack for your daily commute.
There is a particular moment when opposites are very close, almost touching one another. When there is still light but not quite darkness. A world in between, where all things are uncertain, vague, floating into shade. We can follow or observe, unsure where this would lead – into darkness or light; into the shadow of memories and dreams. A reflection of our desires and hopes, ready to be seen or unseen. It can be a sudden glimpse, with ideas turning into shapes, not yet complete. You can see things, but are unsure what they are. It is an unrevealed choice. A place to recover and heal, lulled by the security of the warm shadow of an ancient tree upon a hill" – Albanese
The use of synthesizers, light electronica and even a modest 4/4 kick appearing on "Céline" land Albanese squarely among his contemporaries like Nils Frahm, Max Richter, Ólafur Arnalds, Jóhann Jóhannsson, Greg Haines, Poppy Ackroyd, Carols Cipa and Library Tapes. I could already picture a full-fledged film score in the future of this Milan-born Berlin-based 'piano poet' (indeed, his past experience working as a prop man on several film sets made him appreciate the connection of images and music). Play this album through once, and upon another rotation all of The Blue Hour familiarity will become part of your own. Highly recommended for the above mentioned names and fans of selections I featured on Music For Watching The Snow Slowly Fall In The Moonlight.