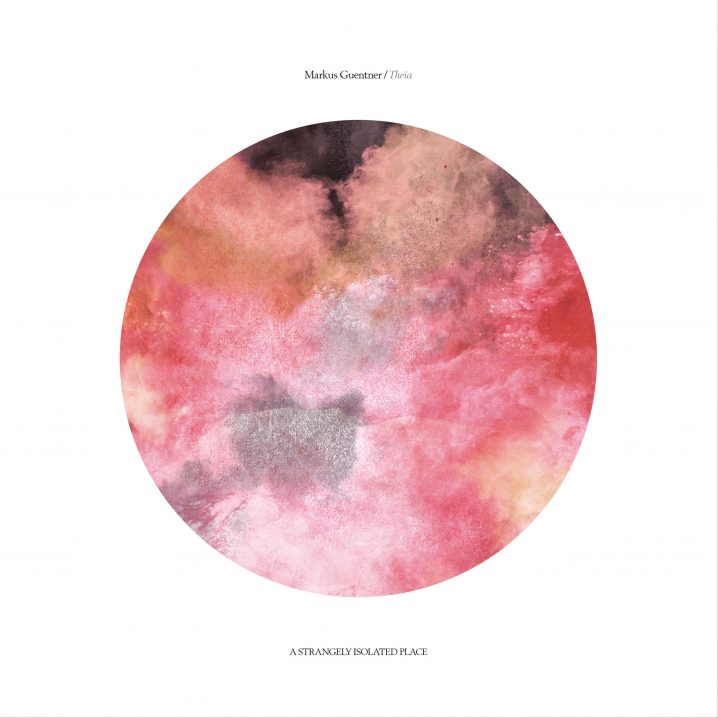 There was chaos and violence, a collision of dark matter and heat.
In the maelstrom, a legacy was created and a new moon born.
She left something here forever.
But amongst infinite black depths,
Theia rages on.
Markus Guentner's latest release for A Strangely Isolated Place is one of those albums that quickly reveals all of its beauty, and I can not help but immediately think to myself, "Yep, this one is going to be really good," even though I've only made it a few minutes into the first, thirteen-minute track. Alas, I'm not amiss, and upon the third rotation of Theia, I rush to write these words and share with you the music. [And if you haven't figured this out yet, this is exactly how coverage on Headphone Commute works – there is no real order, timeline, and/or rank – I write about whatever captures me the most, although I'll never grant that it's all random]. And so this Theia crawls its way atop, and hopefully will writhe itself into your ears.
The theme of this eighth solo full length is centered around a planetary-mass object, which, according to the "giant impact hypothesis" collided with the Earth more than 4.5 billion years ago. Its debris may have formed the today's moon and mixed with the core of our planet. This immediate subject gives the album a very spacey feel, but on that couldn't have been glimpsed without the title – the music here is spacious, grand and ample, expanding its atmospheric soundscapes beyond the boundless forms. Abundant reverb and delay drench the warm chords in organic field recordings, deep bass, and looping pads. The overall aesthetic offers a slight scent of micro-dub-ambient, where pulsing rhythms are stripped away, leaving the trace of aura to hang in the air, like a trail of incense…
The evolution of a historic astrological moment is brought to life through a dramatic, evolving soundscape that only Markus could capture. Drones build upon swathes of light, cut by an ever-present sense of fear. The distant shine of stars puncture a pitch-black canvas, as a force gathers momentum and intensifies. Theia's tortuous movement slowly builds in-front of you, and the inevitable moment of impact creeps closer and louder. The destruction is desolate, dramatic and beautiful all at once.
Those following Guentner's career since his earlier releases on Kompakt shouldn't be surprised about the astonishing evolution of these sounds – after all, he has appeared on the label's very first Pop Ambient installment, back in 2001. Guentner also released albums on Affin, Ware, Sending Orbs and Moodgadget, and it's exciting to see him being added to a slowly growing vinyl catalog of "a-magazine-turned label" colleague and partner in crime, Ryan Griffin's, A Strangely Isolated Place imprint. From two compilations, to a signing of Arovane & Hior Chronik, ASIP shows no signs of slowing down – a truly welcome development with many great things to come!
Mastered by the one and only Rafael Anton Irisarri, who also appears on "Baryon" as The Sight Below, Guentner's first dedicated vinyl release since 2006 is pressed on an opaque 2×12″ vinyl ("allowing the artwork to mimic the shine of the moon"), with custom design by Nick Brzostowski, who, by the way, is not only the creative talent behind some artwork on ASIP, but also the designer of Headphone Commute's logo. If vinyl is [still] not your thing, you're welcome to pick up a digital copy of Theia on bandcamp. Highly recommended for fans of Marsen Jules, Wolfgang Voigt, bvdub, Biosphere, 36 and loscil.