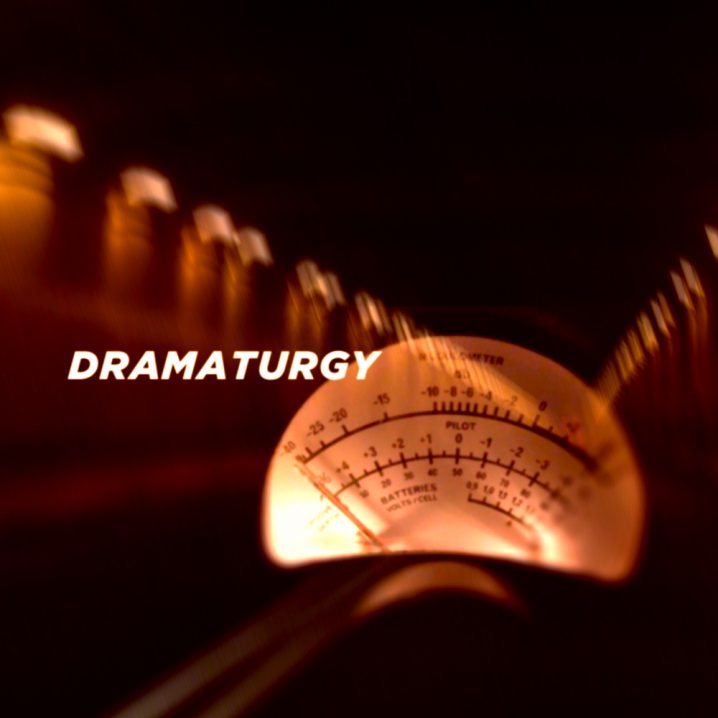 This mix came about after I attended Sound of Story, a series of workshops and seminars run by Lighthouse Arts in Brighton (UK.) The event, held over two days in November, investigated the role of sound in narrative, covering everything from film sound design, game and film scores, sound art and location recording. It featured some brilliant and highly respected artists including Chris Watson, Joakim Sundström, Magz Hall and Martin Stig Anderson, with each artist offering a unique perspective and approach to dealing with sound and narrative.
Although there's not the space to write about the entire event here, there were many highlights. Chris Watson's work probably needs no introduction and he gave a brilliant production breakdown of his soundscape for Constable's 'The Cornfield' for the National Gallery. Magz Hall is a Radio Artists that uses FM radio frequencies to broadcast her work in non conventional settings, including radio transmitting trees at the Yorkshire Sculpture Park. For his score to video game 'Limbo,' Martin Stig Anderson took an electro acoustic approach, whereby the game's natural environmental sound morphed into something more abstract and evocative as the player got into more danger. Film Sound Designer Joakim Sundström talked about sound dramaturgy. In one example, from the film 45 Years (which deliberately had no musical score,) he created an underscore of layered room noise, wind, ice cracking, a distant plane passing overhead. It was a haunting atmosphere which would have made a beautiful ambient sound piece in its own right. It's well worth visiting the Lighthouse Arts Website and exploring the artists and events further.
Sound of Story made me think about the many different connections between (for want of a better word) ambient/experimental music and other types of sound art. To investigate this further I thought I'd try combining these different 'sound art forms' into one mix. I've included pieces from artists who spoke at Sound of Story and a couple of other pieces – such as the sound design from the 'tunnel sequence' in Tarkovsky's Solaris – that I've always thought worked as brilliantly on their own as they do in their original context. There is also a selection of music that directly or indirectly seems to have a strong narrative. As part of the process of selecting the music I also asked some of the musicians for their thoughts about narrative in their work, whether this was something they consciously thought about and if they thought their albums told stories. You can read some of their responses below.
Oliver Barret (Petrels) actually writes stories as well as makes beautifully descriptive music. For him, the two bleed into each other with some of his story ideas cropping up in Petrels tracks. Oliver's graphic novel The Nucklelavee is almost like reading one of his albums. He said he was very conscious of narrative arcs in his music – even at the early stages of creating an album. Huw Robert's album Where Moss Grows (released under the name Hidden Rivers) has an introductory text that sounds like the beginning of a story. Huw said that there is a 'story' in the album, about his family and home, but says that details aren't important, it's an overall feeling or atmosphere that counts – "for me what I think that's special about this type of instrumental music – without lyrics, you draw your own meaning from it. I think that's important and I don't obfuscate details just for the sake of being mysterious." Pascal Savy takes an almost multi narrative approach to his album Adrift. The album already had a clear concept (part of Eilean Records island project) but was constructed intuitively, the narrative being found among an initial collection of some twenty or so pieces. He said that, "All the track titles more or less work on three different levels – they illustrate the narrative itself, but also echo things and people I encountered in my life and finally i guess on a more unconscious level they revealed something to me after the album was released." Ian Hawgood's album Shattered Light is rooted in strong emotion as much as narrative, but as he worked on it over several years a single image fixed in his mind – "I always had an image of a light in the years working on the album, but it was only when my father passed that I kept an image of a bulb exploding but the pieces of glass being filled with their own light; a closed room just filled with amazing lights everywhere and just facing the glow of that." It's as if the story is told in one single picture, which is similar to the way that narrative in photography can work. My own album 'Broken Memory Machine' began with a fairly clear, structured story which formed the back bone of the album and influenced the sequencing of the tracks. As I neared completion I took the narrative away leaving just the music with the narrative left as an impression upon it.
Phil Tomsett, December 2015
theioa.com
Tracklisting:
00.00 Haefest, Chris Watson (In St Cuthbert's Time, Touch, 2013)
03.20 On the Dark Great Sea, Petrels (Onkolo, Denovali, 2013)
05.44 Maelstrom (extract,) Pascal Savy (Adrift, Eilean Rec. 2014)
07.52 Remember Paul, Jessica Curry (Dear Esther OST, 2012)
08.26 Radio Recall, Magz Hall
08.48 I Have Begun My Ascent, Jessica Curry (Dear Esther OST, 2012)
10.16 The Long Quiet Highway (extract,) Phil Tomsett (Broken Memory Machine, Fluid Audio 2015)
11.36'Exeloume, Dimanda Galas. From the film 'The Last of England, by Derek Jarman
15.20 Maastunnel, Celer & Machinefabriek (2012)
19.44 Sound design clip from Berberian Sound Studio. Director Peter Strickland, Sound Design Joakim Sundström
21.08 Sleepdriver, Martin Stig Andersen (2015)
25.00 Maelstrom, Pascal Savvy (Adrift, Eilean Rec. 2014)
25.16 Mr Eddy's Theme 1, BArry Anderson. From the film Lost Highway, by David Lynch
28.08 Sound design from tunnel sequence in 'Solaris,' by Andre Tarcovsky. Music by, Eduard Artemey, Sound Design Vladimir Sharun
30.24 Persistance, Rafael Anton Irisarri (A Fragile Geometry, Romm 40, 2015)
35.12 The Long Quiet Highway (extract) Phil Tomsett
37.12 Walking Behind Glass, FTMOTS (Into the Well, Fluid Audio 2015)
38.48 Radio 101 FM, Janek Schaefer (Lay-by-lullaby, 12k 2015)
41.52 September Sun Memory, Hidden Rivers (Where Moss Grows, Serein 2015)
43.44 Spiritual Radio (extract) Magz Hall
45.46 The Shattered Light, Ian Hawgood (The Shattered Light, Komu 2013)