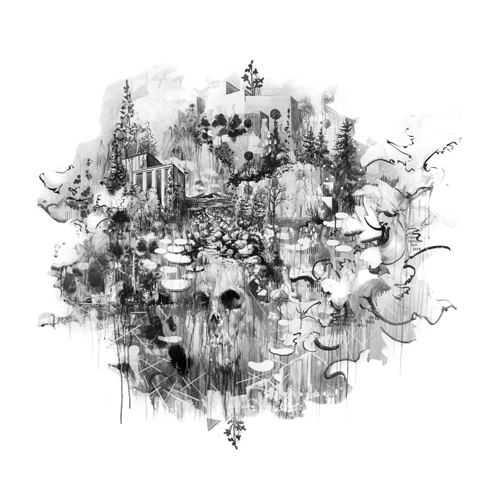 [editor's note: for the description of this mix, we're diving directly into words from Ryan Keane, the founder of Lost Tribe Sound label]
It has been an honor to work with some amazing musicians and artists since LTS started in 2010 including our main roster consisting of William Ryan Fritch, Graveyard Tapes, Part Timer, Benoit Pioulard, and Cock & Swan. That said, this mix is more of a look to the future. Most of this material has yet to be released or songs that have been released quite recently. A new one from Graveyard Tapes upcoming album White Rooms and Fritch's upcoming Empty EP make their debut here, along with a few exciting new editions to our roster: Mute Forest (aka Mombi), Skyphone, and Western Skies Motel.
For this mix rather than trying to focus on perceived genres or showcasing the big picture of what Lost Tribe Sound does, I figured it'd be easier to focus on a certain mood; songs that outlined the darker side of the label. Playing off some of the comments I receive when I play this music for "Normal People" saying, "Oh this music is so sad or dark". For me it's always been about beautiful music that speaks to me. I can understand where these comments of perceived sadness are coming from. Yet listening to music that most would consider sad or dark my brain has always filtered it into these moments of sheer beauty and uplifting positives. If anything it is one of qualities that tie Lost Tribe Sound's artists together. There is a certain tone to it all, whether it is indie rock or something more ethnic and classically indescribable, they are held together by this unusual glue.
Not to say this mix is a rotting forest, there are some distinct moments where the trees part and the light creeps in to warm the surroundings. Yet without the dark can we really appreciate the light? Without knowing death can we really begin to understand what it means to be alive? Maybe questions too deep for a mix tape to answer. All I know is this is music I connect with, that makes me feel grounded. And in those brief moments when I get to close my eyes and go deep into it, I see visions of ancient places and forms, and feel thick purposeful blood flowing through my veins.
The incredible Gregory Euclide created the artwork for 'Without Darkness'. Most will recognize his artwork from the cover of Bon Iver's Grammy Award winning album. This piece was conceived while listening to Death Blues 'Ensemble', a new album from Jon Mueller (Volcano Choir) and William Ryan Fritch. Perhaps the involvement of Fritch made this piece speak so loudly in my ear. Euclide's painting perfectly encapsulates the vibe I get listening to this mix. Needless to say we are big fans of Euclides' multi-dimensional microcosmic worlds.
Finally, it is impossible to talk about the label without the influence of William Ryan Fritch (aka Vieo Abiungo), who has set an ambitious goal of releasing 10 albums in 10 months with Lost Tribe Sound in the form of a subscription series, titled 'The Leave Me Sessions'. Fritch's music is some of the most organic, rough and tumble sounds I'd ever come across, with elements of African folk, modern classical, garage rock, and these pounding off-kilter rhythms at the core. All the interludes in this mix were constructed from various pieces Fritch has done for film over the years. Very few of them have ever seen a proper release. That will change next year, with his first volume of film music set to release in the spring of 2015.
Ryan Keane
losttribesound.com
Tracklisting
00:00 – William Ryan Fritch – Aimless Dreams (Empty EP)
02:30 – Graveyard Tapes – Our Sound Is Our Wound (Our Sound Is Our Wound)
07:35 – Mute Forest – Volcanos Flowing (Upcoming EP)
12:20 – William Ryan Fritch – Skunk (Music For Film Vol. I)
13:15 – William Ryan Fritch – Perpetual Motion (Heavy EP)
18:06 – Vieo Abiungo – With Its Slow Decay (Thunder May Have Ruined The Moment)
21:59 – Benoit Pioulard – Hawkeye (Remote Viewer Remix)(Hymnal Remixes)
26:41 – Graveyard Tapes – Ruins (White Rooms)
30:55 – William Ryan Fritch – Glass Slowly Shifts (The Old Believers OST)
31:43 – William Ryan Fritch – Bind and Unbind (Leave Me Like You Found Me)
34:55 – Vieo Abiungo – With Each Forgetful Step…Progress (Nils Frahm Remix)(And The World Is Still Yawning Remixed)
38:57 – William Ryan Fritch – In Dusky Ruin (Music For Film Vol. I)
40:19 – Western Skies Motel – As The Flames Rose (Upcoming LP)
41:50 – William Ryan Fritch – With Each Sweet Submersion (Music For Film Vol. I)
43:01 – Skyphone – Four Colours (Hildur)
47:25 – William Ryan Fritch – Lowered Expectations (Emptied Animal)