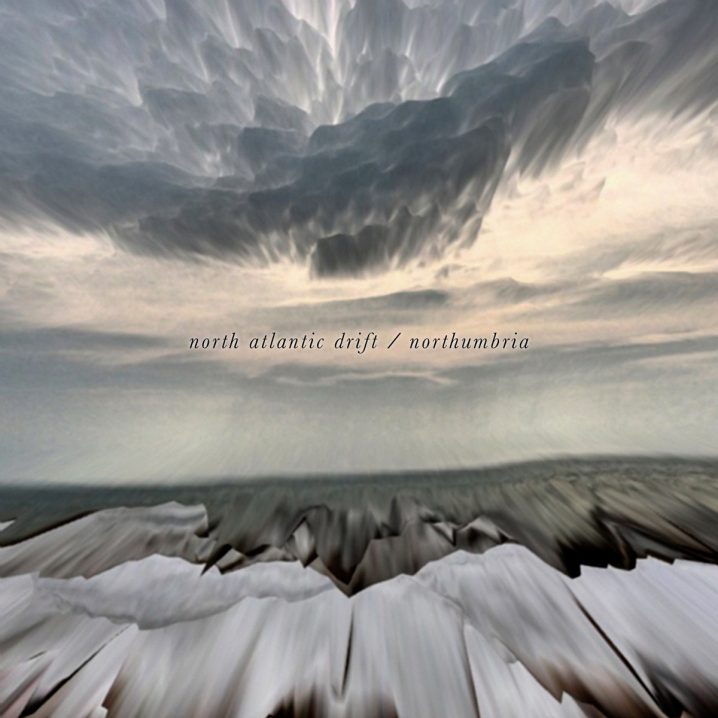 North Atlantic Drift and Northumbria are both two-man instrumental music projects based in Toronto, Canada that share ambient and post-rock as the descriptors of their work. Despite those commonalities, one could be forgiven for being surprised to see them sharing a split album. Listening to the six tracks on this new release on Polar Seas Recordings [a home to North Atlantic Drift, Mother Clouds, Transits of Mercury and more], however, that surprise gradually segues into an appreciation of just how well matched they are.
As North Atlantic Drift, Brad Deschamps and Mike Abercrombie craft atmospheres out of crystalline guitar lines, delicate field recordings, smooth synths, and sparkling glockenspiel that ooze elegance and melodicism. As Northumbria, Jim Field and Dorian Williamson use guitars and bass to create more intense soundscapes, bristling with coiled power and referencing their industrial, metal, and goth influences. Like the dichotomy between glacial beauty and forbidding power in an extreme northern landscape, these two styles naturally complement each other and blend seamlessly into a single vast sonic canvas for the space of 36 minutes.
Deschamps and Abercrombie contribute the first four tracks. 'Ursa Minor' takes the first steps into the landscape of this record, creating a feeling a increasing isolation through layers of drones and tactile sounds of wilderness under foot. 'Polaris' and 'Ursa Major' feel like natural continuations of the music on their last solo release, Resolven (2013), but perhaps with just a slightly crisper edge that suits the split album quite well. Their trademark melodicism and elegance prevail, but there is just a bit more sharpness to the guitars, a bit more thump in the bass, a bit more snap in the percussion, and a real sheen on the celestial glock tones. 'Perpetual Daylight' is perhaps the most ambient leaning piece, a delightfully atmospheric soft drone.
Field and Williamson then enter the picture like a storm front that darkens the sky with the incredible 'Cold Wind Rising', eleven and half minutes of rumbling and howling distortion. It is something of an anomaly when compared to the more tuneful parts of the album, yet in a sense it can be considered the showpiece, a sonic leviathan that creates a palpable sense of foreboding and awe. The closing track, 'Vanishing Point' feels like a calm after this aural storm, harnessing the fierce distortion and surging feedback into a metallic reverie of sorts which makes for a very satisfying conclusion to an exhilarating journey.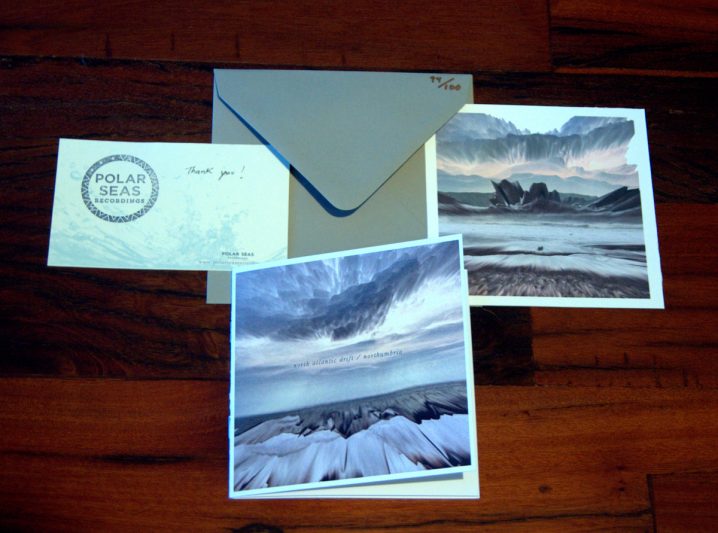 This North Atlantic Drift / Northumbria Split is a rich sonic experience which has been beautifully mastered by James Plotkin and might appeal to fans of a variety of instrumental genres. As with all Polar Seas releases, it comes in lovely hand stamped and numbered packaging and features wonderful artwork by Scott M2 (dreamSTATE) that is a pleasure to see and to hold. The album is also available as a digital download on the Polar Seas Bandcamp site.
Words by Brian Housman of Stationary Travels
Additional editorial by HC