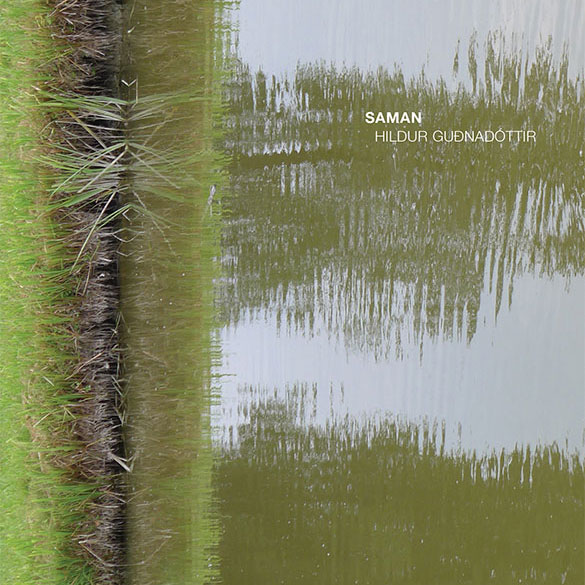 Hildur Guðnadóttir is one of those players, able to extract the essence of an instrument until it takes on a human life form. In the hands of Guðnadóttir the cello often moans, sighs and wallows, through a ritualistic communion with the composer's soul. Hildur Guðnadóttir is one of those musicians, able to drive a particular piece through an arc of emotion, influencing the mood of a listener until the music becomes the soundtrack to a daily life. Hildur Guðnadóttir is one of those Touch artists with whom you can't go wrong, consuming every single thing her gentle hands and fingers contact. And Saman once again confirms.
I discovered Guðnadóttir back in 2009, when Touch picked her up for Without Sinking, a favorite release of the year until this very day. A repressing of Mount A, originally released by Reykjavík based 12 Tónar label in 2007 (home to many Icelandic beloved artists, including Jóhann Jóhannsson), only re-established Guðnadóttir as a premier composer, beyond being an appearing player and a collaborator on albums by Nico Muhly, Valgeir Sigurðsson, Ben Frost, Pan Sonic, múm and many others. On Saman, Guðnadóttir continues to build upon her platform of cello based pieces, this time embodying her voice, connecting two instruments "together" — which is what "saman" in Icelandic means.
Beginning with "Strokur", the stringed instrument slowly fades into the foreground, with modest, single-note mid-register melody. Simple and elegant, reverberating within its natural acoustic space, the music soars from within the cello, until it settles down to rest. The album begins to progress into a somber territory, painted by minor chords in lower octaves of the bowed resonance, dropping into sadness, anguish, and perhaps despair. Although I reference melancholy as the predominant feeling throughout Saman, mostly because of its sentiment in tone, there are many positive reflections throughout the album, most prominent of these being a glimmering flicker of Guðnadóttir's own voice, soft and tender, as that of a lullaby.
The culmination of Guðnadóttir's vocals, stirring cello (with a touch of piano), a sense of silence within a space, and emotionally charged harmonics finally come together on a single short favorite piece, "Líður". With Saman, Guðnadóttir solidifies her presence on the modern classical and experimental stage, creating a unique and distinguished voice, easily recognizable for many years to come. A weighty, earnest, and gorgeous album, perfect for dark skies and stormy nights. Highly recommended for fans of Julia Kent, Christina Vantzou, Sophie Hutchings, Richard Skelton, Greg Haines, Svarte Greiner and Sylvain Chauveau.
©
Words by HC