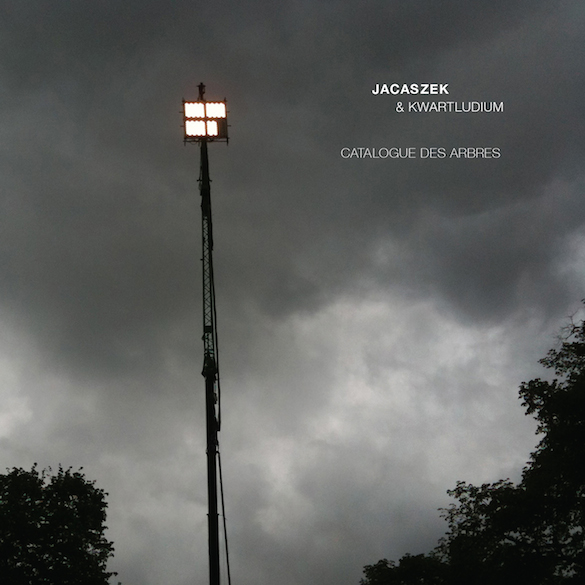 "… and the trees, like earth's wistful sighs to the sky." K. Janiszewska
Touch had a very productive summer in 2014. The focus of this recommendation is an album by Jacaszek & Kwartludium, titled Catalogue des Arbres. The former has been a favorite of mine since the discovery in 2008 by Erik K Skodvin for his Miasmah label, and the introduction of Treny into the world, courtesy of Gusstaff Records. Even though it was Jacaszek's third proper studio album, it was my very first acquaintance, and that superb modern classical release is still a cherished piece in my collection. With his 2011 Glimmer, Jacaszek managed to appear on Ghostly International label, and now, it is a true marvel to see him among the Touch family of dearest artists.
For Catalogue des Arbres, Michał Jacaszek engages Kwartludium ensemble, to perform all of the instrumental compositions, which he further processes with barely recognizable elements and minimal effects, to turn these eight electro-acoustic soundscapes into "forgotten songs performed secretly by my beloved trees". Kwartludium, a Polish contemporary music ensemble, comprised of Dagna Sadkowska on violin, Michał Górczyński on clarinet, Paweł Nowicki on percussion, and Piotr Nowicki on the piano, last appeared on my radar when they collaborated with Scanner (the very same Robin Rimbaud) on Graphic Scores for DUX in 2013.
Although most of Jacaszek's past output usually swirls around the murky vapor of nostalgia, the condition of Catalogue des Arbres slowly slides into a darker, more abstract and dingier space. Based on the field recordings of natural phenomena, the artist aims to create an artistic document capturing this nature through an acoustic lens, if you will, from various locations, distances and weather conditions. Further inspiration comes from Olivier Messiaen's bird song transcriptions for piano, similarly titled Catalogue d'Oiseaux, composed in 1958 as a tone poem evoking the landscape, its colors and atmosphere.
"When poets and writers declare their enchantment for the forms of nature, they often use musical terms as metaphors. Visual artists' creations often resemble graphic partitas, when recapturing the rhythms of landscapes. Making "Cataloguge des Arbres", my ambition was to join this broad artistic movement devoted to natural phenomena and find my own way to describe trees: their forms, atmosphere and mystery."
The soundscapes breathe with water, wind, and whispering timbers, punctuated by scattered piano chords, brooding bass clarinet and wondering violins. The resulting sound is sparse, drony, smokey and often dim. Like a soundtrack to a diffused and sharp contrasted film noir, Catalogue des Arbres lingers in the foreground with its lo-fi organic twilight, until it gently dissipates and melts away. The album's artwork, once again, photographed and composed by Jon Wozencroft, conveys a sense of an early quiet hour on a dark and stormy day. A time and place that trees, I'm sure, don't mind. Highly recommended.
jacaszek.com | kwartludium.com | touch33.net
©
Words by HC