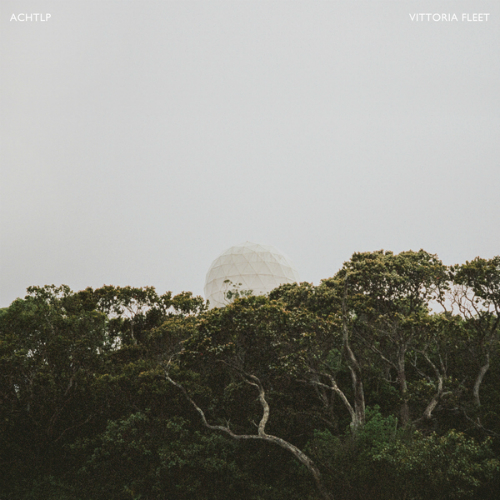 In 2012, I was impressed by a self-released Kissing Cousins EP from Allan Shotter and Giada Zerbo, together recording as Vittoria Fleet. On my Sound Bytes Review I compared their output to that of Clark, Tim Exile and Apparat for the glitchy IDM beats, melodic progressions and DSP-rich processing; and to Björk for the female vocals appearing on the EP. An interesting combination that left me wanting to hear more. In fact, I left my review with high hopes that they'll get signed by a trustworthy label. So it seems that I wasn't alone in my discovery, and someone was indeed also impressed [wink, wink]. Oakland based n5MD (curated and operated by Mike Cadoo) picked up the project for the debut LP, on which the duo continues down the same path of their uniquely combined sound.
Acht LP delivers frequency rich atmospherics, punctuated by tight percussion with extremely high knack for attention to detail. The organic melodies are as crisp as the shuffling field recordings I pick up in my peripheral hearing. The rhythms are head-nodding feel-good summer strolls, leaving your soul warm and the mind satisfied. Although there are a few instrumental interludes on the album ('Sávuca Redux' is a personal favorite), it is mostly composed of actual songs, with Zerbo's soft vocals floating above the complex machinery beneath. Take a listen to 'Hunger' and see if you don't immediately recognize some of the influences already mentioned above, and whether or not these indeed make up all of the desired elements which I so highly praise.
"Two years in the making Acht LP shows the duo refining their tenet of aural and emotional contrast. Dark elastic experimental beatwork pulsate around Giada's slithery emotive vocal delivery. IDM, bits of nostalgic trip-hop and some of the best sound design we've come across in some time all make the Acht LP a rewarding a treat for the ears."
Perhaps the 'contrast' mentioned above is attributed to the two separate cultures clashing in the music: Zerbo was born in Sicily while Shotter is from London. It's also important to point out that the album (and the project itself) is more than just a culmination of derived sound from the beloved artists of the day. Acht LP stands on its own, projecting confidence, passion and skill, which is not so easily attributed to most of the 'up-and-coming' acts today. Vittoria Fleet feels like a highly polished deliverable, and I wouldn't be surprised to find out that Shotter and Zerbo (individually or combined) have been quietly perfecting their art throughout the years.
Acht LP is available directly from the label on digital (including FLAC), CD and vinyl (with a download card) – there's also a limited run of white LPs in n5Mailorder shop [and if you shop there, I recommend you add Jon Hopkins' Immunity and Plaid's Reachy Prints into your cart as well for a perfect trio!] A highly recommended listen, especially if you're into some of the names mentioned on this page.
©
Words by HC