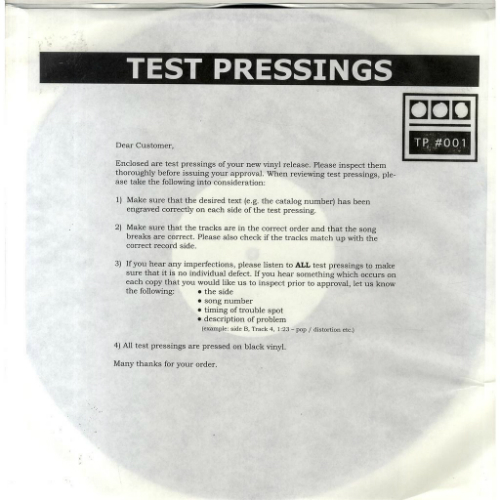 Demdike Stare, one of the UK's more inspired and wayward electronic acts, have been quietly busy releasing this series of Test Pressings on Boomkat's Modern Love imprint over the last several months. True to form, these are tracks that exist in the outskirts of convention and genre, pulling in elements from a variety of styles and sounds into something fairly harrowing and unpredictable. "Collision" is a nightmarish mangling of hardstep breaks, like late 90s Panacea with the spins. "Misappropriation" sounds more in line with the duo's exploration of tribal and hand drumming, but with the same caustic layer of feedback and effects applied to "Collision." The result is something more raw and industrial than some of their previous output, falling in line with the coarsest, most rhythmic works of Muslimgauze in his heyday.
The second installment continues to explore feedback and noise, but in distinctly different ways. "Grows Without Bound" is aptly named, a droning. anthemic dirge of a track that expands continuously, its feeble rhythm section a far second to its heroic drones. "Primitive Equations" snaps back to reality with some raw midrange breaks that would sound at home on Hessle or Hemlock, drawing inspiration from the golden era of drum n' bass and substituting any smooth pads or chill-out vibes with a weird swirl of reverbation and noise. There's even a pleasant surprise in the middle where their sounds suddenly don't seem half as threatening.
They shift focus considerably on the third installment, abandoning flirtations and mutations of jungle and bass music and instead delivering a rather sweet ode to vintage Detroit and Chicago house. It's surprisingly clean and melodic, even while it continues their trend of subtly manipulating sounds and patterns. "Dysology," on the other hand, draws more purely from the harder sounds of Jeff Mills and Joey Beltram, but with an added layer of distortion and reverb in the wings. It gets busier and more layered, a handsome industrial writher for a good portion of its 10+ minutes, ending in a blast of saturated noise.
I find myself less captivated by the most recent edition, though. The fourth release kicks off with a faint hum that builds into a shrill cacophony of clanging and distortion. The progression is fierce but the payoff, three minutes of clanging that feels like tinnitus, is especially difficult to process. On the flip, "Null Results" is built around a stuttering drum & bass break and a heavy kick until about halfway through when zappy synths show up, like some mangled mutation of 90s Metalheadz, Like the A-side, it's an extended pummel, but it's less shrill and more infectious.
The four releases show off the duo's diverse influences while veering more headlong into riddim and noise rather than the deeper spaces between on their albums. The individual EPs are digitally released, but it is the vinyl pressings that fly off the shelves and become instantly sought out, in that Demdike Stare cultish way. The 2010 Voices of Dust pressing is still in the $75 USD range on eBay. As a collection, they provide another unpredictable and unusual entry in Demdike Stare's growing catalogue of curiosities and treasures.
Be sure to read HC's Interview with Demdike Stare
©
Words by Matthew Mercer of Ear Influxion