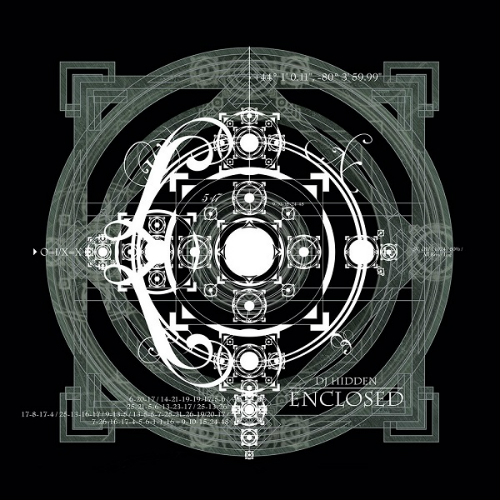 I was polishing off my Best of 2013 selections (which, by the way, are going live starting January 1st), and noticed that I haven't listened to much of dark drill'n'bass and breakcore this year. In fact, so much of the genre has lacked from my rotations that I've decided to drop one of my lists, titled Music For Grinding Your Teeth At Night, altogether [please don't hate me!]. This was an annual selection of my favorites from the usual suspects, such as Planet Mu, Hymen, Ant-Zen, Tympanik Audio and of course, Ad Noiseam. I'm not saying that these labels have fallen behind in their outstanding output this year. In fact, nothing could be further from the truth. In fact, when my best of the year selections come out, you will notice that releases from all the above have been sprinkled across the other many thematic lists. Perhaps it was my personal journey through that distracting thing we call 'life', that kept me away from those teeth-grinding sounds…
Well, that… and then there was DJ Hidden. Noël Wessels' sound has captured my attention from his very first release, The Later After (Ad Noiseam, 2007). This was, I believe still drum'n'bass, but unlike anything I have ever heard before. From a seemingly limited percussive palette of recognizable drum sounds, Wessels managed to sculpt intricate beats laced with tension, intelligence and most importantly, musicality. Subsequently, The Words Below (2009) and his collaboration with Frank Nitzinsky, aka Eye-D, on Peer To Peer Pressure (PRSPCT Recordings, 2011), kept me electrified as I fought my way through the tourist crowd of the awakening city (I don't think ambient or modern classical would do). So when Ad Noiseam announced a double album this past October, housed in a steel case, featuring a bonus compact disc with a 25+ minute long track, I dropped all introspection and dove right in.
Wessels' travels take us through the dark alleys of terror ridden cities, nightmarish tunnel chases, and uncomfortable silence laced with venom, blight and bane. Impeccably textured atmospheres unfold into cinematic passages of whispering ghosts, brooding buildups, and chilling samples [this one comes courtesy of 1990 film, Jacob's Ladder] :
"Let's see, this is your heart line, and your head line, and your life line. You have a very strange line, hon. No, it's not funny…
You see, according to this…
You're already dead!"
And that's where the punishing beats drop in. Here is where Wessels excels at his complex patterns programming, that keep my neurons firing, and dare I say, elevate the evolution of the genre, nay, entire progression of all electronic music, to new uncharted foreign heights. In fact, once again, while surveying my entire collection of this year's contributors to the transformation of sound, I only notice a few radicals, innovators and pioneers. And Noël Wessels is indeed among them.
Besides delivering an all-encompassing experience, Enclosed offers a conceptual study of its title, by surrounding the listener with music, engulfing in this massive album, and sneaking in a few impulsive twists. The release becomes an extension of this artist, whose many talents can be demonstrated through his other projects, such as Semiomime [see From Memory released by Ad Noiseam in 2011] and The Outside Agency [again with Eye-D, see The Dogs Are Listening on Ad Noiseam, 2012]. But if you've never experienced the sounds of DJ Hidden in all his past releases, this third extended full-length will surely blow your mind. Highly recommended, regardless of what your music tastes are. The second disc is worth the purchase alone!