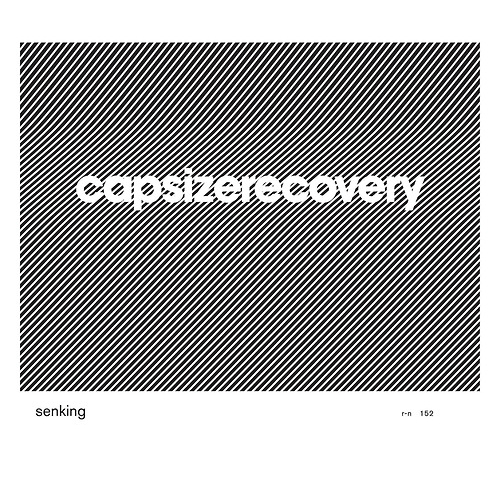 As Senking, Jens Massel has been plumbing the depths of dark electronic music for 15 years now. Capsize Recovery continues along those lines, another almost entirely instrumental album (save for a few vocal samples and fragments) that is as informed by the general Raster-Noton digital aesthetic as it is by the annals of industrial music and more current dubstep, halfbeat, and bass music trends. What I find most appealing about the album is that Massel is unafraid to juxtapose contrasting light and dark elements freely. He did this intermittently on 2010's Pong, but here I find it a more fully symbiotic relationship.
The delicately assertive lead of "Tiefenstop," for instance, is a really delightful counterpoint to the snarlier low-end of its arrangements, with tiny snares that lend it a militaristic flare. Often times human voices appear either in little samples or sometimes even whispers. On opener "Chainsawfish" it reminds me of the weird context-less samples of Skinny Puppy's "Stairs & Flowers," but otherwise instrumental and more understated. Even in its title, "Shading" denotes the grey area between light and dark, with its woozy, swirling low-end synths complemented by an airy, light lead just below the surface. "Nightbeach" is a perfect name as a track, with all of the darkness and rippling moonlight it suggests. It's not all doom and gloom, but rather cool and dark with a glimmer of light to illuminate things now and then.
Only on the last track does Massel flirt with something more overtly uptempo. "Enduro Bones" moves at a good clip with an industrial chug that is eventually reinforced by a bulbous kick, skittering snare fills, and syncopated hihats. It's an odd choice for a closer, leaving me wondering if the album wouldn't have benefited from a bit of tempo variety sprinkled throughout its playlist, but this is a minor complaint; it actually works well as an active final piece, sort of the culmination of all of the darkness that preceded it with added momentum.
To be fair, Capsize Recovery will probably surprise any experienced fans very little in its continued explorations of the murky waters that characterize most of Senking's discography so far. However, in its flirtations with bass music trends and its intriguing contrast between light and dark, it's more than merely another reliable entry in his repertoire and one worth a more thoughtful and thorough listen. Recommended for all fans of Raster-Noton roster, especially Frank Bretschneider, Byetone, Kanding Ray, and Robert Lippok. Be sure to also check out Pong, which was featured on Headphone Commute's Best of 2010.
©
Review by Matthew Mercer of Ear Influxion.