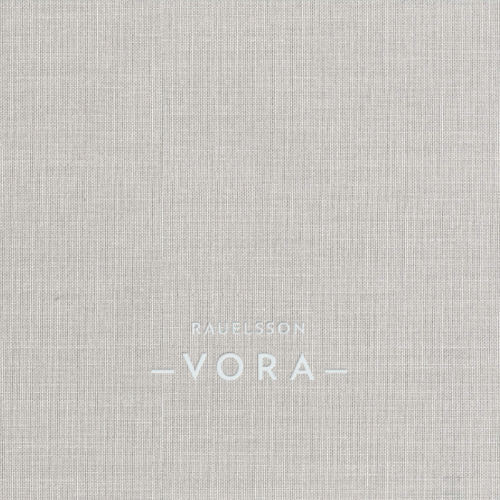 Rauelsson may have recorded two full length albums prior to Vora, but it is once again that with the help of the label that we stumble upon such splendor and grace – I point to the advantages of taste-makers here, that are willing to literally "invest" in the art. From the very first dampened piano notes, I already know that the music by Raúl Pastor Medall will be on heavy rotation, here at Headphone Commute. And just like a rare find in any of life's little pleasures, I set this album aside for that one precious moment when I'll need it the most. That moment is now… and Vora transports…
If, for a brief moment, I may return to that comment of Medall's previous works as Rauelsson… His early appearance dates back to 2009, when Sonic Pieces released a a limited edition compilation, Portland Stories subtitled "A Collection of Nine Songs Produced and Compiled by Heather Woods Broderick"  [that's right, Heather is indeed Peter Broderick's sister]. Then he has released a Rauelsson debut, La Siembra, La Espera Y La Cosecha (Hush, 2010), full of acoustic guitar sketches and vocal based Spanish songs. This he subsequently followed up in with Rèplica (Hush, 2011), a collaboration with the very same Peter Broderick. Now back to Vora, his third full length on the beloved Sonic Pieces.
"Like a coastal dream impossible to differentiate summer for winter, Vora feels like cold winds slowly warming up. Made in the time Raúl moved from Portland, OR back to his native Spain, settling on the east coast, you can hear the influence of the endlessly forcing waves and empty off-season tourist cities left for the remaining few to discover in peace."
Subtle keys, hushed lo-fi sounds, quiet pickup of the instrument's inner mechanics, barely audible breathing and subtle cinematic textures – these all make up the desired components, which are highly prized by yours truly. Whether it's the delicacy of slightly noticeable aural surfaces between the sounds, or the synthetic beating of a vivid rhythm, Medall elegantly folds the required components into an exquisite sculpture, to be admired very close. This is why, I suppose, he invites the listener to share the piano bench, and put one's ear on the wood. The music is somber, intimate, and yes, melancholy, and its message is just as authentic as the slight creak in the floor.
Fans of Nils Frahm, Peter Broderick, and Dustin O'Halloran must immediately take note, because you will surely fall in love. Add to the piano tonalities some electronic and string elements ala Ólafur Arnalds, the atmospheric shuffling beats by Brambles, the moody noir-fi shadows of Deaf Center and the soundtrack arrangements by Clint Mansell, and you have a culmination of Vora, worthy of an undisputed critical acclaim. Don't be surprised to find this album on my Best of 2013 lists. You know exactly in which category to look…