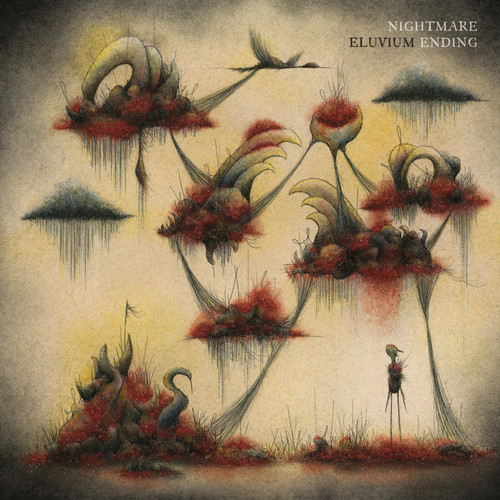 Matthew Cooper's beautiful music has been an inspiration and awe for many years now. Those who know him just by his real name may have come upon his original soundtrack for Some Days Are Better Than Others (2011). But it is his Eluvium moniker which is a more prominent project on the scene of modern classical, ambient, and shoegaze genres. In fact, his home label, Temporary Residence Limited has cemented his presence and relevance with an immense 7xLP box-set, titled Life Through Bombardment (2009), collecting nearly all prior releases, including Lambent Material (2003), An Accidental Memory In The Case Of Death (2004), Talk Amongst The Trees (2005), and Copia (2007)… that is until Nightmare Ending came out…
Right off the bat I was impressed by the fact that it was a double disc release! Where did Cooper find all the time to record this music? Yet although the album spans two CDs, a keen eye will observe that it still clocks at 84 minutes in length, so it's not necessarily too overwhelming. The last Eluvium album, Similes (2010), surprised many fans [including yours truly] by featuring his very own voice on almost every track. A somewhat ambient-pop record, it was a bit "different" and slightly challenging to accept by many longtime followers. With Nightmare Ending, Cooper returns to the roots.
Conceived as a way of helping loosen his self-imposed ideals of perfection, Cooper labeled each Nightmare Ending track as either a "dream," or an "imperfection" – a way of differentiating the philosophical concept of "dream vs. reality," couched in the more tangible technical distinctions of "flawless vs. flawed."
There are darker moments on the album, wrapped in a distorted guitar haze and a pounding industrial heartbeat. Scraping ambient textures swell up and absorb the frequency spectrum in a swoosh of torn memories, splattered with murmur, discord and drone. A train goes by. A wind blows. Crickets announce themselves to their mates. And then Cooper plays the piano. This is where time stands still. Somewhere on the edge of dream-like unconsciousness, where melodies create their own language between people unable to speak. There's nothing to say. There is only music. And getting lost in Eluvium's sound is right where I want to remain.
The story of this Nightmare Ending actually began years earlier and was originally intended to follow up Copia. Perhaps, when working on the album Cooper felt that he became a bit too formulaic in his output, and Similes was a way to experiment in a new direction. Well, I'm glad that he got that out of the way, and returned to complete this release with "renewed vigor", because Nightmare Ending is the Eluvium I have come to love! The double-disk release is still only $12 USD, and is available directly from the label's online shop. I'm sure a vinyl is in the works! This is a must for any Eluvium fan, or for those just beginning to explore the genre…
Read Headphone Commute Interview With Eluvium