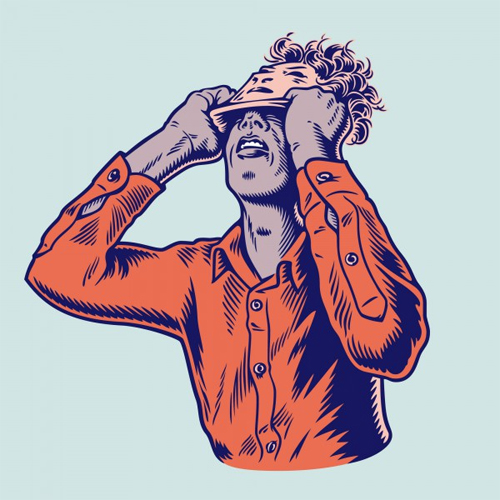 I listen to the second album by Moderat until I wake up in the morning with the lyrics and melody already playing in my head. And there are tracks on II that from the very first rotation will appeal to a modern electronic music connoisseur, not to mention an occasional FM listener. That means that you can listen to this music with your friends, and they won't cringe their noses because your music usually sounds like "buckets falling down the stairs" or "squeaky rats scurrying across the highway". Add to that vocals by Sascha Ring himself, and you'd be surprised not to hear these tracks on the radio. In fact, as of this writing, the album has already made the German top ten album charts. Whatever the commercial temptation of Moderat may be, I still consider the album to have enough experimental edge and top-notch production values to keep this music addict happy.
Sascha Ring, better known as Apparat, and one half of Moderat, has recently released Krieg und Frieden (Music for Theatre) on Mute, which has immediately piqued my interest, as the album gravitated more towards the cinematic and modern classical compositions that I often crave. The second half of the project is of course the German Modeselektor duo, consisting of Gernot Bronsert and Sebastian Szary. These two have been dropping bass heavy beats since 2005, with releases mostly on Ellen Allien's BPitch Control, until Modeselektor launched their very own, Monkeytown Records in 2009. The second release by the collaborative moniker Moderat makes an appearance on Monkeytown once again; there's also a double CD version featuring a continuous mix of "A Couple Of Favorites During The Production Of II", including tracks by Jon Hopkins, Dark Sky, Head High, Anstam, and Atoms For Peace.
"We have known each other for 12 years now, and during that time we haven't really changed that much: We are still three guys mostly talking about hi-hats and tape machines while hanging out in the studio."
The music on II is an evolving marriage between dance-floor broken rhythms and well-conceived song writing, all consistent in quality and allure. There are plenty of instrumental pieces on the album, but it manages to stay cohesive throughout, even when the vocals come in again. The overall atmosphere is extremely textural, and I keep on discovering many fascinating sonic details after repeat listening sessions on various sound systems and headphones. The album opens with a short interlude, echoing growling bass echoes, like distant thunder in the summer rain. The forthcoming second track, "Bad Kingdom" introduces the vocals, announcing the sweeping intent of the album, setting up the listener for all the things to come.
On "Let In The Light", one of my favorite tracks on the album, Moderat uses pitched up and down vocals in unison over minor chords and syncopated chords to create a new direction in sound, attributed in the past to innovative approach of Burial's treatments. On "Milk", the longest track on the album, approaching ten minutes, the extensive buildup slowly sucks all the air out of the headroom until the bass modulates the tonality and the song begins to unfurl. Finally, on "The Time", Moderat ties in thick synth lines with spacial elements to create an ethereal feeling of a helium flotation device, concluding the journey with a soft airy fade out.
Although I think it would be unfair to compare this effort with work by Thom Yorke [who, by the way, has previously collaborated with Modeselektor on a few EPs], it would be legitimate enough to state that II would be recommended for fans of that particular combination of EDM meets lush lyrical sound. Overall, I keep on returning to the album, playing it for my family and friends during long car rides, and I wouldn't be surprised if Moderat showed up on many 'Best of 2013' lists, when the world will heave their selections in December. Highly recommended – I can't stop nodding my head!