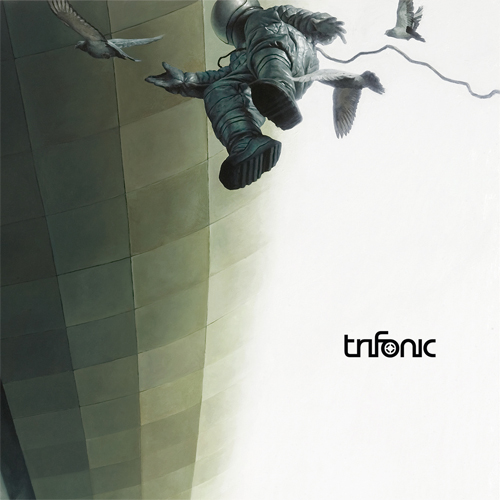 It took me more than a dozen plays to finally cover this album, but then again, the fact that I find myself returning to this album over and over is reason enough of a praise. Standing the ground alone, the Trifon brothers, Brian and Laurence have been releasing music on their very own Trifonic Music LLC, and it is perhaps this self perseverance that drives the confidence of their sound, is what most attracts me to their works. Taking on an industry without bigger label presence and distribution channels is a challenging endeavor. Alas, if the music can speak for itself, the people will follow.
On their second full-length release, titled Ninth Wave, the brothers showcase their intricate attention to detail in sound production, fully in control of seamless genre-bending styles, endless effect chains, and most importantly, pure musicality. There are luscious melodies on this album that will instantly get embedded in your memory, and upon your second return will immediately feel like flashbacks from your deeply subdued and subconscious mind. Even the few tracks with the vocals by BRML feel in place [and yes, it's hard for me to say this, since I'm completely partial towards instrumental music].
"I don't think of [Ninth Wave] as a dark [album]. There's this sense of hopefulness and beauty and light and it's more about contrast while also being a reflection of my life. I like my music to be melodramatic even though my life's not really melodramatic. There's elements of the ups and downs and change. I describe it as emotionally charged and dense." [1]
On the title track, "Ninth Wave", Trifonic offers up a deadly cocktail of IDM, glitchy acoustic guitar, downtempo beats and ethnic instrumentation, which complement the atmospheres of swirling note progressions, so easily beloved from the very first time. Further down in the journey expect to trip-up upon some mischievous ravaging bass, sky soaring guitars and pure cinematic soundscapes. If you recognize the heartbreaking piano-driven track "Calling", it's because it also appeared on Headphone Commute's benefit compilation, …and darkness came (2012).
One of the brothers, Brian, serves as a front-man for the group. Previously working on production for Brian Wayne Transeau (the Grammy-nominated dance producer known as BT), Trifon has contributed his programming skills to TV shows, films, and video game soundtracks: these include some titles in the  Assassin's Creed series and Borderlands. In 2008, joining forces with his brother, Laurence, Trifonic self-released their debut, Emergence. There are also a handful of remix EPs and collaborations. This impressive resume should be enough to pique your interest in Trifonic, but once again, let me assure you, that the most attractive thing here is music.
Besides music composition, Trifonic maintains an interesting production blog, on which Trifonic shares videos of their creative process, programming techniques and sound design. These are always fascinating for any fan, novice sound producer or even a seasoned aural architect (check out videos by Hecq, who also contributed a ferocious remix to the album). If you'd like to take this a step further, you can purchase a Producer's Edition of the Ninth Wave album, which includes full audio stems, tutorial videos, and sample kits – this should be a perfect sandbox for you to play around in!
trifonic.com | nextstepaudio.com
©
[1] Brian Trifon, Tea Time with Brian Trifon of Trifonic, Zencha Music, 2012