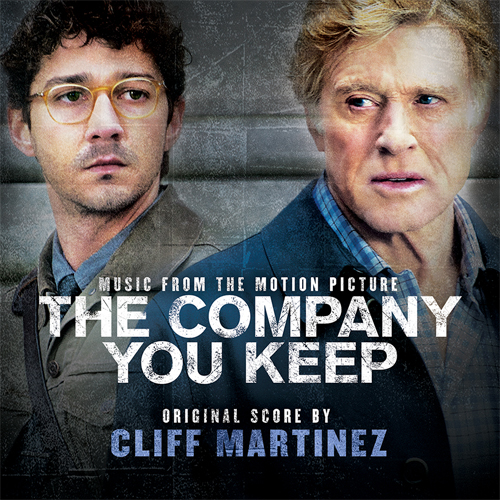 Perhaps one of the most celebrated soundtracks in the modern classical and ambient communities is that of Solaris by Cliff Martinez. But it's not all that this former Red Hot Chilly Peppers drummer is known for. His first film score was composed in 1989 for Sex, Lies, And Videotape, and while working with the same producer, Steven Soderbergh, Martinez produced soundtracks for Traffic (2000), above mentioned Solaris (2002) and  Contagion (2011). In 2012 Martinez joins director Robert Redford for a soundtrack to a political action thriller, The Company You Keep.
The fifteen tracks on The Company You Keep create a moody and tense atmosphere ranging from minimal background cinematic themes to building storms in scale, rhythm and volume, in some cases employing a filtered synth bassline for added anxiety. The sonic environment is often distressed, at times cold and industrial, yet somehow always subsiding into a warm plateau of organic strings, lush pads and piano. This theme of emotions can cycle multiple times within each track, accompanying a fast-paced story line, flickering somewhere beneath your closed eyelids.
"The Company You Keep, like many of Robert Redford's films, felt like real life," said Martinez "100% all-natural and authentic people in extraordinary circumstances. […] The score had to be low-calorie and unobtrusive but always meaningful and serving a dramatic function. This is the type of film that I'm most at home with."
The compact disc release appears courtesy of Milan Records, which previously brought us soundtracks to City of God (2003), Miyazaki's Spirited Away, (2001), as well as Max Richter's Sarah's Key (2011) and Clint Mansell's Stoker (2013). The film, The Company You Keep, opened in theaters on April 5th, 2013, presented by Sony Pictures Classics. The label plans on following up the CD release with a 180g vinyl. Definitely recommended!
Stay tuned for an Interview with Cliff Martinez going live tomorrow!